Gov. Reeves activates Miss. National Guard to assist with Jackson water crisis
In a press conference Reeves denied reports that he's been dodging communication with mayor Lumumba.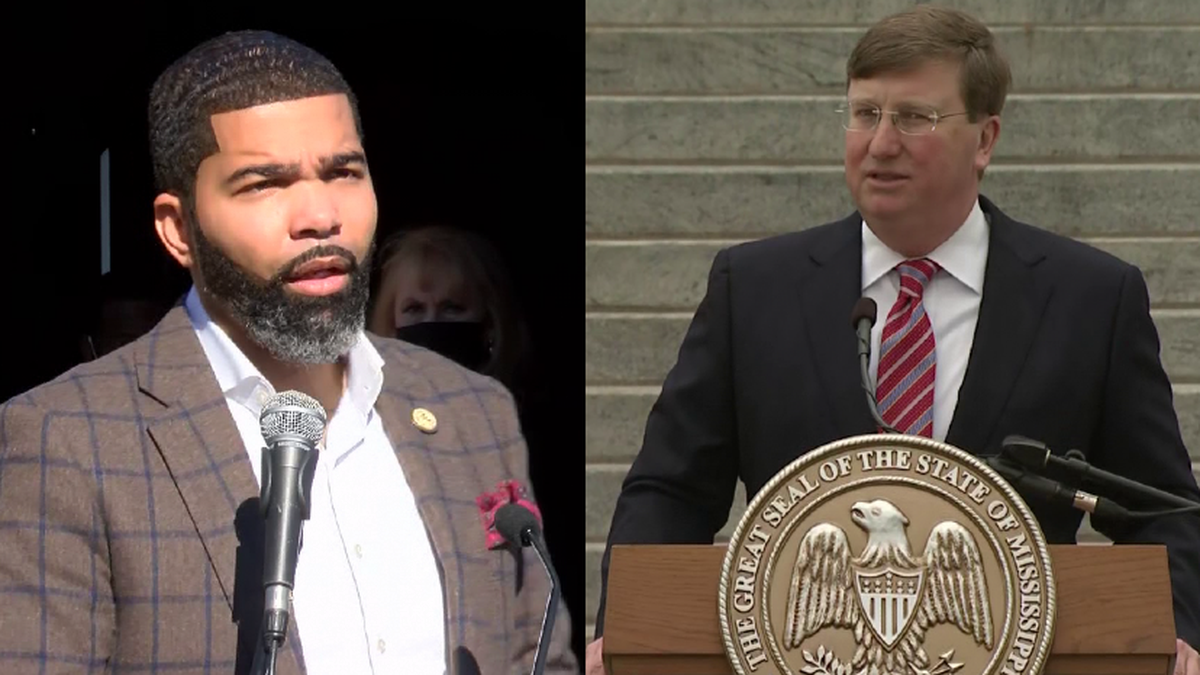 Updated: Feb. 23, 2021 at 7:33 PM CST
JACKSON, Miss. (WLBT) - Update: Governor Tate Reeves has announced that he has activated the Mississippi National Guard to help with the City of Jackson's water crisis.
He said in a tweet, "We secured tankers tonight to provide non-potable water for Jackson to jumpstart the system and accelerate the fix. I have also activated the National Guard to complete the mission, and they will arrive early tomorrow. We will restore clean water for the people of Jackson!"
--- Original Story Below---
Gov. Tate Reeves is denying reports that he has been dodging communication with Jackson's Mayor Antar Lumumba.
This after an impassioned press conference Tuesday in which Lumumba discussed "chronicling" difficulties getting in touch with Reeves through the past year.
Lumumba also said that because of this "challenge" reaching the governor, he has resorted to contacting Reeves' chief of staff because of their having a "prior relationship" and because this is the person Lumumba can get in contact with.
Reeves, though, denied these claims by Lumumba.
According to the governor, although he understands that Lumumba is experiencing a lot of pressure and is "getting attacked from all sides" due to the mass water outages impacting the Capital City, his saying that he couldn't get in touch with Reeves "wasn't accurate."
"The first I heard from the mayor was at 1:38 p.m. yesterday afternoon via text," Reeves stated. "I immediately responded. But all of that is semantics."
The governor then shifted, saying that what is important is "getting the people that need help, help."
Reeves said that many of the challenges facing Jackson are not new but were born over decades of negligence.
"That 50 years of deferred maintenance is not something we are going to fix in the next six to eight hours," he continued.
Reeves was later asked if he should have been the one reaching out to Lumumba first given that Reeves lives in Jackson and that he is the "state leader."
"Well sure," Reeves responded. "We reach out and talk to local officials all the time," adding that he gets a status report every few hours on any unmet needs and any asks made of the state.
"I don't think it would be fair to characterize it any other way than I have been fully aware on every-other-hour basis over the last ten days of the challenges that are faced in every community throughout our state," Reeves said.
The governor also said that the people of Mississippi have a significant investment in the City of Jackson and that "it has not been easy to operate state government because of the lack of water" and made it clear that "the state does not run the water system in the City of Jackson."
"Perhaps we should," Reeves suggested. "Perhaps we oughta look at things to see what happens going forward..."
Copyright 2021 WLBT. All rights reserved.