Walt's Look Around: Gourd Festival in Raleigh
Published: Sep. 15, 2012 at 4:46 AM CDT
|
Updated: Jan. 7, 2013 at 5:12 PM CST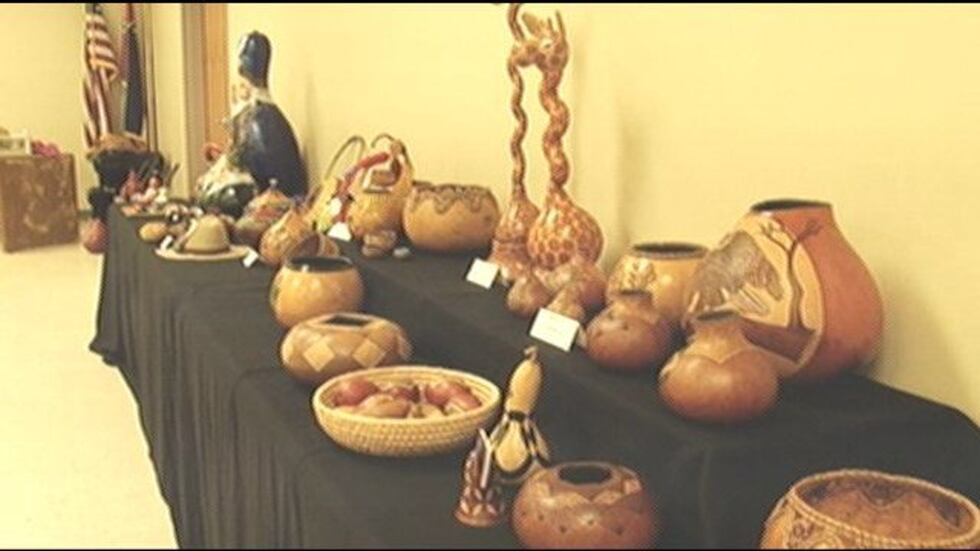 RALEIGH, MS (Mississippi News Now) - They grow on vines like these in Mike Thompson's gourd patch just outside Raleigh. Long neck gourds and dipper gourds. And if the most you've ever seen done with them is to make martin houses of them, then you will be amazed if you drop by the Gourd Festival Saturday and Sunday in Raleigh. Just about any decorative piece you can make with wood you can make better with a gourd. And all sorts of people are into gourd art nowadays. Susan Byra, president of the Mississippi Gourd Society, says a lot of the appeal is their flexibility.
Susan Byra: They're such different varied shapes that you can pick what you want to do on each individual gourd because one is never the same as the other.
Walt: And each gourd artist brings his or her own individual tastes and interests to the way they do their art. Nature scenes, geometric designs, Christmas decorations. Ken McPhail came home from a vacation to Dollywood with the desire to try his hand at gourd decorating after he saw what they were charging for them there.
Ken McPhail: If you tear something up the most you've lost is a gourd. And I'm growing them. I've got quite a few in the field.
Walt: Sarah Kemp got into gourds while trying to learn the dying art of pine needle basketry. She's incorporated the pine needles into her gourd art.
Sarah Kemp: I enjoy working with my hands. I enjoy creating things. And they make great Christmas presents. They make great decorations. And it keeps me out of trouble.
Walt: Here's what to expect at a gourd festival.
Susan Byra: They will find raw gourds. They will find crafted gourds. They will find gourd tools. We also have 27 different classes. We have teachers coming in from as far away as Arizona, North Carolina, Florida, Georgia. We also have a lot of home-grown teachers here, too. And they will find anything they need to get started or continue working with their gourds.
Walt: Everything you never knew you didn't know about gourds at the gourd festival this weekend at the Smith County Ag Complex in Raleigh.
Ken McPhail: I'm hooked on it. It's my hobby now.
Walt: For the $2.00 admission you might just find your next hobby, too. Saturday and Sunday in Raleigh.