American Queen returns after 5 year absence
Published: Apr. 23, 2012 at 11:19 PM CDT
|
Updated: Apr. 23, 2012 at 11:26 PM CDT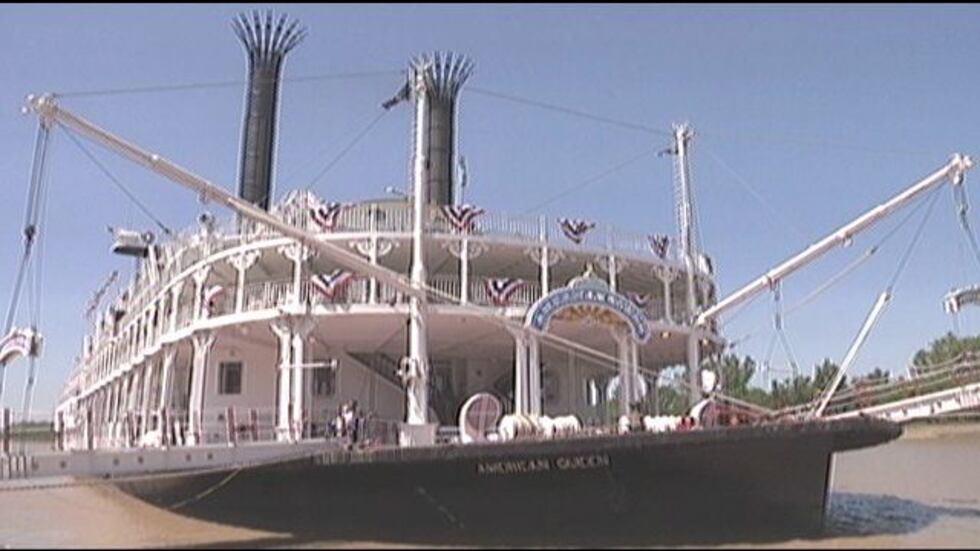 It's been off the river for five years. Now, the giant steamboat replica, the American Queen is floating along the Mississippi River once again. It made a stop in Vicksburg Monday.
The giant vessel is just over 400 feet long and was carrying 403 passengers on this cruise. There are 171 crew members on the American Queen, a replica of an 1800's steamship. It was completed in 1995 in Morgan City, Louisiana, taken across the gulf and up the Mississippi River by water.
The American Queen has modern diesel engines with propellers that pivot 360 degrees, and thrusters on the bow which allow the craft to go sideways, if necessary.
The captain, John Sutton, who lives near Louisville, Kentucky, just turned 50 and has spent most of his life on the river.
"It's just a return to yesteryear. I mean it's a part of American history, this boat was built to replicate a 19th century steamboat, right down to its interior décor," said Sutton. "And it certainly gives our passengers a sense of what it used to be like, to ride one of these grand steamboats."
The boat takes 43 hours to go from Vicksburg to Memphis.
"The people just love to be on the river," said Phyllis Dale, a travel agent from Winter Springs, Florida.
It costs $1,995 per passenger to go on a seven day cruise on the American queen.
Copyright 2012 WLBT. All rights reserved.