Tri-County Academy wins second state title in three years
The Rebels defeated Bowling Green 26-13 in the MAIS 4A Championship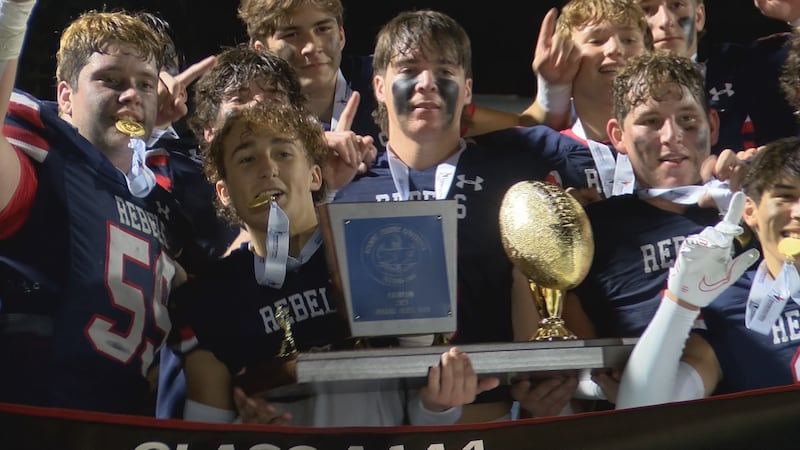 Published: Nov. 17, 2023 at 8:43 PM CST
JACKSON, Miss. (WLBT) - For the fourth time in the last five years, the Tri-County Academy Rebels were in the MAIS State Championship game. The 1-seeded Rebels matched up with the 2-seeded Bowling Green Buccaneers at Jackson Academy Friday.
The Buccaneers were first on the board, but the Rebels responded with two scores - a rushing touchdown from quarterback Bryce Warriner, and a passing touchdown from Warriner to Brayden Walsh - and went into the half up 12-7.
Tri-County extended their lead early in the second half with a Cooper Johnson 8-yard touchdown run. After Bowling Green cut the lead down to five with another score, Johnson made it a two-score game with another 8-yard run. Johnson's second score made it 26-13, and that's where the score stayed until the final horn.
Warriner finished the game with 22 carries for 68 yards and a touchdown, and 8-13 passing for 151 yards and a touchdown. Jacob Clearman had 13 carries for 68 yards and an interception on defense, and Johnson had six carries for 31 yards and two scores, and added an interception on defense.
"I love it," head coach Phillip Wasson said after the game. "We really don't think about titles until after they're over, we just think about winning that game, playing that week, and trying to beat that opponent. This opponent was a really good opponent tonight, we struggled at times, but our kids came through, and pushed through four quarters. Some of the young kids came through and helped us, we had a couple kids hurt during the game. So, I was real proud of our guys, but it comes down to seniors, the seniors lead. Anything I'm a part of, it's always senior-led teams, and I'm so proud of our seniors."
This title is the Rebels' sixth overall, and second in the last three seasons.
Want more WLBT news in your inbox? Click here to subscribe to our newsletter.
See a spelling or grammar error in our story? Please click here to report it and include the headline of the story in your email.
Copyright 2023 WLBT. All rights reserved.