Tusky Valley students, families mourn after 3 students, 3 chaperones killed in Licking County crash
Published: Nov. 15, 2023 at 6:49 AM CST
|
Updated: Nov. 16, 2023 at 2:46 PM CST
11/16/2023 UPDATE: Funeral arrangements announced for I-70 crash victims as Tusky Valley community mourns
TUSCARAWAS COUNTY, Ohio (WOIO) - Three students and three chaperones from Tusky Valley Middle-High School were killed in a crash on Interstate 70 Tuesday morning.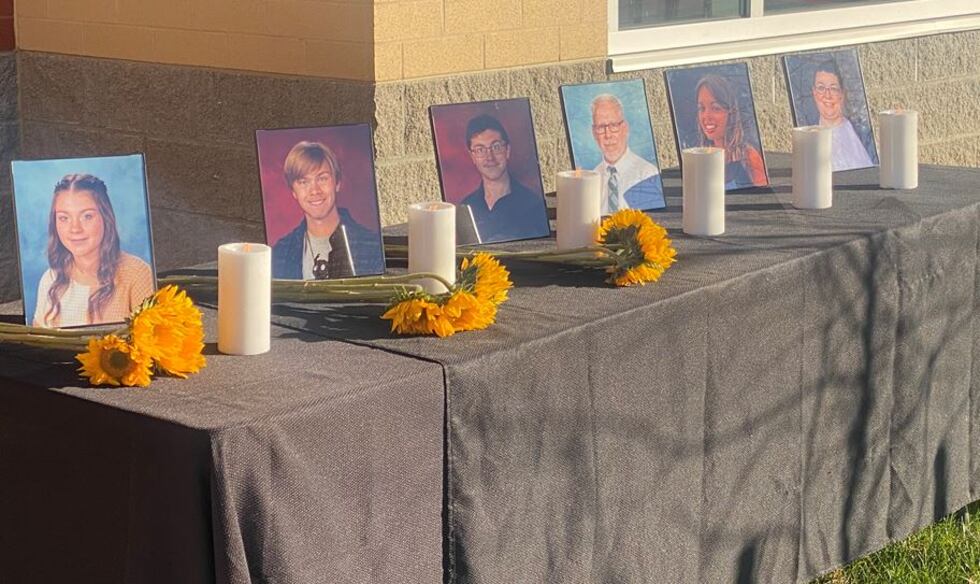 The crash left 18 others injured, according to the Tusky Valley Superintendent Dr. Derek Varansky.
Licking County Emergency Management Agency Director Sean Grady said the charter bus was transporting students from a school in eastern Ohio. There were a total of 55 people onboard, according to OSHP.
RELATED STORY: 6 dead, 20 injured in Licking County crash involving Northeast Ohio students
Three of the six killed were passengers on the bus, who OSHP identified as John Mosley, 18, Mineral City, Jeffery Worrell, 18, Bolivar, and Katelyn Owens, 15, Mineral City.
The other three killed were from a car behind the bus, who OSHP identified as Dave Kennat, 56 (Tusky Valley Teacher), Navarre, Kristy Gaynor, 39, Zoar, and Shannon Wigfield (Language arts teacher Buckeye Career Center), 45, Bolivar.
RELATED STORY: 19 Investigates: DOT inspected trucking, charter bus companies and found violations prior to deadly Ohio crash
Varansky wrote that 18 of the 20 students had been released to parents and two remain hospitalized with non-life threatening injuries.
Officials from the National Transportation Safety Board gave a press conference Wednesday.
NTSB Chairwoman Jennifer Homendy explained what their team of investigators are doing and the timeline a thorough investigation could take.
the team would be looking for cameras and other evidence from the five vehicles involved in Tuesday's crash on westbound Interstate 70 in Licking County, about 26 miles (42 kilometers) east of Columbus. Homendy said the team will likely be in the area for five to seven days and a preliminary report would likely be issued within the next few weeks.
Homendy said there was "conflicting information" about the sequence of events that led to the chain-reaction crash, which also involved an SUV and a semi truck. The Pioneer Trails charter bus was carrying students and chaperones from the Tuscarawas Valley Local School District in eastern Ohio.
The crash involved five vehicles:
A charter bus belonging to Millersburg-based Pioneer Trails operated by Donald Wagler, 65, Hartville

A commercial vehicle belonging to Wapakoneta-based G.A. Wintzer & Sons driven by Brandon Marchal, 37, Wapakoneta

A commercial vehicle belonging to Hebron-based Mid-State Systems driven by Jacob McDonald, 60, Zanesville

A passenger vehicles driven by Robert Wolverton, 75, Heath

A passenger vehicles occupied by three individuals. All three were pronounced deceased at the scene.
One driver of the commercial vehicles as well as the driver of the other passenger vehicle were transported to area hospitals, OSHP said.
Grady said the semi rear-ended the Pioneer Trails bus shortly before 9 a.m. on I-70 West in Licking County, near the Smoke Road underpass.
OSHP said this led to a chain reaction crash, with at least three of the vehicles involved catching on fire as a result.
RELATED STORY: Northeast Ohio bands, schools give condolences to Tusky Valley community
School will be in session for students and staff to receive support from counselors and community organizations.
"We do not want children home alone, yet we respect students and parents who wish for their child to remain at home," Dr. Varansky said.
Community members are outside of the school Wednesday morning welcoming and hugging students and staff as they enter the building.
Locals all over town are embracing the students near and far.
"Thoughts and prayers for so many. I've talked to a few friends who are close to those who have lost someone and say if you need anything, reach out. This is a very small-knit community and we're here to help any way we can," said Bethanne Simons who works in the next town over.
On Wednesday, Dr. Varansky announced the Trojan Foundation has established a fund at First Federal Community Bank where they are asking all donations to be sent.
"We cannot say thank you enough to everyone across the nation for reaching out to offer support. While we cannot respond to each message and phone call personally, please know your messages are being read, and we are grateful for your kind words, love, and support," posted Dr. Varansky on the district's Facebook page.
The crash remains under investigation.
Anyone who witnessed the crash is asked to contact the Ohio State Highway Patrol at (614) 466-2660.
The Associated Press contributed to this report.
Copyright 2023 WOIO. All rights reserved.