'Where is it gonna stop?' Mother denied chance to see Dexter Wade's body exhumed
Published: Nov. 13, 2023 at 6:14 PM CST
RAYMOND, Miss. (WLBT) - Hours after a national civil rights attorney called out Hinds County for exhuming Dexter Wade before his mother arrived on the scene, a county official says a miscommunication is to blame.
"I saw a little bit with the family being distraught, and we surely apologize for that," said County Administrator Kenny Wayne Jones. "But like I said, miscommunication. Time was wrong. Everything is where it's supposed to be now. And that's all we know."
On Monday, the county exhumed the body of Dexter Wade, a 37-year-old Jackson man who was run over by an off-duty Jackson police officer back in March.
Wade was buried at the county's pauper's graveyard in July, after city and county officials said they were unable to contact his mother, Bettersten.
Bettersten, whose story has garnered national attention, was supposed to be on hand as her son's body was removed from plot No. 672 around 11:30 a.m. on Monday.
Instead, Dexter's body was removed hours earlier, with no family members present.
"Y'all keep telling me y'all didn't do it [intentionally], that this wasn't intended for me. But how? If this was your child, what would y'all think? How would y'all feel," she said. "It's just a misunderstanding. It's miscommunication. Is this how the system works?"
"Where is the cover-up gonna stop?" she asked. "Where is it gonna stop?"
Documents obtained by WLBT show that the board of supervisors voted to exhume Wade's remains at its November 6 board meeting. According to a letter from Board Attorney Tony Gaylor, the exhumation would take place at 11:30, and the body would be turned over to Bettersten, her attorneys, and the funeral home.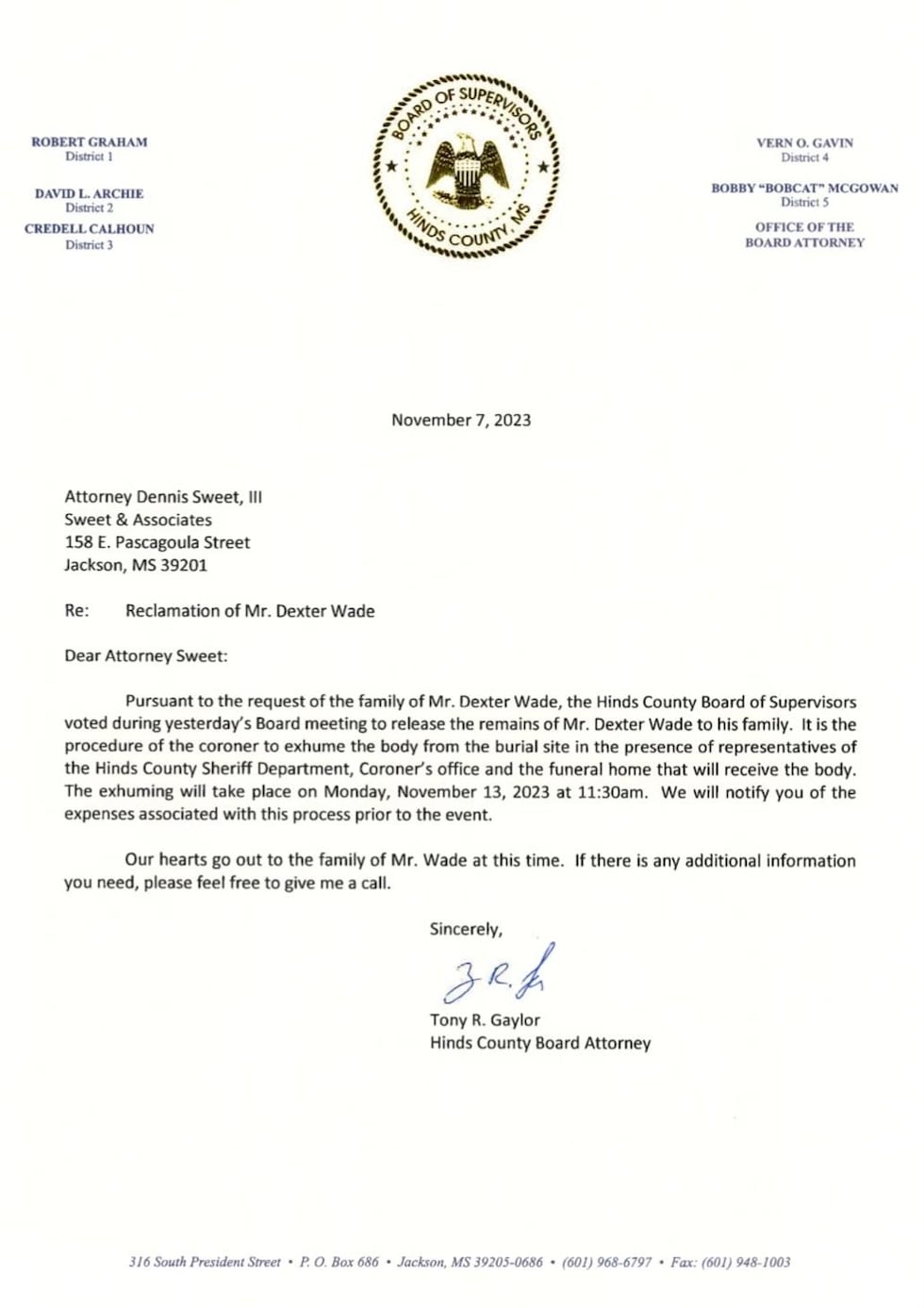 Bettersten and her attorneys question whether the county's decision was an effort to cover up because Wade had not been buried in a coffin and had not been embalmed.
All remains at the pauper's burial ground are put in a body bag and wooden box before they're interred. No body is embalmed.
The remains were dug up by the county's Public Works Department. Hinds County detainees assisted in the effort.
The miscommunication represents yet another blow for Bettersten, who spent months looking for her only son, finally learning in late August that he had been killed by an off-duty JPD officer on March 5.
Details of the accident show Wade came to a gruesome end, with the responding officer saying one of Wade's legs was severed in the accident.
The father of two was pronounced dead on the scene by American Medical Response. The Hinds County coroner was notified, and Wade's body was released to the coroner.
The officer who hit Wade was driving a patrol vehicle at the time of the incident. That vehicle was towed to the city's impound lot.
Wade was found with a bottle of prescription drugs at the time of his death. The coroner's office confirmed the bottle was his and was able to get a contact for next of kin through the Hinds County Behavioral Health Center. By March 9, that information had been turned over to JPD's Accident Investigation Division.
Bettersten filed a missing person's report on March 14. She told police at the time that she and Dexter had an argument before he left the house around 6:30 p.m.
"Y'all covered it up. Y'all did that. Kept telling me, 'No, no, no. We don't know where he at,'" she said. "Then, come to find out, in y'all's department, somebody hit him. Now, I ask, 'Can I exhume my child...' I couldn't even see him come out [of] the ground."
She says JPD didn't tell her about her son's death in retaliation to the wrongful death suit she filed against the department in the death of her brother, George Robinson. One officer has been convicted in that incident.
Bettersten was joined by attorneys Ben Crump, Dennis Sweet, family, and friends for a short prayer vigil, which was supposed to be held before her son's body was removed.
"That's why we need an investigation. Who gave the order to public works? Everybody keeps trying to wash the blood off their hands, like Pontius Pilate," Crump said. "Well, the blood is on your hands."
An independent medical examination is going to be conducted by Dr. Frank Peretti, a forensic pathologist in Little Rock. It will be paid for by Campaign Zero, a national social justice organization headquartered in Washington, D.C.
Rev. Al Sharpton and the National Action Network are expected to pay for Wade's funeral. The funeral is expected to be held on November 20.
Want more WLBT news in your inbox? Click here to subscribe to our newsletter.
See a spelling or grammar error in our story? Please click here to report it and include the headline of the story in your email.
Copyright 2023 WLBT. All rights reserved.