FROM THE VAULT: Frank Melton, from WLBT to the mayor's office
The Texas businessman arrived here in 1984 and quickly made a name for himself
Published: Nov. 14, 2023 at 12:23 PM CST
JACKSON, Miss. (WLBT) - For more than 20 years, beginning in the mid-1980s, one of Jackson's most colorful characters often dominated the headlines. He was a business executive, director of a state agency, and mayor of Jackson. But he was best known for speaking his mind.
Frank Melton was a virtual unknown when he arrived in Jackson from Texas in 1984. At 33 years old, he had been picked to run WLBT as the station's president and CEO, with longtime NAACP leader and state legislator Aaron Henry as chairman.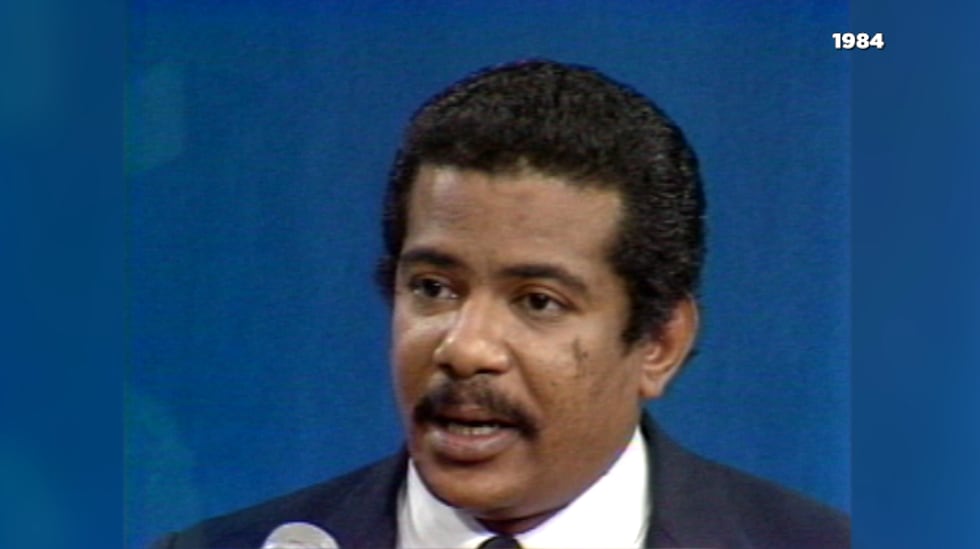 Melton quickly made a name for himself as an outspoken critic of just about anything he disagreed with. He was a popular speaker at events across the state, but he reached the widest audience with his "Bottom Line" commentaries, which aired once a week after the 6:00 and 10:00 evening newscasts on WLBT.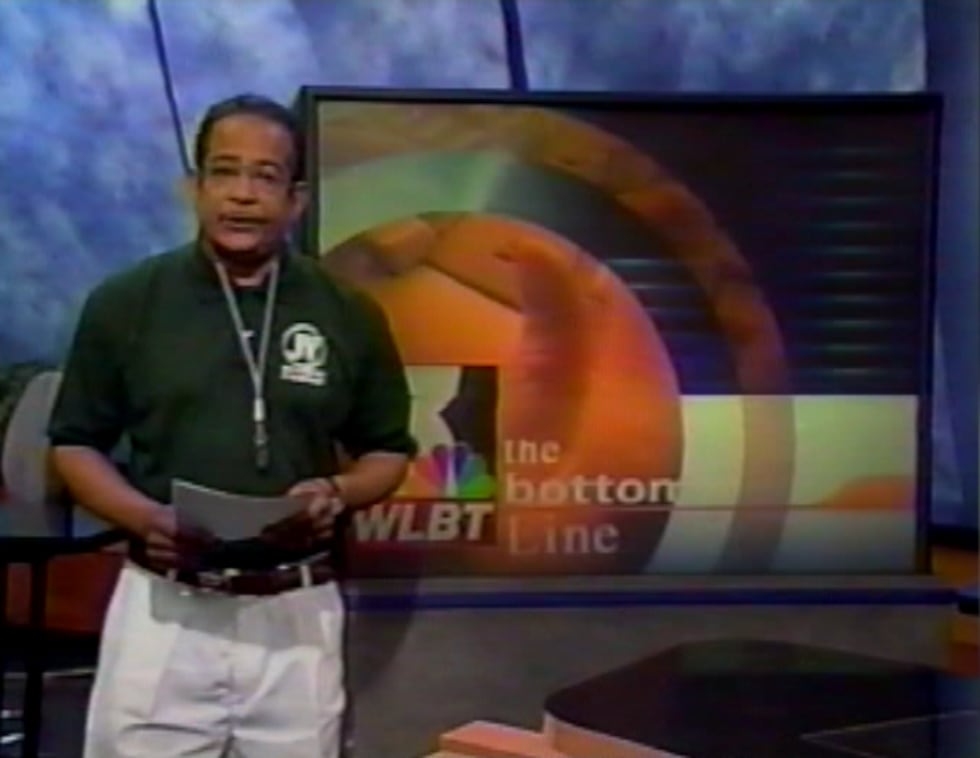 He used that time to condemn drug dealers (often by name), to criticize government leaders (also often by name), and to demand that parents take a more active role in their children's lives. His editorials sometimes elicited on-air responses from other guest editorialists. He ended each segment with a sentence that became synonymous with his public image: "And that, my friends, is the bottom line."
Melton's tough talk against drug dealers led to his appointment in 2002 by Governor Ronnie Musgrove to lead the Mississippi Bureau of Narcotics. It was clear from the start that his approach toward eradicating illegal drugs would not be conventional.
"We can't win this war if we're worried about what people think or what people are going to write or what people are going to say," he said in early 2003. "I don't care what they have to say."
In early 2005, Melton decided to run for mayor of Jackson to replace the city leadership he often criticized on the air. Voters liked his pitch and voted him in. In his inaugural address, he said law-enforcement in Jackson would never be the same.
"We will deal with crime in a way that you have never, ever seen before," he said before a crowd gathered for the occasion in front of City Hall.
During his administration, Melton got dilapidated and crime-ridden apartment complexes torn down. He got major downtown projects completed. But Melton's methods ultimately got him in trouble.
As mayor, he led raids on nightclubs and suspected drug dens. He often used the police department's mobile command bus on these outings, including one without a warrant on Ridgeway Street in 2006 at what he said was a crack house. Melton and his bodyguards were indicted for that raid. They were acquitted on state charges, and the federal civil-rights case against Melton resulted in a mistrial.
Despite the legal troubles and a diagnosis of congestive heart failure, Melton decided to run for a second term as mayor. On primary-election night in May of 2009, the 60-year-old mayor collapsed at his home. He died two days later of a massive heart attack. He never knew that he had been defeated in the primary by Harvey Johnson, Jr., the incumbent he had beaten four years before.
Melton's body lay in repose at City Hall before his funeral at Thalia Mara Hall. That evening, WLBT aired a 30-minute special called "Remembering Frank Melton" to reflect on his complex role in city and state history.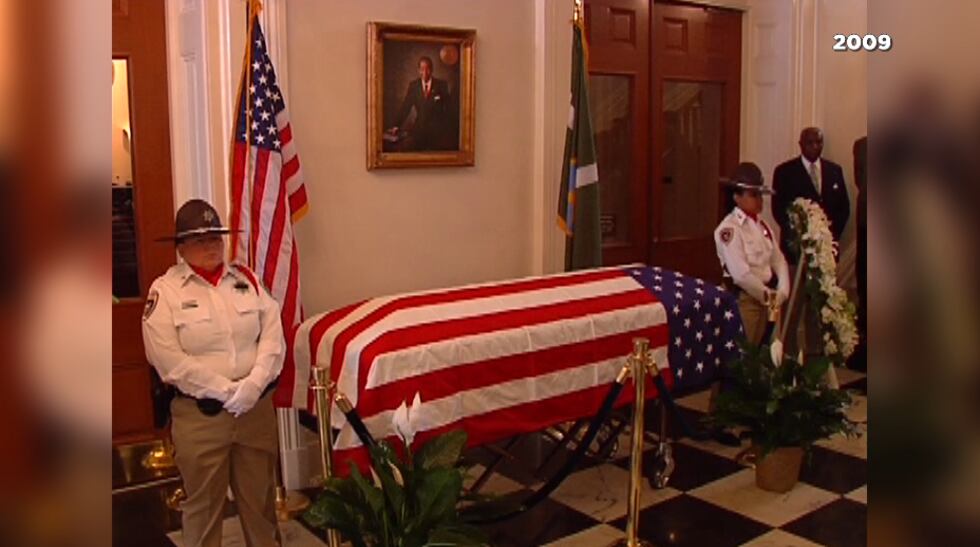 On the day of the funeral, longtime WLBT anchor and reporter Bert Case offered a rare editorial during the news. He had worked for Melton at the station, covered his many pursuits for the news, and considered him to be a friend. This is the text of Bert's comments on May 7, 2009:
"I was asked this morning on the radio what I will remember most about Frank Melton, what is my favorite story about him. That was a real tough question for me, because I have about a 26-year history with the man, who was once my boss and became a dear friend.
I finally answered that it was Frank with young kids from the inner city that he would take to Texas for what he called summer camp. He would get kids out of the drug wars of Jackson and into the great outdoors to camp out for the first time in their troubled lives.
Helping others was what Frank was all about, and he was the real thing. He did it every day, and it was his priority to help others. He taught kids to swim every summer at the Farish Street YMCA. Swimming had gotten him out of a bad neighborhood in Houston, where he was raised. He became a champion swimmer and he wanted to teach that to youngsters who had never been in a swimming pool in their lives what confidence that builds.
Nobody could beat him talking to kids in schools. He taught volunteerism, belief in self, and respect for others wherever he went. He always taught the importance of learning to speak the English language properly.
It's true he did some crazy things in his time, and his philosophy was often, "Ready, fire, aim," which was emblazoned on a sign he kept on his desk. But Frank wanted action immediately to improve this city and state. He couldn't stand bureaucracy, incompetence, and inaction by government. He hated corruption and all the rumors about him being involved in it were not true.
He was the straightest, most honest man I ever knew. He would give total strangers money to get something to eat. He would call up parents and tell them their kids were on the street.
He wanted more than anything to see this city turned around and died frustrated that he personally had not been able to do that. He never knew he lost the election, and now, thankfully, he will not have to face the federal government in court ever again.
We won't soon find somebody who can replace him."
Want more WLBT news in your inbox? Click here to subscribe to our newsletter.
See a spelling or grammar error in our story? Please click here to report it and include the headline of the story in your email.
Copyright 2023 WLBT. All rights reserved.