Jacobian Morgan living his dream as the starting quarterback for Jackson State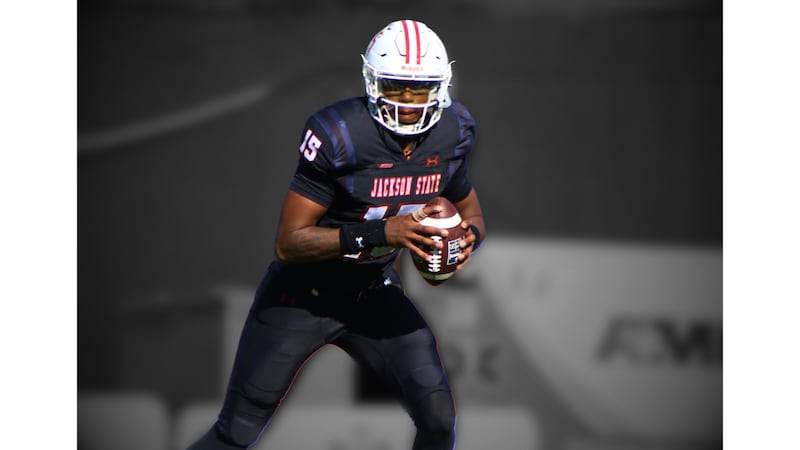 Published: Nov. 9, 2023 at 5:59 PM CST
JACKSON, Miss. (WLBT) - It's a Saturday at the Mississippi Veterans Memorial Stadium, and there is a kid from Canton who dreams of becoming a Jackson State football player.
Seasons passed as JSU legends took the gridiron to compete in front of a fired-up Tigers fan base with the boy watching, hoping one day he would be taking the field sporting the famous JSU block.
That kid was Jacobian Morgan and he's now Thee starting quarterback.
The Syracuse transfer was listed as a backup QB to start the 2023 season and the new era of JSU football under Jackson State's TC Taylor. The Tigers are 3-0 since Morgan solidified himself as QB1, and he hopes to keep that momentum going as the season wraps up.
"Yes, it is [a dream come true,] most definitely," Morgan told WLBT after JSU beat Texas Southern last Saturday for their third-straight win. "This is really where I grew up. I had season tickets since I was a kid, so being able to go out there and compete and even have the jersey on is just a dream come true for me. So, every time I'm out there, every time I've got this JSU [block] on my chest, Imma give it 100 percent."
Jacobian Morgan, a Canton native, tells me he had season tickets for Jackson State football games as a kid. He's now 3-0 as the starting QB for his hometown team.

I asked him if it was a dream come true.

"Yes… every time I have JSU on my chest, I'll give 100%." 🔵🐅 @WLBT pic.twitter.com/cnCGJ21czv

— Garrett Busby (@gsbusby) November 5, 2023
It hasn't been easy for Morgan to get to this point. He sustained an injury in fall camp that kept him out for an extended period of time.
Adjusting to the starting role for the 6′4″ QB was all about getting comfortable when his number was called.
"Getting to game speed [has been the focus]. Being out a month with an injury and surgery, being able to operate at game speed, and seeing everything at 100 percent has probably been the biggest thing," he said. "But the coaches put me in a situation to be able to operate, so, other than that, [I've] been able to operate at 100 percent."
Morgan has flourished after winning the midseason battle over fellow transfer Jason Brown. Since the homecoming loss to Alabama State, Morgan has led the Tigers to three consecutive victories in SWAC play - the longest winning streak of the season.
On top of that, he's accounted for ten of the school's last eleven offensive touchdowns; seven coming through the air and three on the ground. He has also thrown for 696 passing yards and rushed for 137 rushing yards in his three starts.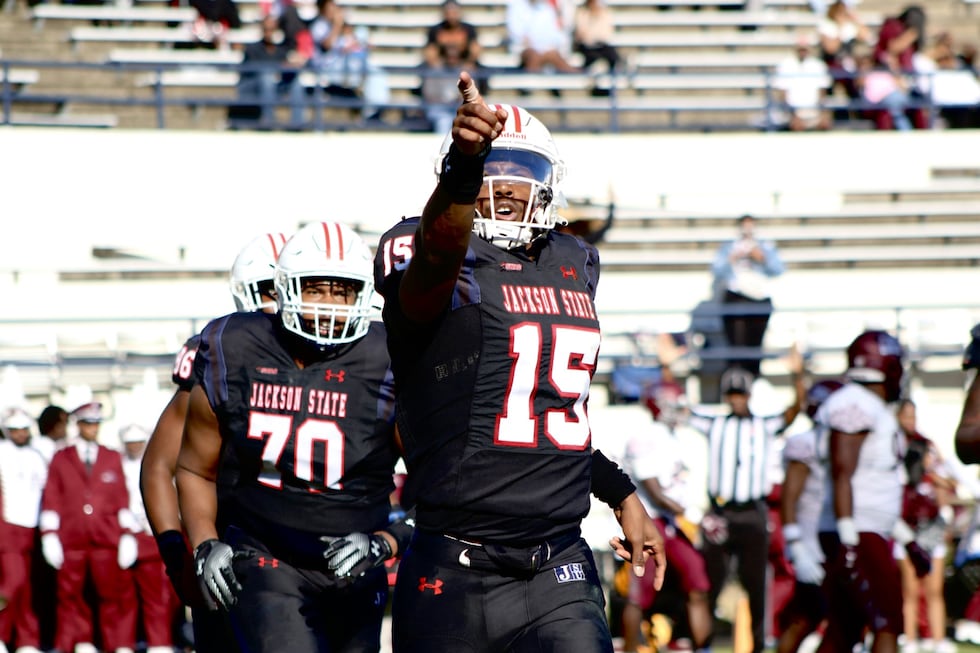 Despite his individual success, Morgan credits his teammates for Jackson State's recent winning spell.
"It starts with the team. Out of all of the statistics I got, it's all because of the teamwork," the quarterback said. "I'm just coming in and seeing what I can capitalize on... and playing my game just like the coaches tell me. That's what amounts to my success, but it's not about me but more about my teammates. These last three games, everything has been clicking, so we keep taking baby steps and hopefully we can keep going."
With the beloved JSU logo on his helmet and the number 15 on his back, Jacobian Morgan is primed to start in a dream matchup against one of Jackson State's biggest rivals - Alcorn State - on November 18.
The Braves are surging as Alcorn State is currently on a five-game winning streak and atop the western division of the SWAC.
The Soul Bowl will kick off in the capital city at "The Vet" at 2 p.m. It will be streamed on ESPN Plus.
Want more WLBT news in your inbox? Click here to subscribe to our newsletter.
See a spelling or grammar error in our story? Please click here to report it and include the headline of the story in your email.
Copyright 2023 WLBT. All rights reserved.