'Unacceptable': Precincts across Hinds County run out of ballots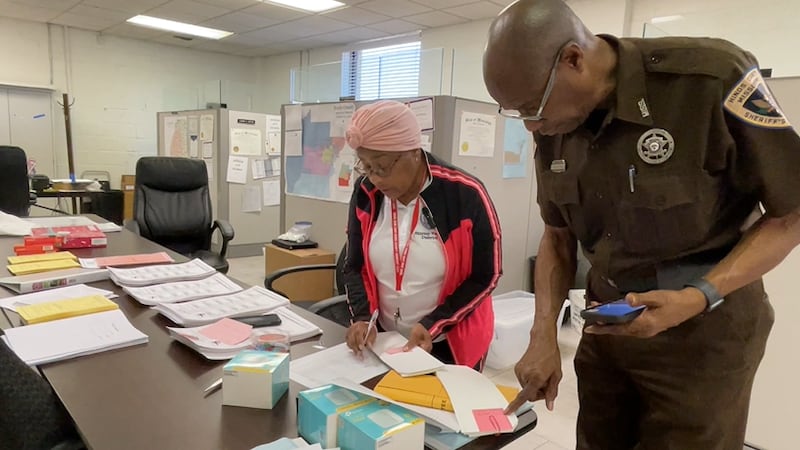 Published: Nov. 7, 2023 at 3:27 PM CST
JACKSON, Miss. (WLBT) - A member of the Hinds County Republican Executive Committee is considering filing a lawsuit to keep the polls open longer after a number of Hinds County precincts ran out of ballots.
"We're trying to figure out how to do it," said committee member Pete Perry. "We're trying to make sure voters get to vote."
Precincts across Hinds County have run out of or run low on ballots Tuesday. Perry says people were standing in line for several hours at Wildwood Baptist Church after that precinct ran out of ballots earlier today. He said more ballots were dropped off, but they were the wrong ones.
State statute requires the county must have ballots to accommodate 60 percent of a precinct's voters. "There's no way they had that many ballots and run out at 11 o'clock," he said. "Somebody ought to be fired from their job if they can't let the voters get ballots."
Some polling places ran out of ballots earlier than that, including McLeod Elementary in North Jackson, a split precinct that was out of ballots at 9 a.m.
Jason McCarty, a member of the Hinds County Democratic Executive Committee, shared a video post on social media sharing similar concerns.
"I'm calling on the secretary of state and the election commissioners to get ballots printed and get to these precincts," he said. "This is unacceptable... We were not prepared for this amazing turnout."
McCarty urged people to wait for ballots to be delivered or to call the Mississippi Secretary of State or the Republican or Democratic Party to report the problems.
The Mississippi Secretary of State Voter Hotline is (800) 829-6786.
McCarty said a portion of the split precinct at Raymond Methodist Church was still without ballots at around 3:30 on Tuesday afternoon. He also said that Fabian Nelson's home precinct was given the wrong ballots.
Nelson is the Democratic nominee for House District 66. He wasn't immediately available for comment on Tuesday.
McCarty blames the election commission and the secretary of state for not being prepared and says it might be up to the attorney general to ensure all ballots are counted.
"This is going to become an issue either way because regardless of who wins, the other side will say voters are disenfranchised," he said. "This is not what we need."
During WLBT's recent visit to the Hinds County Election Commission headquarters, staffers were printing out additional ballots for at least nine precincts. Ballots also were being printed at the Hinds County Circuit Clerk's Office.
Depending on its location, it can take 30 minutes or longer for new ballots to be printed off and delivered to a precinct. Voters say ballots at the Pinehaven polling place in Clinton ran out of ballots at around 2:45 Tuesday afternoon. By 4:15, the line of voters was again moving forward.
Not long after that line started moving forward, another precinct, the former A.E. Wood Library in Clinton, ran out of ballots. That happened shortly before 5 p.m.
District 5 Election Commissioner Shirley Varnado said part of the problem is Tuesday's unexpectedly large turnout. She said the redistricting also created new split precincts that have required additional ballots to be printed.
"Hopefully [voters] will continue to come out," she said. "We're running ballots as we speak because we're trying to make sure every voter gets a chance to come out and cast their ballot for the people of their choice."
Polls are slated to close at 7 p.m. Voters who are in line at that time can still cast ballots after that.
Want more WLBT news in your inbox? Click here to subscribe to our newsletter.
See a spelling or grammar error in our story? Please click here to report it and include the headline of the story in your email.
Copyright 2023 WLBT. All rights reserved.