'Ms. Jolley will die in prison': Pearl woman sentenced to life in murder of 7-week-old daughter
Published: Nov. 6, 2023 at 9:54 AM CST
PEARL, Miss. (WLBT) - A Pearl woman who killed her seven-week-old daughter after "repeatedly and forcibly" throwing her into the concrete will spend the rest of her life behind bars.
On Monday, Rankin County Circuit Judge Steve Ratcliff sentenced Makaylia Jolley to life in prison without the possibility of parole after she pleaded guilty to capital murder in the death of her infant, Khalysie Lashay Jolley.
Jolley, who was wearing a yellow Rankin County Jail jumpsuit, was in the courtroom for about 20 minutes and said little more than "yes, sir" or "no, sir" when questioned by the judge.
Her sentencing came just days after Jolley agreed to enter a guilty plea. Had the case gone forward, Madison-Rankin District Attorney Bubba Bramlett said he would have sought the death penalty.
Bramlett said the decision to offer her a plea deal came last week, weeks after Jolley's mental health evaluation results came in, and after officials consulted with each other on the matter.
"We were going to extend her the opportunity to plead guilty by the end of the week," he said. "Ms. Jolley and her attorneys filed a petition for a guilty plea last Friday."
"The case ended 15 minutes ago right before your eyes," he continued. "There will be no appeals... There's nothing else to be done on it."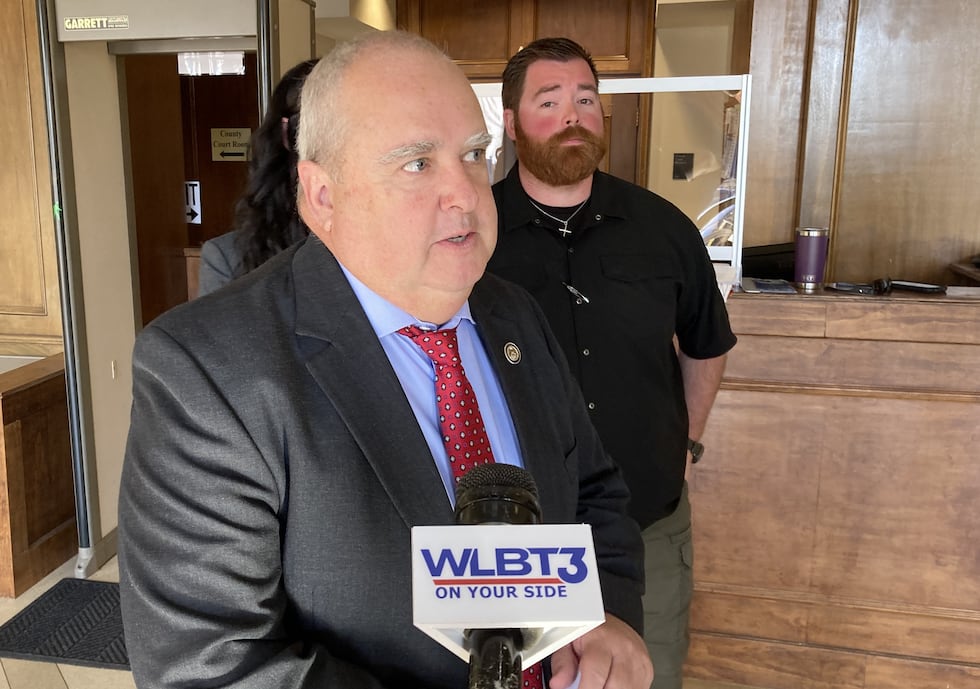 Bramlett was joined outside Ratcliff's courtroom by Assistant District Attorney Kathryn Newman and Pearl Police Department Detective Sgt. Reuben Miles.
One reason for the decision to offer the plea was to prevent Rankin County jurors, law enforcement officials, witnesses, and family members from having to relive what they say was one of the most heinous crimes they worked on.
"This was an innocent seven-week-old baby," Newman said. "Makaylia Jolley took Khalysie by the ankles, slammed her into the pavement multiple times, and then left her there."
"Law enforcement, the EMTs, the firefighters, there were innocent people... the apartment owner witnessed it. The victim's grandmother witnessed it. A truck driver witnessed it. A sweet lady who was going to call on a patient and just happened to be dropping by saw these terrible things," she added. "I don't believe you can ever get those images out of your mind."
The incident occurred on May 12. When officers arrived on the scene a little after 2 o'clock afternoon, Jolley had run into the woods nearby and a second woman was holding the child.
Jolley was eventually taken into custody and Pearl authorities escorted the baby to Children's of Mississippi in Jackson.
Khalysie suffered extensive skull fractures, brain swelling, brain bleeding, abrasions, and hemorrhages to her eyes, as well as several other fractures. She died on Saturday, May 14.
Police discovered Jolley was high during the incident, having used drugs that morning. "When she was initially interviewed by the police department, she said that she accidentally hurt her baby and she did not know why," Newman said. "She said, 'I'm sorry, I accidentally did it. I dropped her and then I left her there.'"
"When she was later confronted by Pearl about the fact that her baby had passed away, she cried and chose not to speak with law enforcement anymore."
A Rankin County grand jury indicted Jolley for capital murder in November 2022. In May, Jolley underwent a mental evaluation. The results were submitted to the court in September. According to the findings, Jolley was deemed competent to stand trial.
Since her arrest, Jolley has been held at the Rankin County Jail. For the first six months, she was kept in solitary confinement. After that, she was released into the general population but still had a private cell at night.
Newman said that was for Jolley's protection. Following her sentencing, she is expected to be taken into the custody of the Mississippi Department of Corrections.
For Bramlett, he's glad the case is behind him. He said had Jolley been sentenced to death, the case likely would be continued on appeal after appeal. "The last death penalty case we had in Rankin County was in March of 2003. It was a case I personally tried against a young man named Devin Bennett," he said. "Very similar to this case. Devin killed his 10-week-old child."
"Devin is just as alive today as he was 20 years ago when he received the death penalty, and we're still going through appeals and whatnot," he said. "The problem I really have... the only problem that I have with the death penalty is that it's not enforced... There's someone on death row who's been there 40 years. 40 years from now, I'll be 100 years old if I'm still alive. So, this was a good resolution. It was a good resolution for the state of Mississippi, and Ms. Jolley will die in prison."
Want more WLBT news in your inbox? Click here to subscribe to our newsletter.
See a spelling or grammar error in our story? Please click here to report it and include the headline of the story in your email.
Copyright 2023 WLBT. All rights reserved.