What Ole Miss' unforgettable win over LSU means for rest of season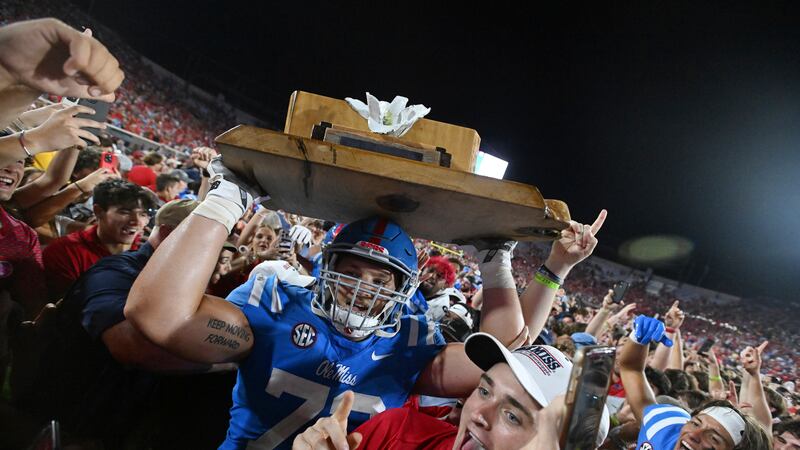 Published: Oct. 1, 2023 at 10:44 AM CDT
OXFORD, Miss. (WLBT) - Ecstasy rained down from the stands of a record Vaught-Hemmingway Stadium crowd as Rebels' fans stormed the field in what was a truly special night in Oxford.
It was a night that Lane Kiffin credited not only his players but the largest crowd in Ole Miss history of 66,703 in attendance in a win he said his program needed.
"I'm extremely proud of my players, but before I go there, let me address something. I'm hard on my players and I'm hard on our coaches. We set very high standards around here, and at times, I've been hard on our fans," Kiffin said. "For them to show up today and set the record for highest attendance in school history... that's awesome to hear that. You could feel it in the game and certainly in the fourth quarter. It was really neat to have that electric environment, so thanks for that."
Dart hit the bullseye
In arguably the biggest game of his collegiate career, Ole Miss quarterback Jaxon Dart hit the bullseye, and with legendary Ole Miss quarterback Eli Manning in attendance.
Dart's performances in big games since being in Oxford haven't always shined the brightest, but Saturday night for him and the Rebel offense was one that will be written in the history books with their 55-points being the most points scored against an NCAA Division I ranked opponent in Ole Miss history.
It was a performance like none other for Dart, especially after a disappointing game against Alabama last week, only scoring 10 points.
"Jaxon kind of fits in with what I'm saying about the team as much as anybody as far as all the heat, all the criticism, how he played in Alabama, 'He can't play in big games'... all of that," Kiffin said. "To come out and just play really amazing... It was amazing. There are a lot of quarterbacks. a lot of years, and a lot of games when you're down to scores in the fourth quarter, and you don't take the team and lead them like that."
"That was awesome," Dart said. "That was the most fun moment of my life."
Dart was nearly flawless, completing 26 of his 39 pass attempts for 389 pass yards 50, and four passing touchdowns along with 53 rushing yards and a rushing touchdown.
The offensive line deserves credit as well, with the unit that has been largely criticized up to this point of the season not allowing a sack and bulldozing an LSU defensive line. The O-line gave up 5 sacks last week and Dart was being pressured nearly every play against Alabama.
"I got to give them a lot of credit," Kiffin said. "I've been hard on them, and they performed really well today. They took the challenge."
Judkins unleashed
Ole Miss' best player, running back Quinshon Judkins, entered the 2023 season off the back of a freshman season only second to that of the legendary Herschel Walker, winning the 2022 Conerly trophy and setting records at Ole Miss in just his first year at the program.
Through the first four games, a sophomore slump looked to be on the horizon. Then, LSU came to town and the preseason first-team All-American reminded a record crowd just what he is capable of doing.
"He really battled. He actually had to get an IV at one point in the third quarter, so he was out. And I thought [Ulysses] Bentley ran really well in between. Then Quinshon came and really played with a different mentality... like big game mentality. It was great to see," Kiffin said.
Judkins had more rushing yards against LSU did he did in the first three games of the season combined and had the most carries with 33 by far of the 2023 season. He ended the game with 177 yards and two total touchdowns.
He gained an average of 5.4 yards per carry, double the amount of yards averaged in two games against lesser opposition this season.
The Rebel offense totaled 706 yards.
Defense did enough
Pete Golding's defense began the game with a huge hit on LSU QB Jayden Daniels to create a turnover. After that, flashbacks of what Ole Miss fans have seen too many times over replayed throughout the night - no defense.
Then, an overpowered Tigers' offense scored on seven straight drives, six of them accounting for touchdowns.
It wasn't a great performance for the defense, but the defense showed up when it mattered most... in the fourth quarter.
Down by two scores, the Rebels needed the "Landshark defense" to make a stop, something that seemed a hopeless thought given the flow of the high-scoring game.
The defense stepped up, becoming the foundation of a quarter the Rebels outscored the Tigers 21-7. The unit ended the game on the field with a last-second pass breakup to keep LSU from breaking every heart in Oxford.
"I was saying, 'Please don't get a PI. Please just knock the ball down. Keep it in front of you and don't go for an interception,'" Kiffin told WLBT when asked about the timeout before the final play of the game. "I kind of gave up on an interception at that point because [Daniels] had thrown the ball right to us and we dropped it. So I was like, "Just knock it down.'"
Allowing 637 yards isn't a recipe for success, but the Ole Miss defense stopped LSU from scoring on three of their four drives and sealed an important victory for Lane Kiffin and the Rebels.
With the victory, Ole Miss stays in the hunt for a long-awaited SEC West division crown, improving to 4-1 on the season and 1-1 in SEC play. The Rebels host Arkansas next Saturday.
Want more WLBT news in your inbox? Click here to subscribe to our newsletter.
See a spelling or grammar error in our story? Please click here to report it and include the headline of the story in your email.
Copyright 2023 WLBT. All rights reserved.