'Who's supposed to keep up with this?': Analysis shows AMR defaulted on Hinds Co. contract months ago
Published: Sep. 28, 2023 at 5:48 PM CDT
JACKSON, Miss. (WLBT) - Chances are, if you live in Hinds County, you'll have to wait a while if you call an ambulance.
Records obtained by WLBT show that in the first four months of the year, AMR failed to respond to nearly half of its Priority One emergency calls within the times allotted under its contract with Hinds County.
Provisions of that agreement, which was extended by the Board of Supervisors in 2021, show failing to meet response times can cost AMR thousands of dollars in assessments.
The contract also shows not meeting response time mandates for three consecutive months can put the company in danger of default.
Officials with AMR say it's up to the county to impose penalties and determine if a default has occurred. However, WLBT has found no evidence that the county has done that, leaving some residents to question whether the company is being held accountable.
"Who's supposed to keep up with this? That's what I want to know," said Lacy Thomas. "That really ticks me off."
In July, Thomas waited nearly three hours for an ambulance to arrive at her rural Hinds County home after her mother suffered complications from a previous lung biopsy.
"She was shaking a lot. Her lips started turning a kind of bluish color," she said. "I was told by them that they were severely backed up and it was probably going to take a while to get them here."
When an ambulance did show up, it was during her son Reaves' seventh birthday party, and one of the paramedics asked Thomas if instead of waiting for help to arrive, someone could have taken her to the hospital.
"I really didn't know how to take it," she said. "All my life, I've been told if you have an emergency, call 911. And that was definitely an emergency. I just had visions of something happening while I was rushing her to the hospital."
Board of Supervisors President Vern Gavin was unaware of AMR's response times and says the numbers are supposed to be evaluated by emergency operations, in particular, the Emergency Medical Services (EMS) coordinator, Joey Jamison.
"We do have our emergency operations here that get those reports and should have brought that more to our attention," he said. "But this information here today, yeah, I certainly will look into it further."
Jamison and Emergency Management Operations Director Joey Perkins declined to comment for this story, despite repeated requests.
According to AMR's contract, ambulances must respond to 85 percent of all Priority One calls for service within eight minutes in the cities of Jackson and Clinton, 12 minutes in the city of Byram, and 18 minutes in other parts of the county.
However, records show for the first four months of the year, AMR met that requirement just 51.52 percent of the time in Jackson, 50.14 percent of the time in Clinton, and 46.51 percent of the time in Byram.
If AMR fails to meet the 85 percent threshold for two consecutive months, the county can assess a $2,500 penalty for each percentage point below that number.
Based on our figures, penalties for the first four months of the year come to $832,500.
"We do need to look into and follow up and investigate this further, in terms of their response time, and as well as being in compliance with the contract," Gavin said. "I will get with the administrator, I would also get with our legal counsel, and have them work with us on trying to get this information clarified."
"If this data that you've presented is vetted out and proved to be accurate... I think that there are some concerns that we have to address."
Ryan Wilson, operations manager for AMR Central Mississippi, didn't dispute our findings and said the county would be well within its right to impose the fines. He said doing so, though, wouldn't improve response times.
"I could certainly argue that fines of that magnitude could negatively impact our ability to try and find new innovations and new ways of bringing in staff, and making sure our wages are competitive," he said.
Wilson said AMR was aware the company was not meeting response times, and that it was potentially in default. He also was aware residents had raised concerns about long wait times.
In recent months, numerous people in Jackson and Hinds County have come forward with their concerns.
Those residents include Donna Echols, who told WLBT it took 90 minutes for an ambulance to arrive at her Northeast Jackson home after her ex-husband, James Mabus, had a stroke. He died about a week later in an intensive care unit.
Another resident, Shirley Thiac, said she called for an ambulance after her husband, Philip, also suffered a stroke. In her case, an ambulance never arrived, and firefighters eventually had to load him into a car so he could be driven to the hospital.
Philip never fully recovered and died six months later, eventually having to be fed via a feeding tube.
"We hear the complaints and the frustrations," Wilson said. "What the numbers say, we don't dispute them, and we know there needs to be improvement."
He said staffing and wall times are among the biggest factors contributing to the problem and said ambulance providers across the county are dealing with the same challenges.
"There's just not as many people interested in entering the field... which, you know, it's hard work, [a] difficult working environment," Wilson said. "The pay is not as competitive as we would like for it to be."
AMR provided a copy of a March 17, 2023 letter from American Ambulance Association President Randy Strozyk backing up that point.
"Our members already faced hiring difficulties before COVID-19. The pandemic greatly exacerbated [staffing shortages], which [have] now reached crisis levels in cities and counties across the nation," he wrote. "Many ground ambulance service providers and suppliers report that the single greatest challenge they face is finding people to work."
Wilson said AMR noticed the problem back in 2019 and began training EMTs in-house to help boost numbers.
"Not only do we train them, but we actually hire them, you know, citizens who are interested, and you don't have to come in with any background. We hire you; we pay you full-time benefits; we train you to be an EMT," he said.
Global Medical Response, the parent company of AMR, currently has 23 EMT and Advanced EMT openings in the state, including one in Jackson.
AMR says they're also taking steps to address wall times. Wall time is the time ambulances must wait at an emergency room before their patients are off-loaded. Ambulances cannot go back into service until those patients are checked in.
The average wait time at Jackson area hospitals through July was 47.2 minutes. In some cases, wait times extended to nearly 80 minutes, according to data obtained by WLBT through an open record request.
"It's a bad situation to be in," said Julia Clarke, president of the Mississippi Ambulance Alliance. "And... we don't have just a bank of people that we can call in and say, 'Hey, we've got four ambulances on the wall, come in and help us.'"
"And we have to figure out, between EMS and the hospitals, we have to figure out as partners how to fix that."
| Average wall time by month | |
| --- | --- |
| January | 49 minutes |
| February | 51 minutes |
| March | 48 minutes |
| April | 46 minutes |
| May | 47 minutes |
| June | 46 minutes |
| July | 44 minutes |
We reached out to several area hospitals to ask about wall time. Only one, St. Dominic Hospital, responded.
Meredith Bailess, senior director of marketing and communications with St. Dominic's, said the hospital has worked alongside its EMS partners to reduce wall times.
"Those steps have yielded a 73 percent reduction in average wall times since October 2022," she wrote in a statement. "This is an area we continue to monitor and work to maintain those improvements."
Bailess did not say what steps the hospital had taken. At a recent board of supervisors meeting, AMR Central Mississippi Public Affairs Manager Jim Pollard said EMTs had been stationed at several hospitals to help aid in the check-in process.
That was back in August, at the same meeting the board of supervisors voted to fight Jackson's efforts to seek its own ambulance service provider.
Jackson issued a request for proposals seeking its own ambulance service provider in August. Three companies responded to the request.
The county is seeking an injunction to block the city from moving forward with evaluating those proposals while the matter is in litigation. A hearing in that case was slated for earlier this week but still must be rescheduled.
The county argues the decision for the city to issue an RFP is in violation of its current contract with AMR. They say it also is in violation of a long-standing interlocal agreement between the two entities that allows Hinds County to provide the service.
The current contract is one of the cheapest in the state, with the county providing AMR with an annual subsidy of 15 cents per person.
This year, that will amount to approximately $34,163. AMR earns most of its revenue through reimbursements from insurance companies and from fees for transporting patients during non-emergency calls.
The contract was extended in 2021, with the county agreeing to allow Advanced EMTs to staff ambulances as well as paramedics.
A more recent effort to amend the contract to improve response times was voted down at a meeting in September when supervisors rejected a request from AMR to allow some ambulances to be staffed only by basic EMTs.
Officials with AMR said the move would not cost the county anything and would free up paramedics and EMT-As to respond to more Priority One calls.
The measure was rejected on a 2-3 vote, with Supervisors Robert Graham and David Archie voting in favor, and Supervisors Gavin, Credell Calhoun, and Bobby McGowan voting against it.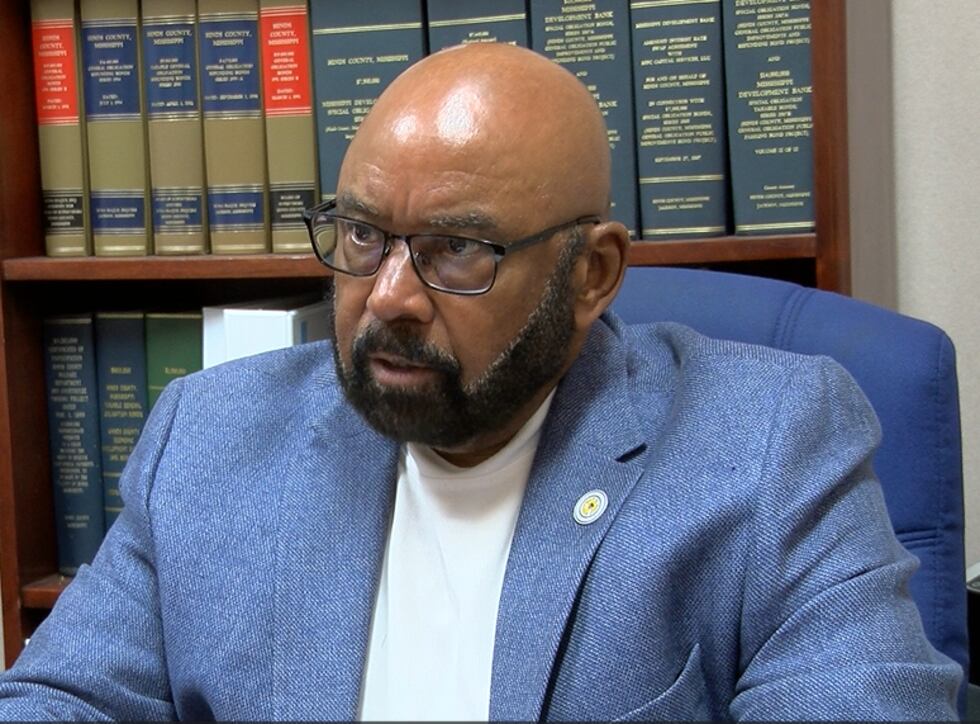 Gavin said the proposal would have allowed someone at a call center to determine whether or not a call was an emergency.
"It was also stated that some of the calls that were being placed in were not necessarily an emergency call," he said. "And so, therefore, the ambulances were being used for non-emergency purposes."
This is the second of a two-part series. Click here to read part one.
Want more WLBT news in your inbox? Click here to subscribe to our newsletter.
See a spelling or grammar error in our story? Please click here to report it and include the headline of the story in your email.
Copyright 2023 WLBT. All rights reserved.