'Time to get current': JXN Water to begin shutoffs for nonpayment this fall
JXN Water looking to raise funds to help struggling customers pay their bills.
Published: Sep. 27, 2023 at 9:03 AM CDT
JACKSON, Miss. (WLBT) - If you're not paying your water bill, it's time to get current.
That's the message JXN Water is sending to customers in a letter going out this week to announce that shutoffs for nonpayment will begin in the fall.
"To keep things flowing, we need money to run the system, make needed repairs, and replace things before they break," Interim Third-Party Manager Ted Henifin wrote. "That should come from water bill payments. It is not happening."
An exact date for when shutoffs would begin was not included in the letter.
According to the document, Henifin tells customers fewer than six out of 10 customers are currently paying their bills, which is "not good if we want to run a professional system that provides safe drinking water and keeps sewage out of the street."
The notice provides customers with several ways to get current, including setting up autopay through a bank account, mailing checks to JXN Water's secure lockbox, and making payments over the phone at (877) 578-2490. Customers can also pay via debit card and e-check, and in cash at multiple free locations across the city.
JXN Water estimates the average family uses around 4,500 gallons of water each month or approximately 150 gallons a day. Customers pay an estimated $6.12 for every 748 gallons used.
Customers who have trouble paying can set up a payment plan via JXN Water's self-serve portal or call (601) 500-5200 to talk about financial assistance options. Some payment plans can be stretched across 12 months.
JXN Water also has set up the "JXN Water Customer Assistance Fund" with the Community Foundation for Mississippi to help customers who are struggling to pay. Right now, they are looking for donors to help fund the account.
For more information, click here.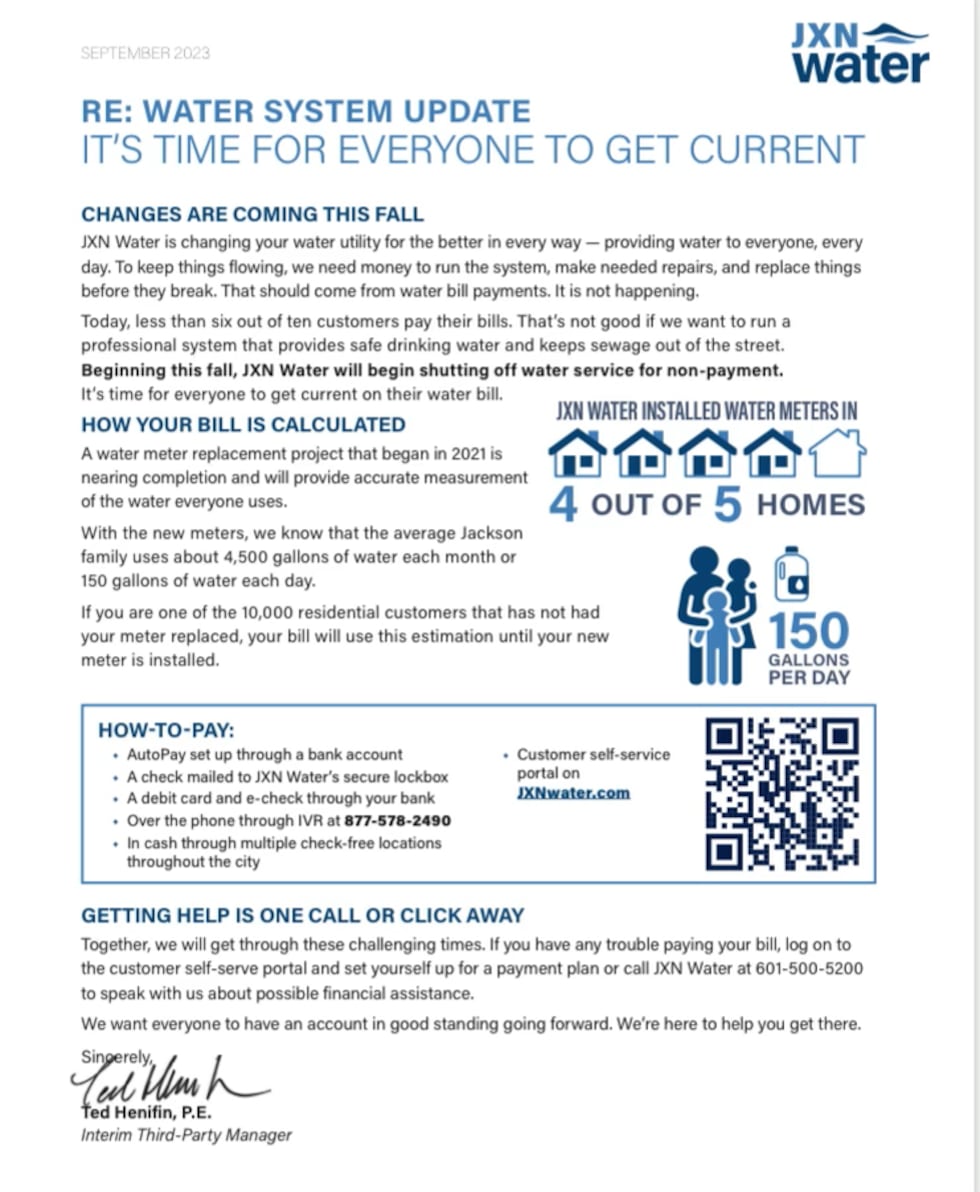 Want more WLBT news in your inbox? Click here to subscribe to our newsletter.
See a spelling or grammar error in our story? Please click here to report it and include the headline of the story in your email.
Copyright 2023 WLBT. All rights reserved.