Former Democratic chair alleges he was removed for blocking misuse of national party money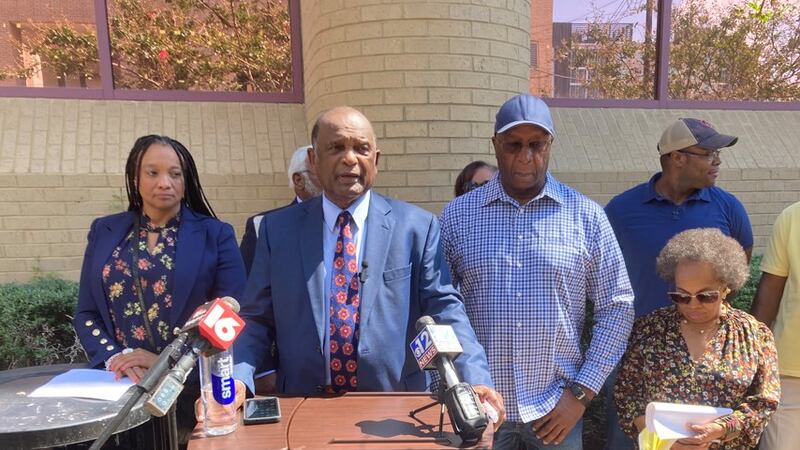 Published: Sep. 26, 2023 at 4:38 PM CDT
JACKSON, Miss. (WLBT) - A former Mississippi Democratic Party chairman says he was removed from office for failing to back plans to direct $200,000 in national party funds to Brandon Presley's campaign.
At a press conference on Tuesday, former chair Tyree Irving doubled down on concerns raised in a complaint filed in Hinds County Chancery Court last week.
He also hinted at a second lawsuit that would be filed in the case and alleged that he was removed from office because he wouldn't support the state executive director's plans to "funnel" $200,000 from the Democratic National Committee to Presley's gubernatorial campaign.
Irving says he's bringing the allegations to light now to clear his name.
"The Bible teaches us that a good name is to be cherished above rubies," he said. "You don't mess with my good name and expect me to go quietly."
He says if any campaigns are hurt by the allegations, it's not his fault, but the fault of those who removed him from office.
"I haven't done anything wrong. I've committed no malfeasance, misfeasance, or nonfeasance," he said. "So, if you want to remove me, and if you contend, by trying to call a meeting, that the reason to remove me is that I have somehow got in the way of some money that's coming to the party, then let's deal with the facts surrounding that."
"And if you accuse me of something else, then give me notice of what I have done or failed to do, then let me respond," he continued. "They didn't follow proper procedure... If they had done that, there wouldn't be a lawsuit."
Irving was removed as chair of the Mississippi Democratic Executive Committee this summer after he sent an email that some believed would have prevented the state from receiving $250,000 in funds from the national party.
Irving says the meeting was called after he raised concerns about Executive Director Andre Wagner's plans to direct $200,000 of those funds to Presley's campaign, despite the national party saying the funds were being sent to support candidates "up and down the ticket."
The former chair told reporters he initially thought the investment was for Presley, based on an earlier phone call with DNC officials, but was told during a June 22 "alignment meeting" that wasn't the case.
He was joined at that meeting by Presley's campaign manager, Wagner, and three representatives from the DNC.
Irving provided a statement sharing details of that meeting:
"When the statement by the DNC's representative did not align with what Judge Irving had been told in the telephone call, he immediately asked for clarification. Without waiting for the representative of the DNC to answer, Andre Wagner spoke up and said something to the effect that there were some things that the DNC could not put in writing."
"Immediately after Wagner's statement, the person who represented herself as legal counsel for the DNC spoke up and said, 'The investment is being made in the Mississippi Democratic Party to support Democrats up and down the ticket in 2023 and 2024."
The Mississippi Democratic Executive Committee called an emergency meeting for July 6 to address "the longstanding and repeated actions of malfeasance and misfeasance of the chair."
The statement went on to say that 30 minutes after that meeting, the manager of the Presley campaign requested that his campaign receive all of the first $41,000 installment.
Irving resigned on July 2, only to withdraw his resignation after it was not acknowledged, according to his lawsuit. He says at the July 6 meeting, he was never informed of what he did wrong. He said supporters who questioned the legality of the meeting were also shut down.
"How does it look? We are the Democratic party, and you're going to engage in undemocratic practices and processes," he said. "How does that look to the rest of the people out here when we are trying to build a multiracial, multicultural, multigenerational party."
MDPEC Chair Cheikh Taylor said in a statement that "we will not litigate the former chair's meritless lawsuit in the press. We look forward to a speedy dismissal of this frivolous case so the Mississippi Democratic Party can focus on the business of getting Democrats elected in this critical election cycle and moving Mississippi forward."
Officials with Brandon Presley's campaign were not immediately available for comment.
Want more WLBT news in your inbox? Click here to subscribe to our newsletter.
See a spelling or grammar error in our story? Please click here to report it and include the headline of the story in your email.
Copyright 2023 WLBT. All rights reserved.