Council approves paving 31 neighborhood streets. Did yours make the cut?
Published: Sep. 26, 2023 at 6:37 PM CDT
JACKSON, Miss. (WLBT) - Jackson city leaders hope to repave some 31 neighborhood streets before winter hits.
On Tuesday, the Jackson City Council approved a nearly $5.1 million contract with Dickerson and Bowen for the first phase of a neighborhood street repaving program.
"This is going to be a multi-phased paving project. This is the first one, the low-hanging fruit that can be put together to get paving done in the fall before the winter hits," said Acting Public Works Director Robert Lee. "There will be additional phases and additional construction contracts issued in the spring."
"We will be working through the winter to put together the second package and pick up streets based on neighborhood surveys that were done a couple [of] years ago."
Hibbett Neel, chair of the board and co-founder of Neel-Schaffer, the firm overseeing the work, said the contract is for five months, and work could begin as early as October. He said work could continue as long as temperatures remain above 40 degrees.
"We wanted to get some things done right away and that's where this contract came in," he said. "There was a feeling what with the one percent [commission], we needed to address the ones that the neighborhoods said were a real problem."
The council approved the measure on a unanimous vote. However, some council members were concerned because they were not consulted in determining which streets were chosen.
Roads were picked by the commission based on surveys completed by neighborhood associations, with no input from council members.
The commission was put in place years ago to oversee how the city's one-percent infrastructure tax is used.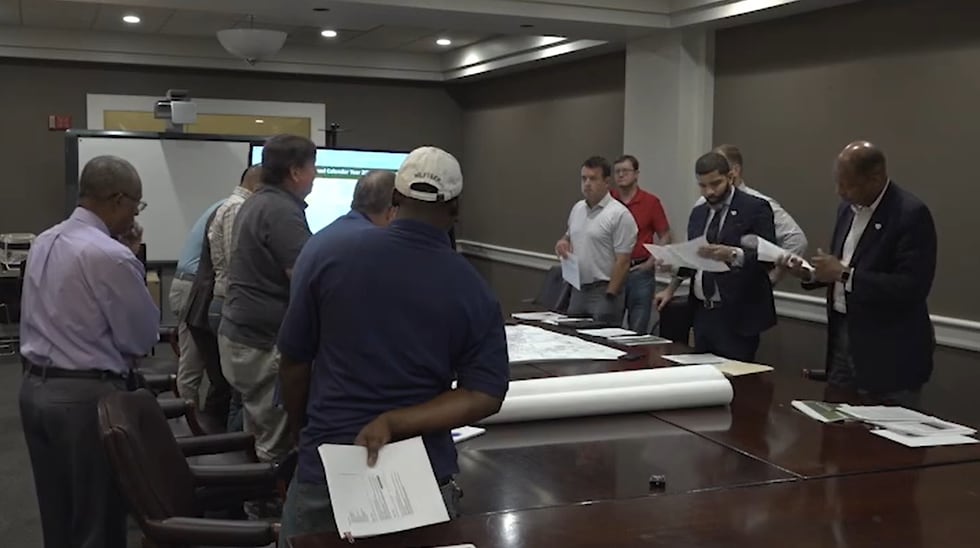 "To do projects like this, and for the council not to know, not to be involved at all, is very problematic," Council President Aaron Banks said. "It is an insult to have stuff mailed into the administration, from HOAs, and as of today, none of the council members up here have a list."
Ward 5 Councilman Vernon Harley said council members need to be involved because some areas don't have organized neighborhood associations to respond to surveys.
"As council folks, we know key communicators, key leaders on different streets. It's important the council gets factored into this prioritization of these streets," he said. "A survey to a neighborhood association may or may not yield the big picture, and we as council folks, look constantly at the big picture."
Lee agreed, saying the commission will likely be discussing how to compensate for areas that did not respond or had a low response to the surveys.
Mayor Chokwe Antar Lumumba, meanwhile, said streets were chosen strategically, to help lower overall costs.
"All streets that were picked [are] within a certain radius of each other. When we go to the next schedule, which can start in the spring, we will be in a radius that allows us to prevent additional costs from moving all the equipment, all the asphalt, all those things," he said.
Lumumba invited council members to attend the one-percent meetings so they could be more involved in the selection process.
"One of the things that we've talked about in this process is there are so many communities that are not with formal associations and how we deal with those," he said. "When you come, it helps in that process."
Streets included in the first phase are listed below:
Main Street - Ridgeway Street to Walter Dutch Welch Drive

Parkway Street - Ridgeway Street to Walter Dutch Welch Drive

Avenue G - Parkway Street to Main Street

Avenue H/James O. Glass Drive - Parkway Street to dead end

Holmes Avenue - Medgar Evers Boulevard to Bainbridge Drive

Ashdown Street - Bainbridge to Albermarle Road

Aurora Street - Bainbridge to Albermarle Road

Bainbridge Drive - Holmes Avenue to dead end

Albermarle Road - Larkspur Street to Oakland Avenue

Eminence Row - Bailey Avenue to dead end

Lawson Street - Eminence Row to dead end

Cottage Street - Eminence Row to Collier Avenue

Marion Dunbar Street - Ridgeway to Mayes Street

Ridgeway Street - Livingston Road to dead end

James Hill Street - Ridgeway to Mayes

Mobile Avenue - Randall Street to Lavernet Road

Taylor Street - State Street to dead end

Lorenz Boulevard - West Street to State

Council Circle - State Street to State Street

Redwing Avenue - Council Circle to Council Circle

Eagle Avenue - Council Circle to dead end

Glenway Drive - Old Canton Road to Woodland Circle

Ridge Drive - Woodland Circle to Wood Dale Drive

Woodland Circle - Glenway Drive to Glenway Drive

Woodland Drive - Glenway to Woodland Circle

Peachtree Street - Poplar Boulevard to Woodrow Wilson Avenue

Myrtle Street - Laurel Street to Riverside Drive

Bellevue Place - State to Monroe Street

Moody Street - Madison Street to Greymont Street

Whitworth Street - Bellevue to Manship Street

Quinn Street - Moody Street to Poplar Boulevard
Want more WLBT news in your inbox? Click here to subscribe to our newsletter.
See a spelling or grammar error in our story? Please click here to report it and include the headline of the story in your email.
Copyright 2023 WLBT. All rights reserved.