The End Zone: Terry tops Provine in low-scoring battle in WLBT's Game of the Week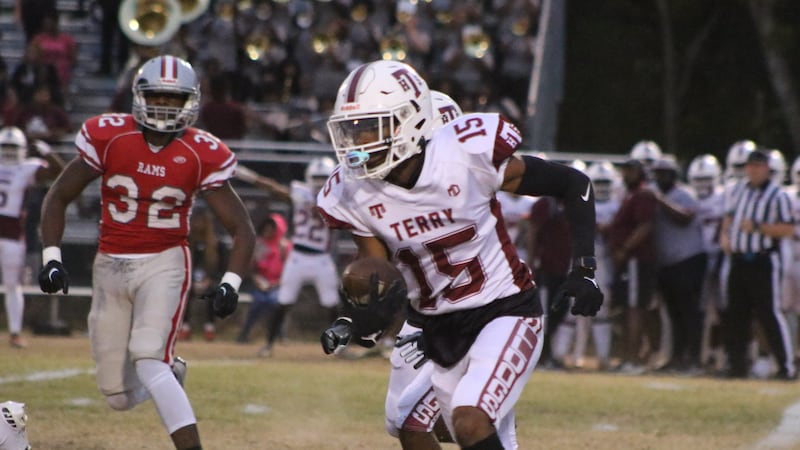 Published: Sep. 22, 2023 at 11:17 PM CDT
JACKSON, Miss. (WLBT) - The Terry Bulldogs win in a defensive battle at the North Jackson field to take against the Provine Rams to highlight The End Zone's Week 5 coverage.
Click here to view scores across Central Mississippi.
Provine vs. Terry
Terry traveled to the North Jackson Field for a JPS Showdown against the Rams of Provine.
The Bulldogs received the ball to start the Game of the Week, with a run by Terry QB Ashton Fair setting up a great opportunity on their opening possession.
Just a few plays later, Fair fired a laser over the middle to RJ Hall who brought two defenders along for the ride and fought his way to the goal line for the opening score of the game.
After that, scoring was hard to find for both teams thanks to great defensive plays.
The Rams' offense, which struggled all night, did make a final drive attempt to win the game, but the Bulldogs defense prevailed, leading Terry to a 6-0 victory.
Terry head coach Kris Thigpen says he's glad his team pulled out the close win.
"We gotta play better. We gotta play with better technique... We got a lot to clean up, but I'm proud of our defense," Thigpen said. "Our defense stood strong all night, made stops, and made plays. It was a hard-fought game for both teams, but I'm glad we came out on the winning end.
Ridgeland vs. Murrah
The Titans earn a narrow victory, Murrah loses first game of the season 16-13.
Brookhaven vs. Northwest Rankin
Northwest Rankin dominates Brookhaven 41-19.
Germantown vs. Pearl
Pearl stays undefeated, beat Germantown 44-28
Madison Central vs. Warren Central
The Vikings upset the Jaguars at Madison Central on homecoming night 24-21.
Canton Academy vs. Tri-County Academy
Tri-County crushes the Panthers 43-6.
Jackson Prep vs. Evangelical Christian (TN)
The Patriots down Evangelical Christian 49-7 on homecoming night.
Hartfield vs. Lafayette County
The Hawks beat MHSAA side Lafayette County 35-7 in front of a homecoming crowd in Flowood.
Brandon vs. Gulfport
Brandon wins 3 in-a-row, beats Gulfport 35-20 on homecoming night.
Clinton vs. South Panola
South Panola travels to Clinton and leaves Arrow Stadium with a 26-11 victory.
Florence vs. Holmes County Central
Holmes County Central scores a game-winning touchdown late in the fourth quarter in an exciting victory against Florence 42-40.
Want more WLBT news in your inbox? Click here to subscribe to our newsletter.
See a spelling or grammar error in our story? Please click here to report it and include the headline of the story in your email.
Copyright 2023 WLBT. All rights reserved.