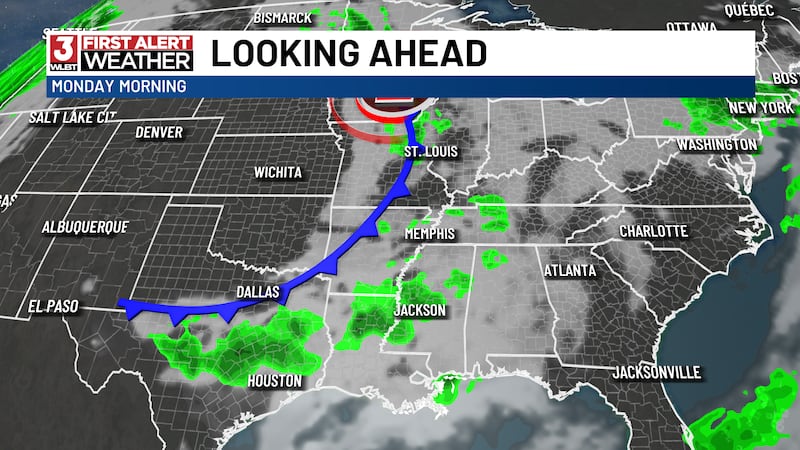 Published: Sep. 22, 2023 at 5:48 PM CDT
|
Updated: Sep. 22, 2023 at 10:15 PM CDT
JACKSON, Miss. (WLBT) - A few clouds move in overnight as temperatures fall back into the mid 60s with some evening showers mainly in southwestern Mississippi. The first day of fall is tomorrow, but it sure will still be feeling a little warmer as highs will be in the low 90s y Saturday afternoon. Again, the chance of rain remains zero to start off the weekend with partly to mostly sunny skies throughout the day. Saturday night still looks rather pleasant as temperatures drop back into the mid 60s. If you plan to head out to any of the football games at home this weekend, it looks to stay dry. The end of this weekend looks to be quiet for the first half of Sunday with temperatures hovering around that upper 80s and 90 degrees. Sunday afternoon and into Sunday evening could have a stray shower or two for a few of us, but the better chance for rain comes Monday. More widespread showers will move in Monday as temperatures stay in the low to mid 80s. Rain chances stick around through the middle of next week but look to drop off by Thursday. Tracking the tropics, we have Tropical Storm Ophelia expected to bring impacts to the North Caroline coast but again won't be a threat to us at home. Another system of the coast of Africa now has a 90% chance of becoming a tropical system of the next few days but will continue to watch it.
Want more WLBT news in your inbox? Click here to subscribe to our newsletter.
See a spelling or grammar error in our story? Please click here to report it and include the headline of the story in your email.
Copyright 2023 WLBT. All rights reserved.