'A good day for us': Justices hand down mixed ruling in H.B. 1020 challenge
Published: Sep. 21, 2023 at 2:08 PM CDT
JACKSON, Miss. (WLBT) - Petitioners have gained a partial victory in their effort to block House Bill 1020.
Thursday, the Mississippi Supreme Court partially affirmed and partially rejected a lower court's ruling to toss out a constitutional challenge brought by three Jackson residents.
The high court sided with Chancellor Dewayne Thomas that a provision in the bill creating a special CCID court is constitutional.
It also ruled there are no constitutional impediments blocking the chief justice of the Mississippi Supreme Court from appointing judges in emergency circumstances.
"The catalyst for the Legislature's passing of House Bill 1020 is what one judge recently described as the 'sweltering, undisputed and suffocating' crime problem in Jackson," the court wrote. "While political and social controversy [has] surrounded this bill, the bulk of the bill's provisions, which are aimed at improving public safety and bolstering judicial resources in Jackson, are not at issue."
Supreme Court ruling at at-a-glance:
CCID inferior court is constitutional

Appointment of "temporary special circuit judges" unconstitutional

Affirms lower court's decision to dismiss Chief Justice Mike Randolph and Circuit Clerk Zack Wallace from case

Says chief justice may appoint judges under Mississippi State Statute
However, the court ruled that 1020's provision calling on the appointment of temporary circuit judges to the Hinds County Circuit Court does violate the state Constitution and reversed and rendered judgment.
The decision comes months after residents Ann Saunders, Sabreen Sharrief, and Dorothy Triplett filed a complaint in Hinds County Chancery Court challenging provisions of the measure, in particular, the appointment of special circuit court judges.
Under provisions of 1020, the chief justice would be required to appoint four judges to the circuit court bench for a term ending December 31, 2026.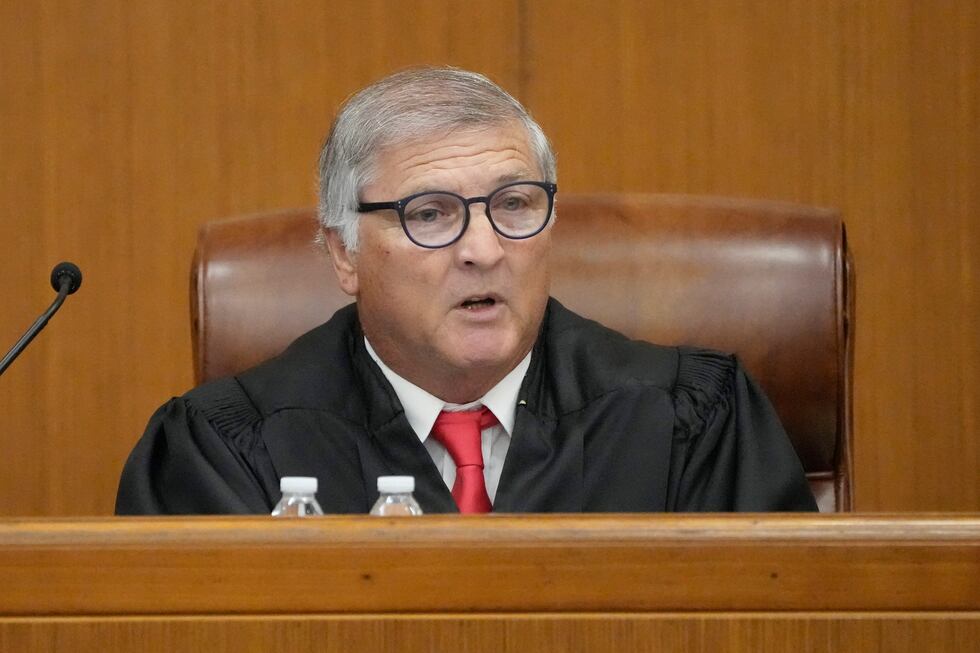 Saunders, Sharrief, and Triplett argued the Mississippi Supreme Court mandated that judges be elected and that they reside in the areas they represent.
"While Section 1 calls these new judges 'special circuit judges' on paper, we see nothing special or unique about them - certainly nothing expressly tethering them to a specific judicial need or exigency," the Supreme Court wrote. "Rather, Section 1′s text merely creates four unelected circuit court judgeships, appointed into Hinds County to serve three-and-a-half years instead of four."
While the Supreme Court said that provision didn't pass constitutional muster, state statute does give the chief justice the ability to appoint judges in emergency circumstances "like those plaguing the Seventh Circuit Court District."
It also ruled that the chief justice may appoint those judges "for whatever period of time as designated by the chief justice."
"This statutory authority has existed in various forms for more than 30 years. And it has been utilized routinely by past chief justices and the present chief justice to address backlogs and emergencies in the Seventh Circuit Court District and other Mississippi Courts."
Saunders and Sharrief applauded the high court's decision.
"As a citizen of Jackson who has traced my family's documented presence in Mississippi back to 1855, I am grateful for the clarity of the state constitution regarding the election of circuit court judges," she said in a statement. "And I am grateful for the justices affirming that constitutional requirement."
Sharrief, a 14-year Jackson resident, said it was wrong for lawmakers to push through 1020, which only targets Jackson. "I knew I had to fight back. It's time for Mississippi to do the right thing by her people, which is true and equal justice for all," she said.
Cliff Johnson, director of the MacArthur Justice Center, which filed the suit on behalf of Saunders, Sharrief, and Triplett, said the ruling also means that people who participate in the CCID court do have the right to appeal to a county court.
"If they get a ruling that they don't agree with, they're not stuck with it," he said. "That was good news for us, and really what they left was a narrow exception to the requirement that judges be elected that... allows the chief justice to appoint judges only when there's a finding of emergency or overcrowded docket."
"So, it was a good day for us... I was really happy for our plaintiffs."
Justice James Maxwell wrote the opinion for the majority. He was joined by Justices Josiah Coleman, Dawn Beam, Robert Chamberlain, David Ishee, and Kenneth Griffis.
Justice Jim Kitchens concurred and dissented in part and issued a separate written opinion. He was joined in that opinion by Justice Leslie King.
Kitchens agreed with the majority on all issues, except the decision to uphold the CCID court.
The CCID is the Capitol Complex Improvement District, a special district that takes in a large swath of Jackson.
Misdemeanors committed in the district would be handled by an "inferior court," set up by 1020 to preside over cases in that district rather than by courts in Jackson or Hinds County.
Kitchens argued that inferior courts must be carved out of "constitutionally created court[s]" and be subject to courts with the same or greater jurisdictions.
"While House Bill 1020 may seem to carve the jurisdiction of the CCID court (a criminal trial court) from that of the circuit court, no statutory mechanism operates to place the CCID under the controlling authority of the circuit court," Kitchens wrote. "This is a fatal constitutional deficiency that cannot be rectified by the judicial branch of government."
Chief Justice Mike Randolph did not participate.
A second suit is still pending in U.S. District Court. That complaint was brought by the NAACP, the Mississippi Conference of the NAACP, and others to block the implementation of 1020.
Attorneys are seeking a stay in the judge's ruling lifting a temporary restraining order on Randolph preventing him from appointing judges to the circuit court.
Want more WLBT news in your inbox? Click here to subscribe to our newsletter.
See a spelling or grammar error in our story? Please click here to report it and include the headline of the story in you
Copyright 2023 WLBT. All rights reserved.