'The light works': Workers reunite a year after 2022 Jackson water crisis
Published: Sep. 8, 2023 at 9:12 PM CDT
JACKSON, Miss. (WLBT) - It was one of the first things Terry Lynn noticed as she stepped off the tour bus.
"The light works," she said.
Lynn, an electrician from Michigan, was one of dozens of volunteers who descended on the capital city last year to help out during the 2022 water crisis.
And the fact that the lights are still working at the city's main water treatment plant is a testament to the work she and others did during those crucial weeks.
On Friday, about 50 water maintenance workers, electricians, mechanics, and water plant operators from around the country were back in Jackson to commemorate the anniversary of their work and get a first-hand look at the system today.
As Lynn and others filed off the large, white charter bus at the O.B. Curtis Water Treatment Plant, no one could argue conditions at the facility were far better than they were when they arrived in Jackson a year ago.
"This building is amazingly cooler right now," said Justin Barkey, a maintenance manager with Greater Cincinnati Water Works.
Barkey was referring to the large ceiling fans installed in the enclosure housing the Curtis plant's membrane treatment system. The enclosure had not been completed and those fans were not installed during the crisis.
"It's a hell of a lot cleaner," said Victor McKinney, also with Greater Cincinnati Water Works.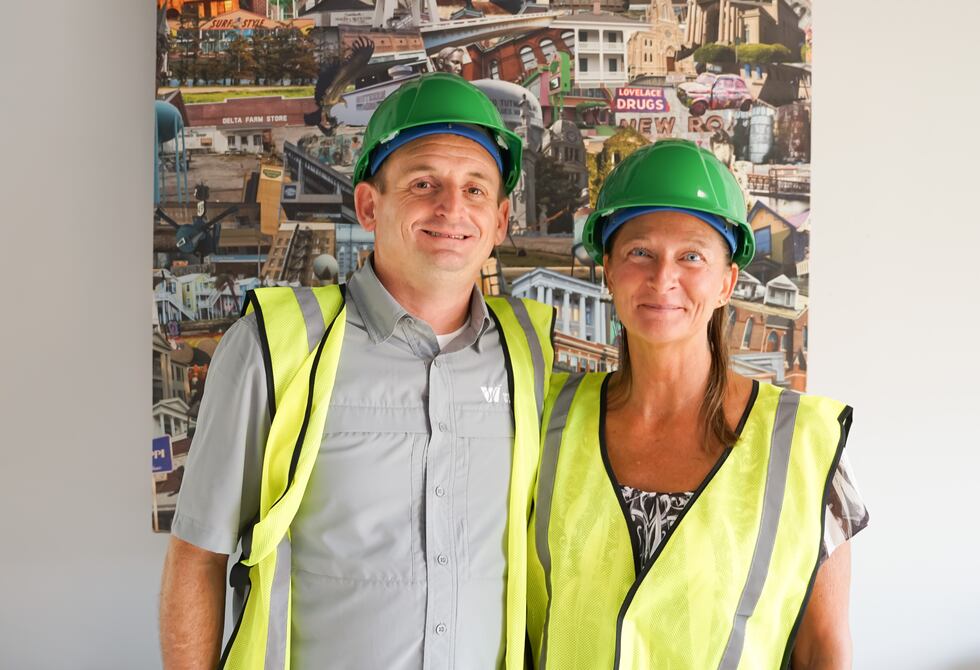 Last August and September, some 60 workers from across the United States came to Jackson after the city's main water treatment plant shut down.
At the time, they were greeted by a plant that was dealing not only with pump failures but also staffing shortages and unsafe working conditions.
Those conditions included everything from the lack of lighting inside plant buildings to a lack of handrails along walkways, and doors that wouldn't properly open or shut.
"I've seen broken equipment like this, but never on a large scale," Barkey said. "There was no redundancy."
The 20-year water maintenance worker outlined his experience in an article published in the July-August issue of OpFlow, a water industry publication.
He wrote the crisis would have been "challenging to recreate in a simulated training or emergency response exercise."
"I'm from a large, well-funded utility," he said. "I'd never seen this side of the coin."
Radhika Fox, assistant administrator for water at the Environmental Protection Agency, said last year's effort was the single largest response in EMAC history.
EMAC is the Emergency Management Assistance Compact, which, according to the EPA's website, allows states to send equipment, personnel, and commodities to other states during governor-declared emergencies.
Fox, the highest-ranking water official in President Joe Biden's administration, was on hand Friday to tour Curtis and thank workers for their efforts.
"It was pretty clear from the beginning that one of the biggest needs was having water professionals help bring the system back up," she said. "The call went out and you all answered the call."
The event was organized by Interim Third-Party Manager Ted Henifin.
Henifin, who was put in charge of Jackson's water system in November, came to the capital city during the crisis as an "executive on loan" from the U.S. Water Alliance.
The 40-year-public works veteran said he wanted to give volunteers a chance to get together and share stories, and to show them how the system has improved.
"That's why we're here today," he said. "Because you're going to get to see what actually has happened in the last year. You're going to feel proud that you put it in that position, so we could keep it going."
For many of the workers in attendance, knowing Jackson residents have water is thank you enough.
"My husband asked me why I was going, and I said, 'Think about our daughter getting up in the middle of the night and not being able to get a drink of water... Someone's child in Jackson is doing that right now,'" Lynn said.
Lynn spent two weeks in the capital city, helping to address electrical issues at Curtis. When she arrived, she said it was so dark in the plant's chemical building that workers didn't notice standing water only inches away from a high-voltage electrical box.
"The priority was putting the lights on in all of the buildings," she said. "None of the guys could work because they couldn't see what they were doing."
Erik Tijsma, a five-year water maintenance worker from Greater Cincinnati Water Works, was one of the first on his team to volunteer. He said conditions were nearly as bad at the city's J.H. Fewell Water Treatment Plant.
"The people had been doing the best they could, but there was no electrician, no instrument technician. Everything was falling apart," he said. "They were one pump failure away from falling apart."
In August, equipment failures at the Curtis plant led to a near-complete shutdown of the city's water system, leaving tens of thousands of people in Jackson, Byram, and Hinds County with little to no running water.
At the time, Gov. Tate Reeves declared a state of emergency, saying state officials had been preparing for a system failure for weeks.
Water pressure for most homes and businesses was restored days later but work to stabilize Curtis and Fewell continued for several weeks.
State and federal declarations were declared in August. The federal emergency ended on October 13.
Barkey said volunteers were worried about how long the repairs would last once the federal emergency ended, but says conditions seem to be better under Henifin's watch.
"There was a thought that it would be all for nothing if they didn't get money or get a contractor in here," he said. "But it looks like it's moving in the right direction."
Since December, more than $600 million in federal funds have been allocated to help restore the system. Fox told the workers President Biden personally worked to ensure the funds were including in last year's omnibus spending bill.
Additionally, Jacobs Solutions, a private contractor, has been brought on to staff the water treatment facilities.
Under Jacobs, both plants are close to being fully staffed, and workers are earning more than they did under the city. When volunteers arrived at Curtis last year, just five people were working at that plant, trying to do the work of 25.
"There's still a long road to go to make sure that we rebuild the system on behalf of the people of Jackson, but the progress in just one year..." said Fox, "I'm glad to be here today to celebrate all of you."
Want more WLBT news in your inbox? Click here to subscribe to our newsletter.
See a spelling or grammar error in our story? Please click here to report it and include the headline of the story in your email.
Copyright 2023 WLBT. All rights reserved.