Jackson State looking to rebound in Boombox Classic with uncertainty at quarterback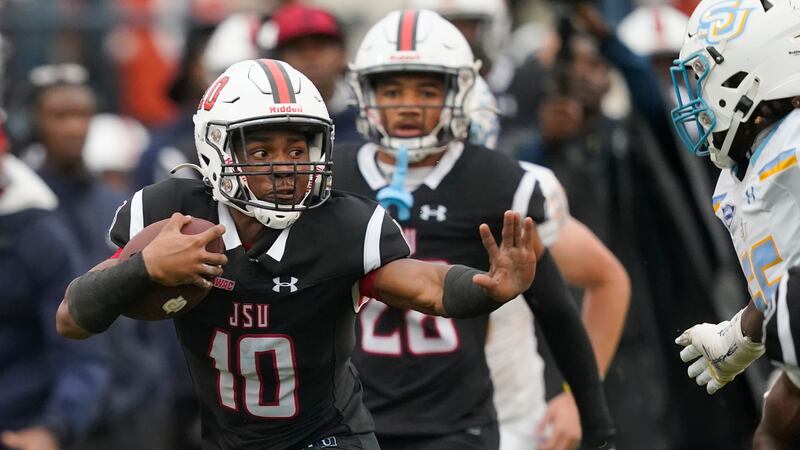 Published: Sep. 6, 2023 at 3:55 PM CDT
JACKSON, Miss. (WLBT) - Jackson State football and head coach T.C. Taylor are looking to respond in the Boombox Classic against Southern University after a disappointing loss to Florida A&M Sunday.
After a physically dominating Week 0 victory against South Carolina State, the Tigers got "hit in the mouth" in a 28-10 loss against the Rattlers, JSU's first SWAC loss since 2020.
Now, Coach Taylor is facing a tough decision: whether to go with the original starting QB and MEAC/SWAC Challenge MVP Jason Brown or former Ridgeland High School standout Zy McDonald.
During the contest against Florida A&M, Brown's performance leveled dropped on top of sustaining an injury to his throwing hand in the second quarter. Taylor said Tuesday that he is waiting for the x-ray results to come through, but that Brown should be "ready to go" Saturday.
McDonald, who started the second half, led the Tigers on both of their scoring drives while completing 10 of his 14 passes for 147 yards and a touchdown.
"That is something we'll work on this week," Taylor said when asked who would start at quarterback against Southern. "It's still going to be the guy that is the best leader on the field and get us back to playing with a good tempo and making good decisions with the football. Kudus to Zy. He came out there, fought well, and showed some tenacity and toughness. He did what we asked him to do."
Regardless of who starts at the quarterback position, Coach Taylor says the offense needs to reestablish its fast tempo and the team needs to find its physicality in Baton Rouge on Saturday.
"We didn't play with any tempo [against FAMU]," Coach Taylor said. "We gotta get back to playing fast and just with physicality. We gotta continue to work on the red zone scoring opportunities... the biggest thing I've talked to with my staff about."
Southern will be looking for revenge in the rivalry matchup after losing twice to the two-time defending SWAC Champion JSU Tigers last season.
Regardless of circumstance, Taylor says that playing JSU is "everybody's championship."
"They're going to be hungry," he said. "They're playing the defending champs, the team that dominated and beat them twice. It's gonna be like that for Jackson State every week right now. That's what our teams have to understand. Everybody we play is going to elevate their level of play... everybody wants to beat Jackson State. Coach Dooley will have them ready to play."
The Boombox Classic is set to kick off at 6 p.m. Saturday night and will be streamed on ESPN Plus.
Want more WLBT news in your inbox? Click here to subscribe to our newsletter.
See a spelling or grammar error in our story? Please click here to report it and include the headline of the story in your email.
Copyright 2023 WLBT. All rights reserved.