Can Southern Miss beat Florida State? It's been done before.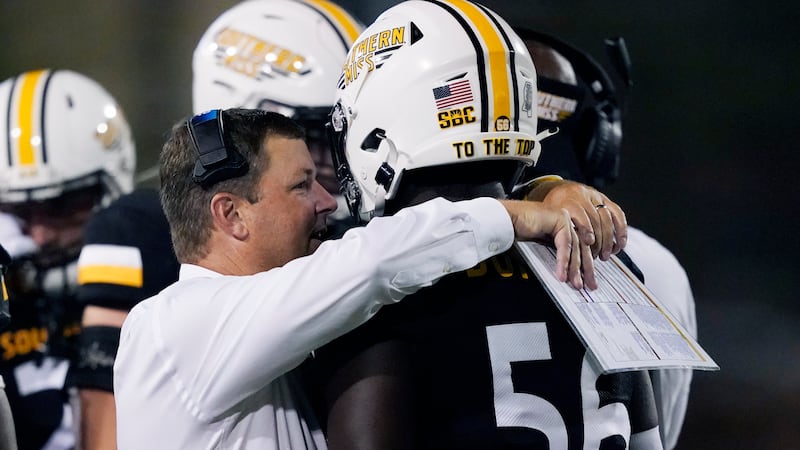 Published: Sep. 6, 2023 at 5:18 PM CDT
JACKSON, Miss. (WLBT) - Southern Miss will have a chance to do the unthinkable on Saturday: beat the number four-ranked Florida State Seminoles in Tallahassee.
It may sound like a long shot, but it has been done before.
USM has a large history of upsetting the "big teams," specifically Florida State, beating the Seminoles eight times in their history and most recently in 1989, according to Southern Miss Athletics.
Head coach Will Hall, who is in his third year at Southern Miss football, told WLBT that he views this game as a measuring stick of where his program is and is looking forward to the opportunity to potentially write another storied win in USM's history book.
"We love our history here and we certainly sell that," Coach Hall said. "We're trying to build the program back. What will be interesting for us is two years ago, we went over to play Alabama - who was a top 3, 4 opponent competing for a national championship. We couldn't even slow them down or do anything... They were just way, way better."
"It's going to be interesting to see two years later if we have grown any and now we can go over [to Tallahassee] and put ourselves in a position to win. That's something I'm looking forward to. There's gonna come a day when Southern Miss is back in that arena and back able to do that, and we certainly hope it's right now."
Southern Miss beat Alcorn State 40-14 in their season-opener and has their most talented team in the Will Hall era.
The Golden Eagles will be without starting tight end Cole Covallo and running back Kenyon Clay is "questionable" to be healthy enough to play heading into the matchup.
Hall says a win would be immense for the program.
"You can't even measure it," he said. "It would cause us to leapfrog and skip about four or five steps closer to getting back to being the best Group of Five program in America. It would be immeasurable."
Regardless of the outcome, the game will prepare the Golden Eagles for the rest of the season.
"It's not a challenge to get them ready to play, because it's an awesome opportunity," Coach Hall said. "A lot of the guys feel like they belong in that kind of moment. It's a chance to prove yourself. I think this game is going to cause growth for the program... win or lose, it's gonna put us in a championship-type environment and game before we have to do that at the end of the season. We're looking forward to the opportunity and going there to play Southern Miss football."
USM and Florida State will kick off on Saturday inside of Doak. S. Campbell Stadium. It will be streamed on ACC Network and ESPN Plus.
Want more WLBT news in your inbox? Click here to subscribe to our newsletter.
See a spelling or grammar error in our story? Please click here to report it and include the headline of the story in your email.
Copyright 2023 WLBT. All rights reserved.