Archie calls on Hinds Co. Democratic chair to step down, alleging fraud in party primary
Published: Aug. 31, 2023 at 5:39 PM CDT
JACKSON, Miss. (WLBT) - A Hinds County supervisor claims the county's top Democratic Party official kept him from winning re-election, and now he's calling on her to resign.
On Thursday, District 2 Supervisor David Archie called on Democratic Executive Committee Chair Jacqueline Amos to step down, saying he has evidence that she tampered with the results in the Democratic Primary to ensure his opponent, Anthony Smith, would win.
He says he's sending letters to the state and national Democratic Parties demanding she and her secretary step down. He's also challenging the election outcome with the county's executive committee.
"There's a lot of fraud going on in Hinds County politics," he said. "But this time, it couldn't have happened to a better candidate – a sitting Hinds County supervisor."
Archie held a press conference at the Hinds County Election Commission headquarters Thursday afternoon. The briefing comes weeks after Archie was defeated by Smith by nearly 1,900 votes in the Democratic primary.
"We have videotape of Jacquie Amos going into boxes, bringing in thumb drives, bringing in ballots to be inserted into machines," he said. "We have pictures of Jacquie Amos participating in what we think is fraud, as well as corruption."
He provided reporters with a screenshot of a text he says is from Amos to back up his claims.
It shows a back-and-forth between Amos and an unknown texter. The texter allegedly tells Amos not to let "them cheat Deborah Dixon out of her election. She won fair and square."
Amos allegedly responds, saying that Dixon won and that she was "f---ing David Archie on site."
"The bottom line is that we have the text, she's the chairperson, she's the one that's responsible," Archie said. "She must be impartial to any and all elections here in Hinds County and this does not speak that she was being impartial to an election."
Amos did not return our phone calls but did email a statement. "The Hinds County Democratic Executive Committee conducted the August 8 Democratic Primary in keeping with applicable state law," she wrote. "The executive committee has canvassed the returns and certified the results of the August 8 primary. Those results speak for themselves."
Archie was joined by several supporters, including District 2 resident Taylor Pedigo, who also questioned whether the results were accurate.
"I was watching the election numbers come in and immediately I knew that something funny was going on, that this man that I had never heard of, that I had never seen a yard sign of... came out the gate with a huge lead," she said. "This leads me to believe that this needs further investigation."
Yazoo City resident Cynthia Walker helped Archie with his ballot recount.
She said the county's voting machines include several safeguards to ensure results can be verified. However, she claims most of those components were not in use during the August 8 primaries.
Among safeguards, the machines require a paper ballot, which is scanned as they are turned in. The machines also include a machine tape, which provides a count of all paper ballots cast, as well as media sticks, which record the total votes cast for each candidate in each race on the ballot.
"I stand before you to tell you 26 out of 26 precincts did not include the tapes," she said. "We don't know how many votes took place because all we have are the paper ballots."
Meanwhile, Walker told reporters that the machine's media sticks should have been kept under lock and key at the Hinds County Circuit Clerk's Office, but instead had been sent back to the election commission's headquarters.
"They were here in this building with an election commissioner, Mr. Clark," she said. "He advises me that he had the right to be involved with the election. The law does not dictate that he's the custodial person of anything. Those items are to be locked in Mr. Zack's vault."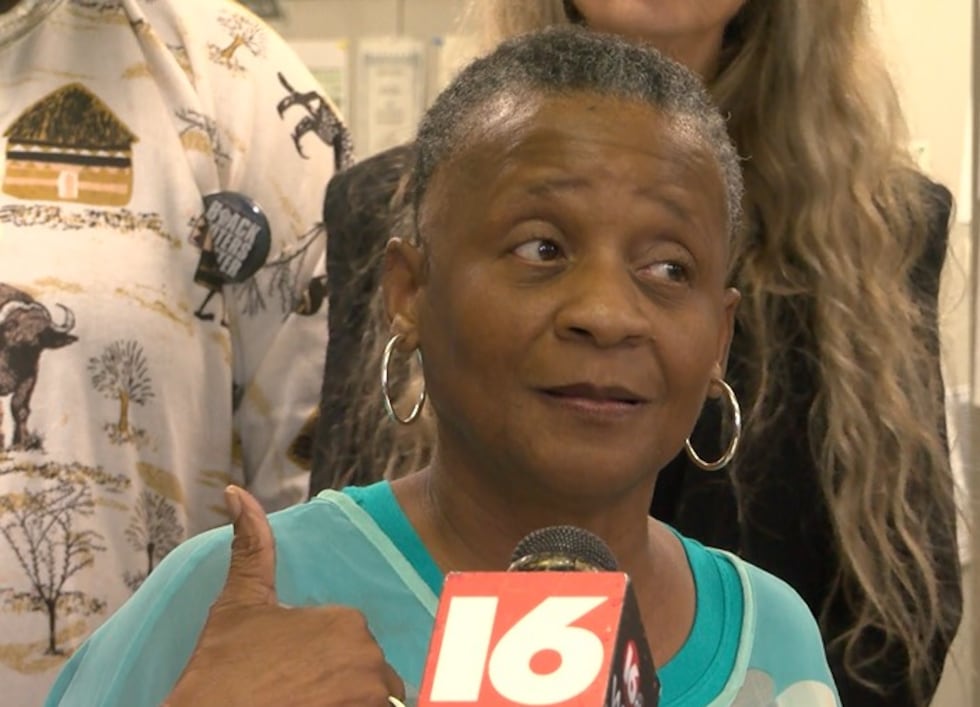 Zack is Circuit Clerk Zack Wallace. He was not immediately available for comment. Clark is Jermal Clark, the election commissioner for Hinds County District Three. Clark declined to comment at this time.
Amos' statement did not respond to the concerns raised by Walker.
Jocelyn Amos, Jacquie's sister, attended the press conference and said that Archie could not accept the results.
"David lost the election because the people wanted someone better, someone new," she said. "I voted for him. But the people, they spoke. Not Jacquie Amos. Jackson did."
Want more WLBT news in your inbox? Click here to subscribe to our newsletter.
See a spelling or grammar error in our story? Please click here to report it and include the headline of the story in your email.
Copyright 2023 WLBT. All rights reserved.