Southern Miss set to begin 2023 season full of opportunity against Alcorn State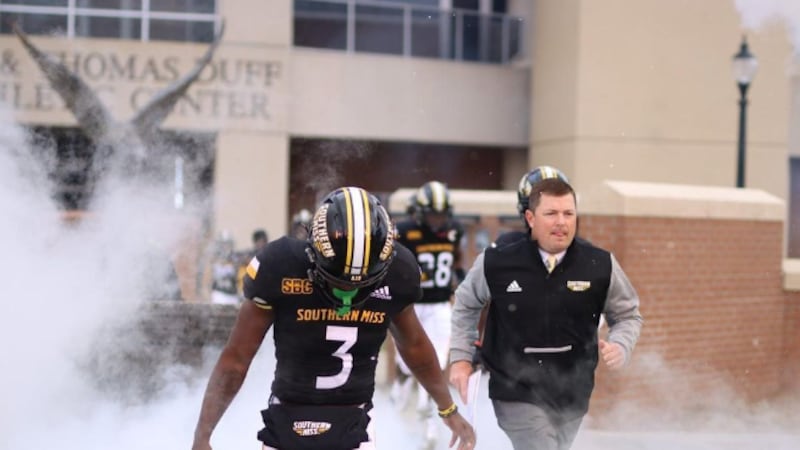 Published: Aug. 30, 2023 at 4:48 PM CDT
JACKSON, Miss. (WLBT) - After an exciting fall camp, the Southern Miss Golden Eagles are set to begin year three under head coach Will Hall on the gridiron against Alcorn State.
The upcoming season will present something new for USM fans; a fully utilized offensive playbook.
After two years of limited capabilities offensively highlighted by "Superback" packages from star running back Frank Gore Jr., the Southern Miss offense, led by sophomore starting quarterback and Clemson transfer Billy Wiles, is ready to unleash its full potential.
"I'm very excited," Coach Hall said to WLBT when asked about utilizing to full offensive playbook. "There's been some times where calling plays have been miserable. Sometimes, you were calling plays to survive. Sometimes, you were calling plays just to make sure you ran the clock. and give our defense and special teams a chance to win the game."
"Now, we can be more aggressive and more attacking and do what we've always done," Hall continued. "I'm having fun again [calling plays] through spring ball and the summer and this fall camp. It's been a whole lot more fun."
Southern Miss has unquestionably its most talented roster since Will Hall was appointed head coach.
The talent will need to translate to on-field success, however, as USM faces a challenging but opportunistic 2023 schedule that will begin with a home meeting against a competitive Alcorn State team on Saturday, a team traveling to Hattiesburg expecting to "win a ball game, not just collect a check."
"This is no different than us going to Mississippi State later in the year," Coach Hall said. "I think they're going to win the SWAC. I've got the utmost respect for Coach McNair and Coach Thomas, their defensive coordinator. They've won the SWAC twice since he's been there and their division four times. They've got really good players.
"This is a program that prides itself in winning," Hall continued. "They're used to winning, and I think it's great that we are playing them... I love this state and I love everything about this state. I think it's awesome that we all play each other."
Both head coaches have said they are expecting M.M. Roberts Stadium to be packed for the season-opener.
The instate rivalry is set for a 6 p.m. kickoff. The contest will be streamed on ESPN Plus.
Want more WLBT news in your inbox? Click here to subscribe to our newsletter.
See a spelling or grammar error in our story? Please click here to report it and include the headline of the story in your email.
Copyright 2023 WLBT. All rights reserved.