How Jackson State dominated South Carolina State in Celebration Bowl rematch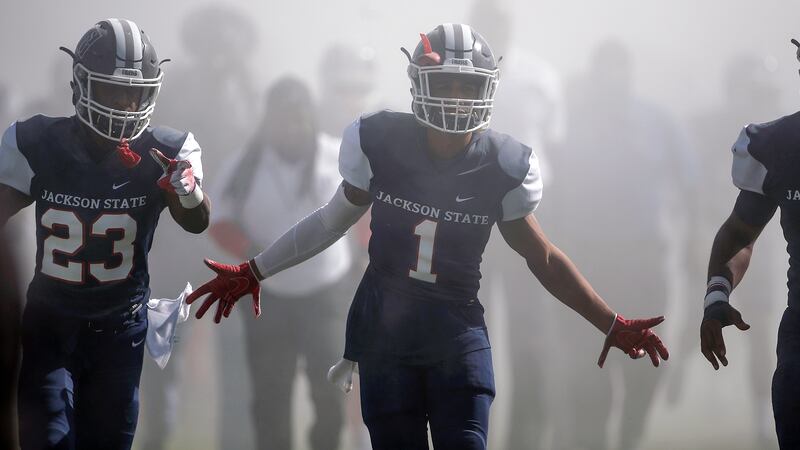 Published: Aug. 26, 2023 at 10:05 PM CDT
ATLANTA (WLBT) - "For us, it was about a little payback, to be honest," Jackson State football head coach T.C. Taylor said at the MEAC/SWAC Challenge Media Day about playing South Carolina State to open the 2023 season. "Once this game was announced, we had guys licking their chops."
The T.C. Taylor era has arrived, and he already did what a Deion Sanders-led JSU team couldn't.
JSU lost the 2021 Celebration Bowl 31-10 against South Carolina State in a game that Taylor says "kicked our butts on TV," and "hit us in the mouth."
Payback is exactly what Taylor and the Tigers cashed in Saturday night in the MEAC/SWAC Challenge, displaying a dominant performance against the Bulldogs, beating South Carolina State 37-7. It's also the program's first-ever MEAC/SWAC Challenge victory.
Here's how they did it.
Winning the trenches
The Tigers were physically manhandled two years back when the two teams met. Saturday night, JSU flipped the script.
"Great job to the football team tonight," Taylor said in his opening statement after the win. "They really set the tone. We talked about this moment way back in spring ball... and they came out here and put it all together. This is just the beginning for this football team."
Jackson State dominated the line of scrimmage on both sides of the ball all game. An offensive line that was reshuffled with new faces this fall was able to sustain a solid push on the Bulldogs' front seven for the entirety of the contest, opening holes for running backs JD Martin and Irv Mulligan and giving starting QB Jason Brown time to throw.
The two running backs combined rushed for 126 yards and a touchdown. At one point during the game, Brown completed 21 passes in a row.
"My confidence level with the offense is through the roof," Brown said. "I have playmakers around me, and I know if they get me the ball, they'll make me look good."
He only had five incompletions Saturday night, completing 26 for 361 yards and three touchdowns to conclude his monster stat sheet.
On the defensive side of the ball, the defensive line that JSU coaches have applauded in both the fall and spring practices lived up to the standard.
"Be physical, execute, and play our style of football," is what defensive coordinator Jonathan Bradley said were the keys to a season-opening victory. His defense allowed just 52 yards in the first half and just 201 yards total.
No fly zone
The back end of the Tigers' defense posed a big question mark following the departures of Isaiah Bolden to the NFL and Travis Hunter. The position group is full of transfer talent and mainstay Jalin Hughes.
Despite the heavy turnover, Coach Taylor tabbed his DBs as "elite" during spring practices.
The JSU defensive backs were up to the task Saturday night, forcing the experienced South Carolina State QB Corey Fields to a 28% completion percentage and threw for only 59 yards, along with an interception.
Troy transfer Tim Steward hauled in the interception in the second half and transfer safety Esaias Guthrie led the DBs in tackles with four total tackles.
Transfer corners Jaheem Hazel and Keydrain Calligan were stride-for-stride with Bulldog receivers all night.
Hazel recorded two pass breakups and Calligan recorded one.
T.C. Taylor - "Now they know"
Three times the charm.
The Tigers played like they had a point to prove tonight across the board, with seeking revenge that has been on their minds for two years. They got it, the T.C. Taylor way.
After failing the last two tries to win a game in Atlanta, the Taylor-led JSU not only won but dominated.
"They don't know," has been a theme since the surprising predictions by JSU fans across social media.
Coach Taylor said now, "They do know."
There were a lot of people that didn't think we were gonna be what we were tonight, and that is what I'm most excited about," Taylor said. "It's like what I told Jason [Brown] walking over here. He was like, 'Where is the championship trophy?' We're gonna put that on the shelf and get ready for the next one. Now, we're not gonna sneak up on anybody... I guarantee you that."
The SWAC and The Tigers' remaining opponents caught a glimpse of what Jackson State is capable of in a national spotlight for Taylor's first win in his debut game as the head coach of JSU.
"They're watching that film tomorrow to start getting ready for Jackson State," Taylor continued. "We understand it. We get it. That's what I said at [the SWAC] Media Day; They don't know. That's what I said tonight. Now they do know, and we're not fixing to stop."
Jackson State will play Florida A&M in the Orange Blossom Classic in Miami next Sunday on ESPN. The game is set to start at 2 p.m.
Want more WLBT news in your inbox? Click here to subscribe to our newsletter.
See a spelling or grammar error in our story? Please click here to report it and include the headline of the story in your email.
Copyright 2023 WLBT. All rights reserved.