Jay Stanley, defense shines in last practice of the Southern Miss fall camp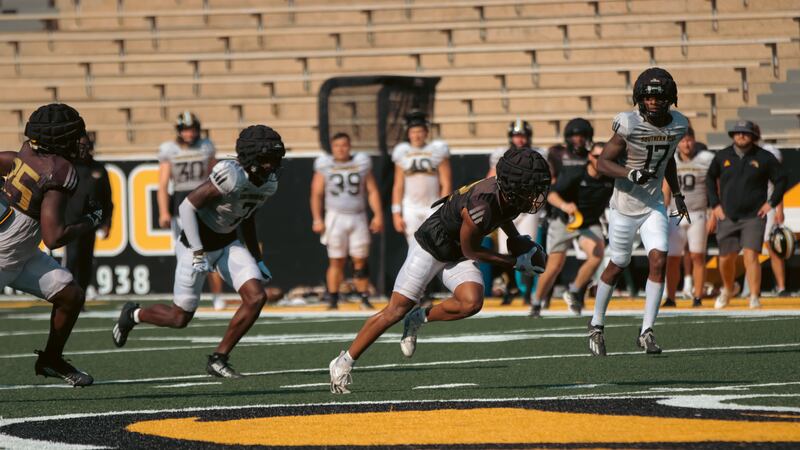 Published: Aug. 19, 2023 at 1:14 PM CDT
HATTIESBURG, Miss. (WLBT) - The Southern Miss defense responded in a big way during Saturday's scrimmage after being outperformed by head coach Will Hall's new-look offense last weekend.
USM's "Nasty Bunch" defense led by All-American safety and Brandon High alum Jay Stanley, who had an interception, forced three turnovers from a Southern Miss offense that has had an outstanding fall camp.
"Our defense tackled so much better than scrimmage No. 1 and you saw that too," said Hall. "So much came into the balance in the approach to tackling and doing the techniques we teach."
Stanley, Elijah Sabbatini, and Ques McNeal secured the turnovers for the Southern Miss defense.
"It was great to see Sabbatini get that pick," Hall said. "He's a Southern Miss guy all of the way from Biloxi. He's coming around. Jay Stanley, what an unbelievable play, doing what Jay Stanley does. We caused a fumble and created a scoop and score from Ques. So, those things were good to see defensively, but the offense needs to do a better job of protecting the ball."
The offense did have good moments, however. The offense started the day with two potentially explosive plays, but a few accurate passes were not caught by the receivers, who normally make those catches.
Coach Hall has eluded to the fact that his playbook can now be fully utilized with the additions of Billy Wiles and Holman Edwards in the QB room, along with the steady performances from star running back Frank Gore Jr.
Hall also referred to two plays that demonstrated the massive improvement in the mentality and ability of the players since his head coaching tenure began in 2021.
The first happened when transfer newcomer Eric Thomas registered a sack on a play but was negated when he grabbed the quarterback's facemask. He responded by forcing a fumble shortly after.
On the second play, senior tight end Cole Cavallo made a diving catch inside of the five-yard line even though the play was called dead prior to the amazing pitch and catch.
"That is what it is going to take this year," said Hall of those two plays he highlighted from the scrimmage. "When the moment gets big, we must rise to the moment. We have so many kids now that understand that and know how to do that."
The quarterback competition between Wiles and Edwards remains the same, with Hall yet to announce the starter. Hall said he thought the decision-making from the two was good.
Southern Miss opens the season at home Saturday, September 2, against Alcorn State.
Want more WLBT news in your inbox? Click here to subscribe to our newsletter.
See a spelling or grammar error in our story? Please click here to report it and include the headline of the story in your email.
Copyright 2023 WLBT. All rights reserved.