Coach Hall beginning to see separation in QB1 competition at Southern Miss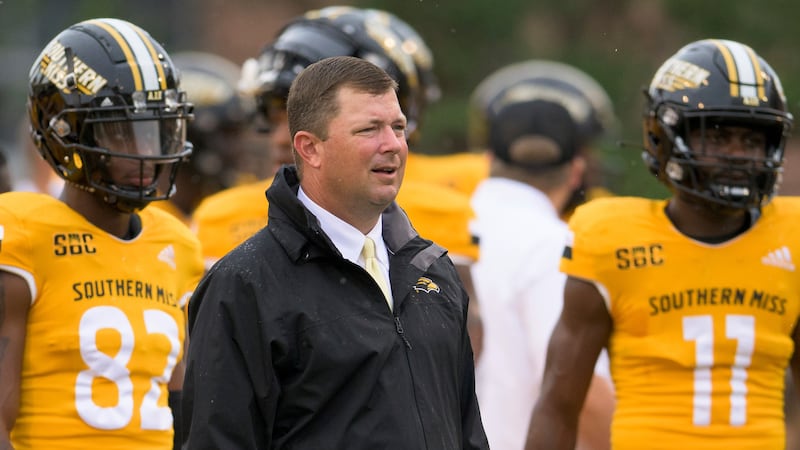 Published: Aug. 18, 2023 at 1:16 PM CDT
JACKSON, Miss. (WLBT) - Southern Miss football head coach Will Hall revealed after practice Friday morning that he is starting to see separation on who will be the Golden Eagles' starting quarterback for the 2023 season.
The race for the QB1 spot this fall has always been between Clemson transfer Billy Wiles and Houston transfer and French Camp, Mississippi native Holman Edwards.
"I'll be able to tell you in a few days," Coach Hall said when jokingly asked who will be the backup quarterback. "We've gone through 13 practices, and I think there's been a little bit of separation going into the last scrimmage. They are both playing really well right now. We're going to play them in the scrimmage tomorrow... we'll gather all of that data and do what is best for our football program."
Coach Hall's ambition is to name a starting QB ahead of the program's season opener.
Southern Miss will conclude its fall camp Saturday with a scrimmage game.
"I'd like to see us take another step forward tackling, defensively, and it's not like we missed a ton of tackles, but I'd like to see us handle some shifts and motions a little bit better defensively," Hall said. "Offensively, keep pushing it down the field, keep working on explosives, keep throwing it around like we do, and keep taking another step in pass pro, we've come a long way in that. And then, to be honest with you, it's kind of boring to the fans, but I'm excited about what we do with kickoff cover versus kickoff return and punt versus punt return, that's exciting... That's going to be fun to watch. It's going to be fun to watch these kickers another day, so continuing to look at all that."
USM will open its 2023 campaign on Saturday, September 2, against Alcorn State at M.M. Roberts Stadium in Hattiesburg at 6 p.m. It will be streamed on ESPN Plus.
Want more WLBT news in your inbox? Click here to subscribe to our newsletter.
See a spelling or grammar error in our story? Please click here to report it and include the headline of the story in your email.
Copyright 2023 WLBT. All rights reserved.