Mississippi woman hopes to use the attention of viral bull poker video to help children and youth
Nicole Garrard-Black says losing her husband to cancer gave her the courage to face a feisty bull
Published: Aug. 16, 2023 at 10:42 PM CDT
JACKSON, Miss. (WLBT) - If you are like most people, you have never heard of Bull Poker. At a rodeo held at the Mississippi Coliseum last month, one woman's encounter with a feisty bully went viral, and now she hopes to use all the fun people are having at her expense for a good cause.
WARNING: some of you may find the video disturbing.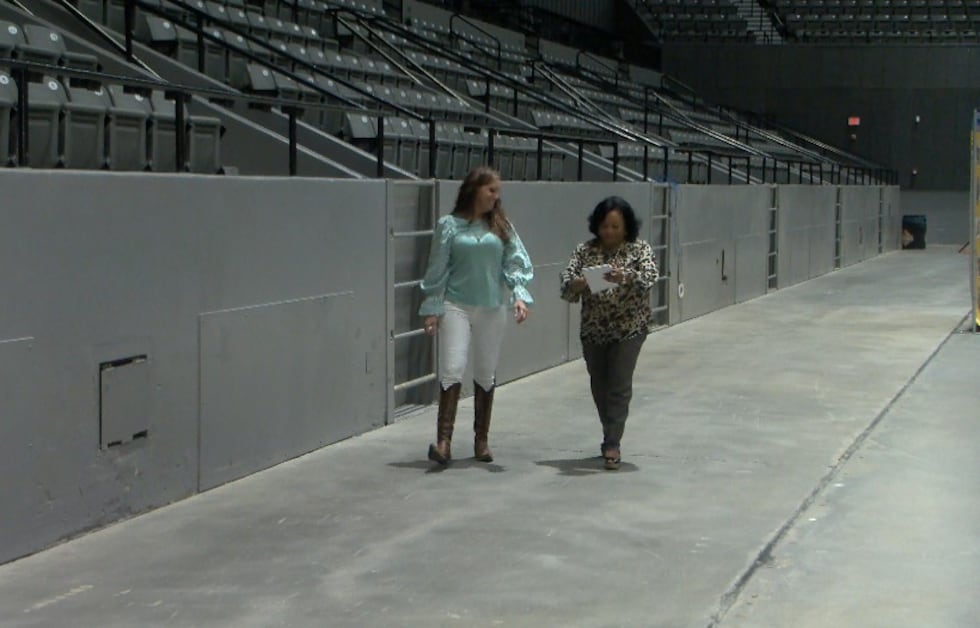 Nicole Garrard-Black appeared in a TikTok video that has been viewed over a million times from the Keath Killebrew Memorial Rodeo last month at the Mississippi Coliseum. The viral video is heart-stopping.
Garrard-Black said, "My husband died about two and a half years ago. And ever since then, I haven't been afraid of anything. And I have regrets. Like, we kept putting things off, like going to Yosemite and he wanted to swim with the sharks. And, you know, we were both kind of adventurous. And I don't want to have any more regrets. And we both wanted to ride a bull for 2.7 seconds."
Garrard-Black says she had no idea what she had signed up for.
"I guess I wore too flashy clothes because the bull came straight at me", said Garrard-Black.
She was not injured and did not win the prize.
"I only had one little bruise on my left knee," Garrard-Blacks said.
Garrard-Black's late husband Shane Garrard was inspirational to many. He spent a year in jail before turning his life around with an education and the determination to live a life filled with service to others. He was Bureau Director of Alcohol and Drug Addiction Services for the State Department of Mental Health.
"He has dedicated his life to helping people and families with problems with addiction, disease of addiction. And about a month after we moved here, he was diagnosed with terminal cancer. He worked the whole time and received horrendous chemo treatment. And he was very sick. But he never stopped, he never stopped, he worked up until the day before he passed away," said Garrard-Black.
Garrard-Black says with all the attention the video is getting she wanted to bring attention to a non-profit group that focuses on children. Southern Christian Services for Children and Youth is the group she chose.
She is hoping for help in donating items they need to help children who are in foster care and those who age out of the system.
Garrard-Black said, "They said, you know, we need food pantry items. We need dishes, you know, silverware, luggage, and I was like what luggage? And so when they're 24 and leave, most of them come with just, you know, garbage bags. And so they said we want them to have luggage for their stuff that they have."
WLBT asked if she ever plans to try Bull Poker again even with all the positive results.
Garrard-Black said, "I can check it off my list now."
Southern Christian Services for Children and Youth will hold the 35th Annual Bottom Line for Kids Benefit Friday night at the Sheraton Flowood Conference Center beginning at 6:00 p.m.
Want more WLBT news in your inbox? Click here to subscribe to our newsletter.
See a spelling or grammar error in our story? Please click here to report it and include the headline of the story in your email.
Copyright 2023 WLBT. All rights reserved.