'Slap in the face': Lt. Gov. Hosemann a no-show at Madison County political event
Published: Aug. 2, 2023 at 5:30 PM CDT
MADISON, Miss. (WLBT) - It was standing room only Wednesday at a major political event in the city of Madison, with both of the state's U.S. Senators, one Congressman, and numerous state and local officials in attendance.
But Lt. Gov. Delbert Hosemann, who is actively seeking re-election and was one of the two people many had hoped to hear from, was at a "get out the vote" event in the Golden Triangle. He was in the county earlier that day, at a groundbreaking for the Reunion Parkway Project.
A record 266 people packed Mama Hamil's restaurant for the Grip-N-Grin gathering, largely to hear from the two front runners seeking the Republican nomination for lieutenant governor.
Residents are particularly concerned about talks of judicial redistricting, which would split up the circuit court district that now includes Madison and Rankin Counties.
Madison Mayor Mary Hawkins Butler wanted to ask both candidates where they stood on the issue and was disappointed Hosemann didn't show up.
She says it was a "slap in the face" to the county that gave him a 62 percent majority in the 2019 general election.
"I wanted a commitment from the candidates that they would shepherd this, that they would make a commitment to the citizens of Madison, that this is not going to happen," she said. "I think that there were a lot of people here that were interested in that."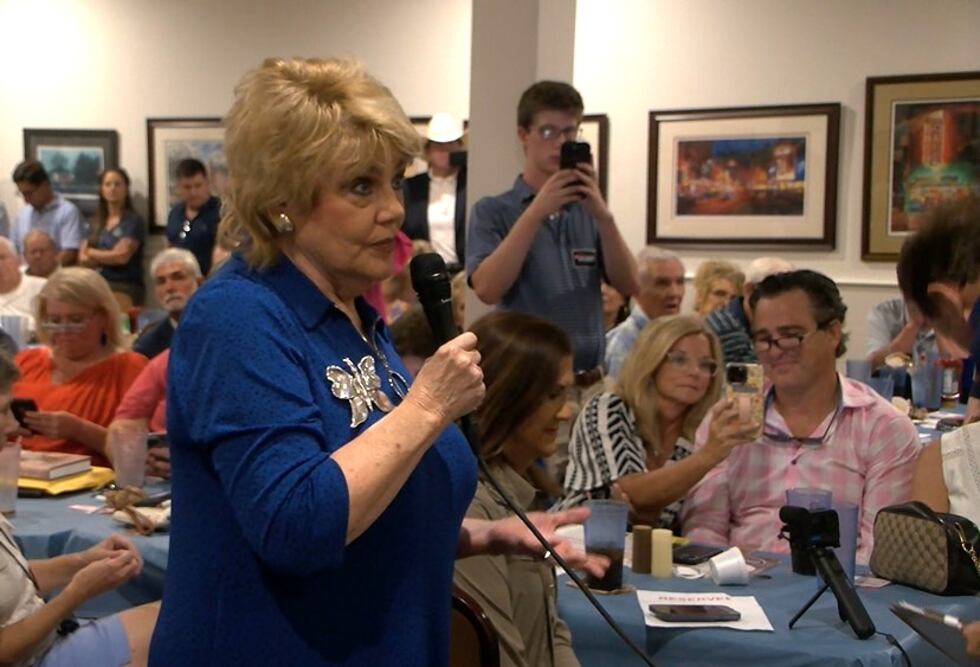 Rumors have been circulating for weeks that the Senate is considering splitting the circuit district that includes Madison and Rankin and putting Madison in a district with either Holmes or Yazoo County.
Holmes and Yazoo have significantly smaller populations than Rankin or Madison and are majority Black.
State Sen. Chris McDaniel, who is challenging Hosemann, told Butler he wouldn't allow it to happen.
"I will use every bit of that power to guarantee you that we're not going to change the judicial districts, under any circumstances. We'll appoint chairmen that will protect you. We'll appoint committee members that will protect you," he said. "Madison will be protected."
Hosemann previously said in a statement he's opposed to dividing the circuit.
"I am opposed to dividing the current circuit court district composed of Rankin and Madison Counties and so are other Republican senators who represent these areas," he said.
McDaniel took full advantage of Hosemann's absence, again challenging the first-term incumbent and former Mississippi secretary of state to a debate.
"And if he debates me, we can have all these conversations without all the mudslinging and the attack ads," he said. "He should be standing right here today debating me."
He said he would debate Hosemann "anywhere, anytime," offering to do a Facebook Live or go to the lieutenant governor's office himself.
State Sen. Daniel Sparks spoke on behalf of the lieutenant governor and was greeted with a chorus of boos from many in attendance.
"I came to town for a graduation. I have a constituent that is graduating, and the Lt. Gov. Hosemann campaign reached out to me and asked that I come today... So, I was proud to come and speak about it."
Sparks, who represents Itawamba, Prentiss, and Tishomingo Counties, said he's worked with both men and said while Hosemann didn't show up on Thursday, McDaniel is often not present for much of the "process" work in the Senate.
"My experience with candidate McDaniel is that he's absent a lot from the process... the committee process and all the other things that happen," he said. "So, when we talk about [how] he hasn't passed a substantive bill in 10 years, it's partly because of the process... He's just not engaged in the process."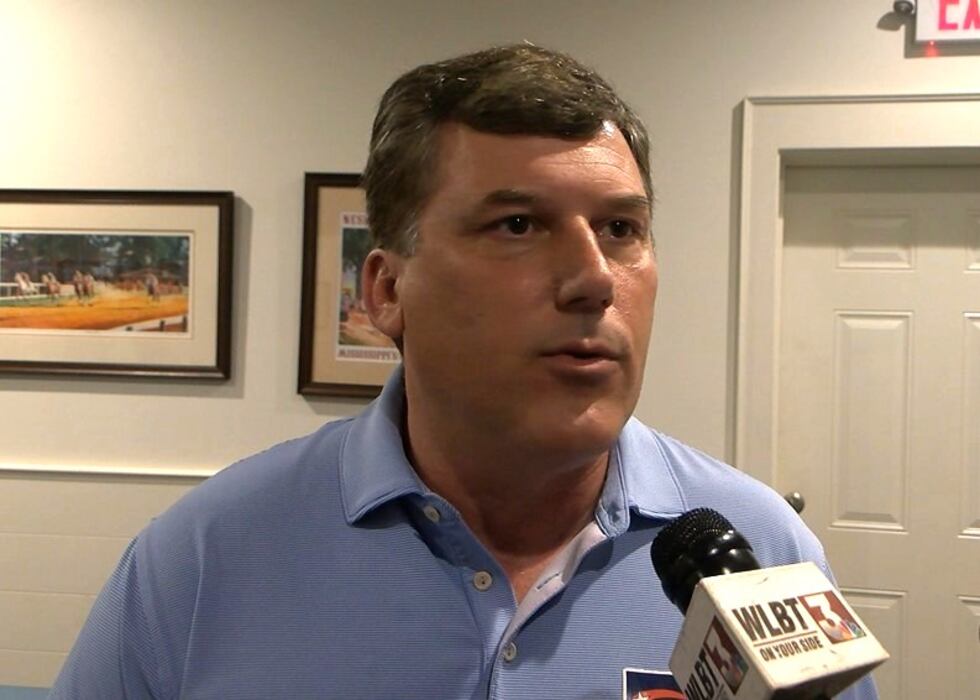 Sen. Cindy Hyde-Smith, meanwhile, indirectly called out McDaniel for questioning Hosemann's pro-life record.
"Anybody that says Delbert Hosemann is not pro-life, that is just a lie," she said. "I've worked with every national pro-life group in the entire country and he [is] as pro-life as I am."
Hosemann has been attacked by the McDaniel campaign for his involvement with a South Jackson women's clinic that at one time provided abortions. A doctor from that clinic said Hosemann was no longer associated with it when it began offering them.
"The only person that's ever defended him is the abortion doctor himself. No, I don't know what your opinion is, but my opinion is this: the least credible witness in the world is a man who kills babies," McDaniel said.
McDaniel also responded to Sparks' comments, saying he can't get legislation passed because he's being punished.
McDaniel has been a lightning rod for controversy for many years, from comments he made on his radio show to his decision to challenge the results of the 2014 Republican primary, where incumbent U.S. Sen. Thad Cochran eked out a narrow victory over the conservative firebrand in a runoff.
"Let's not kid ourselves, they put me in time out some time ago, and Delbert Hosemann continued that time out," he said. "Now, some of you say it's well deserved, and that's fine. But it's not my fault that the bills are dying if they've placed me in time out."
The four-term state senator also pushed back on Hosemann taking credit for infrastructure investments, teacher pay raises, and other legislative acts, saying the lieutenant governor never voted on the measures.
"The House votes, the Senate votes, and I voted for most of those things he brags about," he said. "And not a single time did he cast a vote."
"But let's give him credit where credit's due. If he's that powerful, then he also has to take credit for all the things he killed behind the scenes."
He said Hosemann killed efforts to eliminate the state income tax and fought against a religious liberty bill that would have provided religious exemptions for vaccinations.
"He stopped, single-handedly, the ballot initiative process in its tracks," he said. "He fought for a pay raise for himself. In this environment, he fought for a pay raise for the legislature. I was able to defeat that with a procedural motion."
Click here to see what Hosemann said about the ballot initiative process.
Want more WLBT news in your inbox? Click here to subscribe to our newsletter.
See a spelling or grammar error in our story? Please click here to report it and include the headline of the story in your email.
Copyright 2023 WLBT. All rights reserved.