Hosemann says focus on the record, not the rhetoric ahead of the Republican primary
Published: Aug. 1, 2023 at 4:58 PM CDT
JACKSON, Miss. (WLBT) - An avid runner, many mornings you can catch Delbert Hosemann and his dog jogging through his Northeast Jackson neighborhood.
"I still run probably two or three miles... sometimes on the Jackson Academy track that I built down there long ago," he said. "When it's just you and the dog running through the streets, you can think a lot about what's going on and where we need to be going."
"And quite frankly, some of my best thinking is done when I'm out jogging."
Now, Hosemann is locked in another race, a stiff challenge in his bid for a second term as lieutenant governor.
However, the self-described lifelong Republican's toughest attacks haven't come from the opposition party, but rather from a member of the GOP's far right.
In recent weeks, the 76-year-old has endured numerous volleys from State Sen. Chris McDaniel, who has clubbed Hosemann on everything from his claims that he had ties to a South Jackson abortion clinic to being a closet Democrat.
He's also hammered the lieutenant governor for appointing Democrats to Senate committees and for his failure to push through a ballot initiative process to replace the one struck down by the Mississippi Supreme Court.
Hosemann countered, saying McDaniel missed votes on critical measures, and pointed to what he perceives is the four-term senator's ineffectiveness.
"My opponent hasn't had any bills passed in eight years," he said. "In fact, I haven't seen him sit down in the Senate for four years, and I stand up front every day."
Delbert Hosemann at a glance:
Married to Lynn

Three children, seven grandchildren

Undergrad from Notre Dame

Law degree from Ole Miss

Master's of Law in Taxation from NYU

Elected Secretary of State in 2007

Elected Lt. Governor in 2019
In recent years, McDaniel has authored numerous Senate resolutions that have passed. In 2023, he co-authored two pieces of legislation that were approved. One designated a section of land along the Pascagoula River as the "Secretary of State Eric Clark Coastal Preserve;" the other provided full homestead exemption for surviving spouses of military members killed in duty or training who do not remarry.
"You've got somebody who can't run on their own record, trying to run down a very positive record by me and a bunch of Republican senators and other senators that are in the Mississippi Senate."
Hosemann also pointed to numerous accomplishments during his time as lieutenant governor and secretary of state. As secretary, he ushered through a Voter ID Law, cleaned up state regulations governing Mississippi businesses, and increased income from 16th Section Land leases.
As lieutenant governor, he touts efforts to push through a major teacher pay raise he says is the "largest in state history," a $2.3 billion investment in the state's infrastructure, and the changes to the state's workforce development board designed to help better prepare young people for the workforce.
"A lot of time and effort has been spent on education," he said. "And after that, of course, we cut taxes by $525 million, the largest tax cut in the history of Mississippi."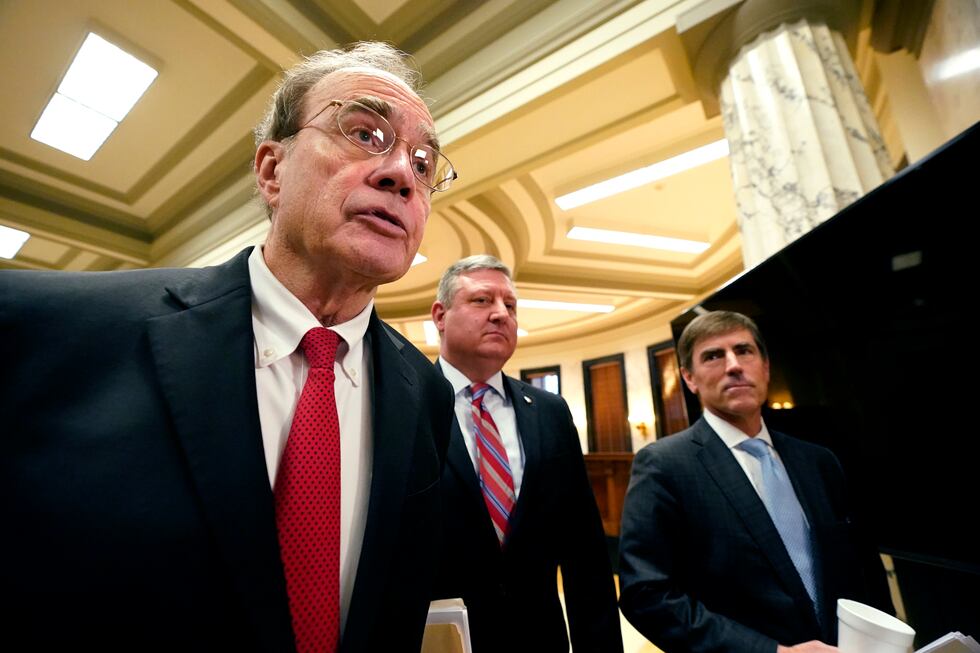 Hosemann says he's confident voters will see through his opponent's "smoke and mirrors." Even so, he has spent more than twice what his opponent has raised to counter those attacks.
Through July 14, 2023, Hosemann reported more than $1.8 million in disbursements, about $89,000 more than he's taken in since January.
McDaniel has raised $882,645 this year, and has spent nearly $793,000, with nearly $338,000 cash on hand, campaign finance reports show.
| Campaign finance reports | Year-to-date contributions | Year-to-date disbursements | Cash on-hand |
| --- | --- | --- | --- |
| Delbert Hosemann | $1,725,731.75 | $1,816,462.76 | $3,426,361.86 |
| Chris McDaniel | $882,645.77 | $792,978.08 | $337,675.74 |
| | | | Source: Mississippi Secretary of State Campaign Finance Reports |
Some fliers and ads stand in contrast to the more home-spun, down-to-earth "It's Delbert, Ma'am" ads that characterized earlier campaigns.
Even his "My Facts" commercial, which features Hosemann sitting next to an elderly lady on a park bench reminiscent of his 2007 ad with Dorothy, ends with the lieutenant governor being sharply admonished for correcting her.
"Are you questioning my facts?" Vivian Dailey asks.
As for the abortion clinic, a physician who directed the facility told the Associated Press it didn't perform abortions until after Hosemann ended his association with the group.
Meanwhile, Hosemann refutes claims he's a Democrat, saying the first time he ran for office back in 1981, he ran as a Republican.
That's when Mississippi was a Democratic stronghold. Even so, he was inspired to dip his toe into politics by then-President Ronald Reagan.
"He plagiarized this a little bit, but he used it in one of his speeches... that 'shining city on a hill' that he talked about, where there would be lower taxes, better education, more infrastructure, more security," Hosemann said. "You start looking at things that President Reagan was doing... That's what I'm thinking about for our state."
The Republicans held a convention to select the party's nomination, with Hosemann coming in second.
"That's before my opponent ever thought about running for office," he said. "In 1998, the Congressional seat opened up again, I ran as a Republican, and I was pleased to be able to get the Republican nomination." That time, he lost to Ronnie Shows, a Democrat.
It was nearly another decade before Hosemann again sought elected office. In 2007, he ran for and won secretary of state, becoming the first Republican to ascend to the position since 1878.
In an interview with WLBT, Hosemann discusses his record, his first term in office, and his plans for a second term if re-elected.
Party primaries are slated for Tuesday, August 8. If any candidate fails to get a simple majority of votes, a runoff will be slated for August 29. The general election is on November 7. Polls will be open 7 a.m. to 7 p.m.
This interview has been edited for both length and clarity.
WLBT: For those who are not keyed into Mississippi politics all these years, who's Delbert? What do you tell them?
Hosemann: I'm proud to be a father and a grandfather and a husband. And [I'm] a lawyer. And a few years ago, we decided to run for Secretary of State and asked to be hired to do that, because I wanted to re-do all the business laws in Mississippi. And I did that. and once I finished that, it took [5 to 8] years to do that. Then, voter ID came up. So, they asked me to stay and implement voter ID, and we did that. And we were the only state in the country that didn't get sued. South Carolina and Texas, all of those got sued over their voter ID. So, implementing that with a minimal amount of friction and making it work, and not getting sued by the Department of Justice, which they regularly sue us, was really important. And I was really pleased to do that.
And as [secretary of state], we managed the 16th Section land for the state of Mississippi. That's thousands of acres that was given to us when we got our state in 1817, and it has real estate on it, and it has timber on it. It has malls on it. It has cities on it, and all kinds of things. And I really took that to heart because all of that money really went back to the individual school districts... We raised over a billion dollars in our 12 years for public education... I feel proud that we bought Cat Island, and we bought the mouth of the Pearl River, and then we bought 17,000 acres with federal dollars in the lower Delta where people can hunt and fish. It's a tremendous asset for the state... And then we got hired to do this job.
WLBT: What are the things you're proudest of for this first term as lieutenant governor?
Hosemann: I guess we have to start back at the beginning. When we started, we cut the budget by two percent. As you know, that's difficult to do in Mississippi politics and government. But we cut the budget by two percent. The second year was COVID, and we had COVID, then we had a session that went all the way to October... Since then, our work has been exemplary. We have put in the most money in infrastructure ever, over $2.3 billion. Over $600 million in new projects will be funded out in the next two to three years; the largest teacher pay raise in history... about $5,000 per teacher... Really excited about our pre-K work that we're doing, with over 6,000 kids now in pre-K in Mississippi. We devoted a lot of time and attention to education, both from pre-K all the way through to dual credit, which was funded this year. Kids can take... young men and women can take courses in their senior year and go into college and take college courses or go into technical.
And then after that, of course, we cut taxes by $525 million, the largest tax cut in the history of Mississippi. We have gradually reduced... we did away with the 5 percent rate, and then we go to 4.7, 4.4. We ended up at 4 percent in 2026, the largest tax cut ever. I'm real proud of that. It's on the trajectory I intend to continue, which is making sure the state is run well. And that's the other part that most people don't see on TV or radio or anywhere else. We actually have not borrowed any money in two years to operate the state. We have paid off $500 million in state debt... Paying off that debt probably saved use $30, $40 million a year in interest alone.
WLBT: You talk about your accomplishments, everything you've done from Voter ID to working to change business laws and lowering taxes. Everything you've talked about sounds extremely conservative. You're running as a Republican, but someone is painting you...
Hosemann: As a Democrat. [Laughs] And you know the first time I was on the ballot [was as] a Republican. Do you know that? In 1981, the Republican resigned here from Congress under some issues, I'll put it that way. I put my name in the hat. And so, a number of us started, and they had what they called a convention back in 1981. And they had all of the electors... All of the electors from the different counties in that particular district, which was the Fourth District back then... And all of the candidates had to sign an agreement that whoever won in that convention would be the nominee of the Republican Party. So, I ran in that race, and I finished second on about the third ballot... The eventual winner was Lyles Williams, who then was the candidate. That's 1981. I'm running as a Republican. That's before my opponent ever thought about running for office.
WLBT: Being a Republican in Mississippi in 1981 was politically more difficult than it is today.
Hosemann: Well, Lyles Williams lost to a Democrat. He lost to the mayor from down there that ended up being a congressman for a while... I have been a Republican, trying to seek their office and their support since 1981, so it is kind of humorous for them to say that. So, having said that we've been a Republican, you have to look at our results. The rumor... one of them was that [I appointed] Democrats to powerful committees... Do you know what the Library Committee did? How about the Ethics Committee? How about Housing? How about Labor? None of them got a bill passed. All of the bills that came out, as it were, were from Republican committees - Appropriations, Finance, Universities and Colleges, Energy, Judiciary A... Judiciary B... You go down all of the legislation; all of the legislation came out of Republican leadership. So, not only did I run as a Republican in the last 40 years and have been a Republican for the last four years, [but] I've also operated as a Republican. Look at the results.
WLBT: For people who are just keying in, for those who have seen some of the fliers, what do you tell them? What separates you from your opponents?
Hosemann: The [biggest] thing that separates us is results. I have lowered taxes, increased education, built infrastructure. We have put in where men can't participate in women's sports. We've addressed social issues. You go down the line on everything. The largest tax cut, paying down the state's debt... There [are a fewer] number of employees here in the state [government] and the state's running better. You can get your driver's license better... My opponent hadn't had any bills passed in eight years. He was one of my chairmen that I appointed, for environmental, and regulations and things like water and sewer and things we've had issues with, in Meridian and Jackson and all over Mississippi... Not one bill. He didn't have a meeting. The fact of the matter, I haven't seen him sit down in the Senate in four years, and I stand up in front every day."
WLBT: Has this campaign changed the way you've approached this election cycle?
Hosemann: Not really too much for me. I think we have a record and I'm proud of that record. I trust Mississippi voters. You know, they have a way of seeing through the smoke and mirrors of somebody that's never done anything and it's going to be a negative campaign from the state. I mean, they ran negative against Sen. [Thad] Cochran. They'll run negative against me, and we kind of knew that was coming. But I trust voters. I have been all over the state of Mississippi. I was in North Mississippi yesterday. I'll go all over the state and tell them what I did, tell them where I want to go. I want our grandchildren to be able to live here and work here and have a financial future here. I want them to be able to go to church here. I want them to be able to live like we've lived here. And I'm committed to [making] that happen.
WLBT: If you get re-elected, what are your top priorities?
Hosemann: Starting this fall, we'll have hearings on healthcare. Now, we supplemented... the Senate and the House voted to supplement hospitals and whatnot. That's not the only problem. I mean, you look in the paper. We've got mental health problems. We've got big mental health problems. We have big mental health closures by Merit [Health] and St. Dominic. Our healthcare involves not only the hospitals. We've got pharmacists that are struggling, independent pharmacists are not getting reimbursed for how much they're actually getting paid. So, they're upside down. So, you've got pharmacy, mental health, hospitals... We're short nurses. We've built a new nursing school. We broke ground on it at the University of Mississippi. We now have a rural nursing program, where we'll pay your debt off at $6,000 a year if you stay in Mississippi and work in our rural hospitals as a nurse... This healthcare onion is hard to unpeel because it has so many moving parts and the reimbursement rate is set by the federal government. So, we intend to dive into that. I want to finish that.
The second is our people are going to be competitive not with Arkansas or Alabama but with the world. You will see and have seen, we started in Corinth, where schools go nine weeks on and three weeks off, where some people call it year-round. But during the intersession, those three weeks, and the summer, these kids can come back and be in a learning environment, a safe environment, and get fed. From that little startup in Corinth, we've been pushing this, and we gave money last year to those schools who do this, $100 million. Those schools, now almost 30 of them, I think, are either going to or will be in a semester system.
WLBT: One thing that you've been criticized for is failing to enact a new ballot initiative process. Can you talk to us about that?
Hosemann: I get blamed for things I don't do and credit for some things I probably don't do, either. I've always been for the ballot initiative. We passed it two years ago, and it had 200,000 signatures on it. The House rejected that. They wanted 80,000 signatures. So, I got with a member of the House that was allocated by the Speaker, and I said, 'You need to come to a number.' There were some other issues like we didn't need to have abortions on there [and] some other things that we could agree to in the Senate. So, this year, when we came back again, we sent a bill over there. It was rejected by the House. So, then we passed a bill. The Senate passed a bill that was about 158,000 signatures. And I think the signatures are important... because there's so much ability to really manipulate people over Facebook and everything... If it was too low, I can guarantee we'd have marijuana. You could go down the list of things that would happen to the state... [than if we] have a buffer that allows us to come along and do things on a more gradual basis.
Want more WLBT news in your inbox? Click here to subscribe to our newsletter.
See a spelling or grammar error in our story? Please click here to report it and include the headline of the story in your email.
Copyright 2023 WLBT. All rights reserved.