Trailblazing African American manager, who led WLBT for more than a decade, dies
Published: Jul. 28, 2023 at 12:47 PM CDT
JACKSON, Miss. (WLBT) - A trailblazing African American television executive who led WLBT for more than a decade has died.
Former WLBT General Manager William Dilday passed away Thursday after a fall in Massachusetts, his daughter confirmed.
Dilday became general manager of WLBT in 1972. He served at the station until 1984.
He joined WLBT after the Federal Communications Commission revoked the station's previous broadcast license for its racially discriminatory practices.
The federal government would only restore the station's license under new leadership. Dilday was part of the team that made up what was a caretaker organization called Communications Improvement Inc., according to a New York Times profile in 1977.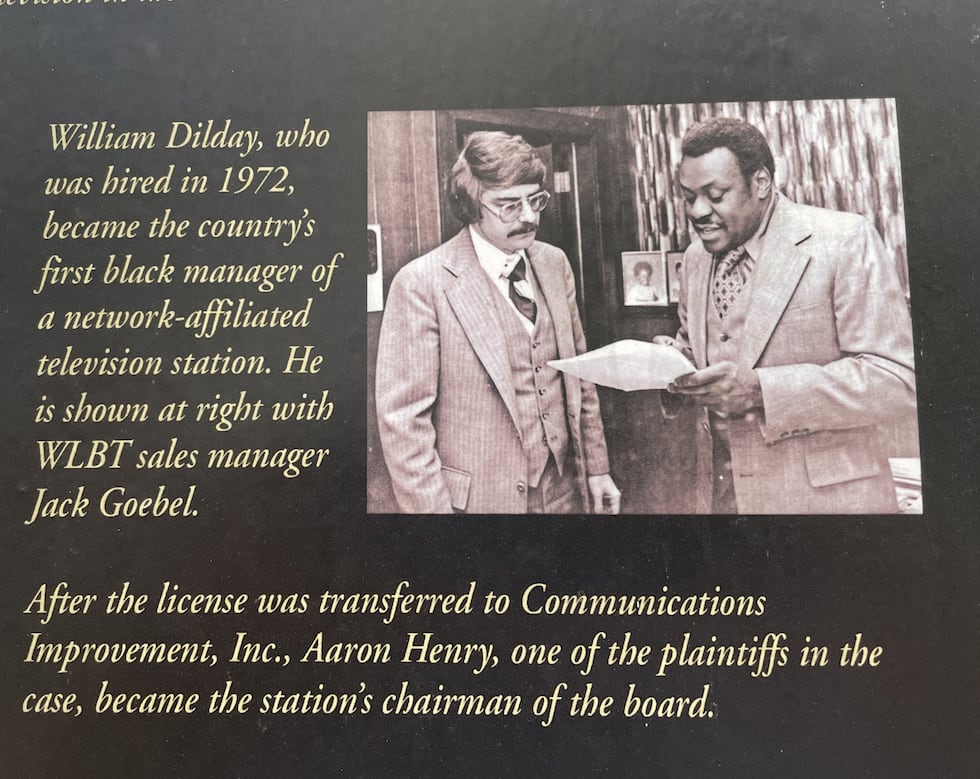 "He came here not knowing people and people didn't know him. But he reached out and he built the stations' reputation back for being inclusive, for being diverse and giving honest reporting," said Rep. Earle Banks, a longtime friend. "Bill just wanted the truth to be told from the Black side, from the white side. Whatever side, he wanted it to be the truthful side."
Banks, who still talked to Dilday on a regular basis, pointed to the 30-minute investigative show called "Probe," which was started under the former executive.
"They would dig into what was really going on behind the scenes, just like you have Three on Your Side, "Probe" was an expanded version," he said. A lot of work and background information study had gone into that... and that came under Bill Dilday's watch."
A big change from operations prior to the station's license being revoked.
According to the Mississippi Freedom Trail marker in front of the station, WLBT would pre-empt NBC coverage of civil rights events, including a 1955 Today interview with then-civil rights attorney Thurgood Marshall.
"He came in at a time when healing was needed and to build morale at the station and develop a kind of family relationship between all cultures," said Goldia Revies, WLBT's former public affairs director under Dilday. "And it worked. And it was good. And we all felt that togetherness that we were all in this together."
Revies said Dilday also gave employees an opportunity to grow in their careers, something that former 6 p.m. and 10 p.m. news anchor Walter Saddler also recalled.
"He was always hands-on, in many ways. We would sit and discuss talent and he had an amazing eye for talent," Saddler said. "He could tell people who had a forceful personality, who had charisma, who were made for television."
Saddler said several news personalities brought on under Dilday eventually went on to cover national news, while others had successful careers locally.
"He hired me, which led me to hire Maggie," he said.
Five and 10 p.m. anchor Maggie Wade joined WLBT in 1982 and remembers her first conversation with the no-nonsense Boston native.
"Our first conversation was a welcome to the company and he shared his hopes and plans for my growth at WLBT. He was direct, a consummate professional, so proud of the work of WLBT, [and] made sure I knew the history of the station and his expectation for excellence," she said.
Wade says she also remembers Dilday's hands-on approach, saying her former boss gave her a list of things to work on to become a better broadcaster.
"He was supportive [and] encouraging but forced all of us to go outside of our comfort zone to excel in being servants to this community," she said. "That was his thing - to work every day to do better and to be better."
"I have the greatest admiration and respect for Mr. Dilday, and always will," she added. "He will be missed so greatly."
Want more WLBT news in your inbox? Click here to subscribe to our newsletter.
See a spelling or grammar error in our story? Please click here to report it and include the headline of the story in your email.
Copyright 2023 WLBT. All rights reserved.