Former Gov. Phil Bryant files defamation lawsuit against Mississippi Today, CEO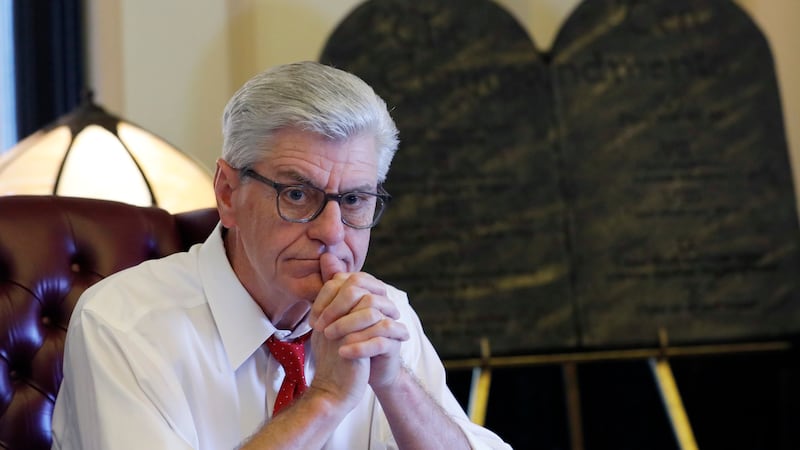 Published: Jul. 27, 2023 at 9:09 AM CDT
JACKSON, Miss. (WLBT) - Former Mississippi Governor Phil Bryant has officially filed a defamation lawsuit against Mississippi Today and its chief executive for directly linking him to the state's largest sprawling welfare scandal in public comments and articles.
Bryant filed the suit in Madison County Circuit Court Tuesday against the non-profit corporate owner of the news organization and CEO Mary Margaret White. This is the second time Bryant has claimed the publication slandered him.
The former governor said he believes Mississippi Today defamed his name in their coverage of the scandal involving $77 million in welfare funds that independent auditors found were either misspent or stolen from the Mississippi Department of Human Services in 2020, during Bryant's last four years in office.
He's referring to statements made in Mississippi Today's 2022 Impact Report, which points to reporting that "delved further into Bryant's misuse and squandering of at least $77 million in federal funds meant to assist 588,000 of the state's poorest families."
The governor also includes language made in an article published regarding Anna Wolfe's Pulitzer Win. That article stated, "Gov. Phil Bryant used his office to steer the spending of millions of federal welfare dollars... to benefit his family and friends, including NFL Hall of Fame quarterback Brett Favre."
An attorney for Bryant says these statements injure Bryant's reputation, expose him to "public hatred, contempt or ridicule" and "[lessen] him in public esteem or [lower] him in the confidence of the community."
Mississippi's welfare scheme materialized when Former MDHS Director John Davis pleaded guilty to federal and state charges in 2022. The investigation into those misspent funds has since expanded to include state officials, bureaucrats, and celebrity sports figures, including retired NFL quarterback Brett Favre.
Bryant has always maintained that he'd done nothing wrong and rejected the notion that he should be held civilly responsible in the scheme.
In his lawsuit against Mississippi Today, court documents show Bryant is seeking compensatory and punitive damages and attorney's fees. He is also requesting a jury trial.
Court documents opened by stating, "NOW INTO COURT, by and through undersigned counsel, and pursuant to Mississippi Rule of Civil Procedure 3(a), comes former-Governor Phil Bryant and commences this civil action with a complaint that demands compensatory damages, punitive damages, attorneys' fees, and costs from Deep South Today and its chief executive officer, Mary Margaret White. Pursuant to Mississippi Rule of Civil Procedure 8(a), Bryant alleges the following short and plain statement of his claims and demand for judgment."
This comes after Bryant's legal team filed two notices of suit against the news organization, one just last week and another in May.
In those notices, the former governor demanded that Mississippi Today retract and correct "false and defamatory statements" Bryant claims were made by the organization.
Mississippi Today has yet to retract any articles covering the role Bryant may or may not have played in the welfare scandal.
Want more WLBT news in your inbox? Click here to subscribe to our newsletter.
See a spelling or grammar error in our story? Please click here to report it and include the headline of the story in your email.
Copyright 2023 WLBT. All rights reserved.