First Alert Forecast:
Heat Advisory Today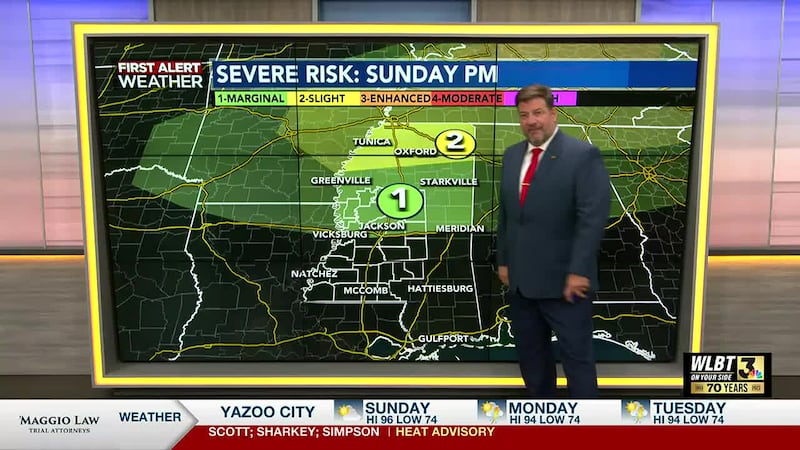 Published: Jul. 2, 2023 at 7:28 AM CDT
JACKSON, Miss. (WLBT) - A break from the extreme temperatures we have been experiencing will begin today. Though, a HEAT ADVISORY is in effect from 9am to 9pm. You can expect heat index values up to 110 degrees. This is down from the 115 degrees that prompted warnings over the past several days. Actual temperatures this afternoon will top out around 96, under a partly sunny sky. Later today, there is a 30% chance for scattered showers and thunderstorms, mainly after 5pm. We do have a low-end risk for severe weather for areas along and north of I-20. We are at a 1 out of 5, that's marginal on the risk scale. The main threats will be damaging wind gusts and quarter size hail.
Tonight, scattered showers and thunderstorms, through about 1am. Then Mostly cloudy, with a low around 75. Monday, showers and thunderstorms crank up again midday at 50%. Also, a heat advisory will be in effect with feels like temperatures reaching 106, actual temp near 93.
Your Fourth of July will be stormy, also. Mainly during the day. Showers taper off to only 20% in the evening.
Want more WLBT news in your inbox? Click here to subscribe to our newsletter.
See a spelling or grammar error in our story? Please click here to report it and include the headline of the story in your email.
Copyright 2023 WLBT. All rights reserved.