Private contracts best way to fix Jackson water, third-party manager says
Published: Apr. 27, 2023 at 7:23 PM CDT
JACKSON, Miss. (WLBT) - Jackson's water manager continues to face backlash over his efforts to contract out many of the capital city's water services.
Last week, some municipal workers staged a protest outside the Jackson Water Maintenance and Distribution Building saying they were told their last day on the city's payroll was April 28.
And at a meeting on Tuesday, Jackson City Council members questioned the third-party manager's decision to close the water billing office and relocate the city's call center to Pearl.
"Yesterday, I got ripped a new one because one of my constituents had to pay $1.50 to pay his bill at Walmart," Ward 4 Councilman Brian Grizzell said. "And so, that's becoming a huge point of contention, especially amongst the elderly, who are, you know, retired and [on a] fixed income."
Interim Third-Party Manager Ted Henifin says he understands leaders and employees' concerns, but points to the progress made in restoring the system since it was put under his control.
"The system was basically given to a third party by a court order and there's going to be changes," he said. "We're doing our best to try and minimize the impact on individuals lives but there's going to be impact."
Henifin was tapped to take over Jackson's water system and billing system as part of a federal court order handed down last November.
One of his main duties is stabilizing the system and restoring the public's confidence in it.
Since taking over, he says private contractors have repaired between 30 and 50 small water leaks and have opened valves in the city, improving water pressure across the board.
Crews are also repairing a major water main break at the former Colonial Country Club golf course, which he estimates releases as much as five million gallons of water a day.
He said those efforts have reduced water consumption by about four million gallons of water a day, moving Jackson one step closer to closing its century old J.H. Fewell Water Treatment Plant.
Henifin says he's able to do that because he's contracting out the work. He also says contracting is the best option, in part, because of the nature of his position as an interim manager.
"The order is at the judge's discretion. When it's over, it's over. I don't have the ability to buy equipment. I don't have a long-term entity. I'm interim," he said.
"So, we go to existing contractors who have the capacity to manage. They have the equipment, they've got the capital, they can train the people that we add to them... and that's the way it gets done," he added. "Otherwise, the interim entity cannot do that."
Henifin has contracted out numerous services, including management of the city's two water treatment plants.
In February, JXN Water entered into a six-month agreement with Jacobs Solutions, which will give the company time to learn about the plants and determine what they will need to charge to operate them, Henifin said previously.
"We will have open-book access to their financials to see what those costs are, and we both will be able to plan better for a fixed-price contract that we anticipate entering for a five or 10-year period at the end of September," he said. "So, Jacobs is here to stay."
As part of the deal, the Dallas-based company agreed to take on most, if not all, of the water operators on the city's payroll. Those workers are now earning about $6 more an hour, Henifin said previously.
Other services also are being contracted out, including meter reading.
JXN Water recently amended the city's contract with Sustainability Partners and UMS, the companies brought on by Jackson to install the devices to read and repair meters once they're installed. The companies are supposed to take over that work sometime in May.
"Everybody... has now been placed in either a contract position... found another position in the city, [or is] going to retire," Henifin said. "No one's losing a job."
Henifin told water staffers in an email on November 30, the day after he was appointed third-party manager, changes were on the way. However, at the time, he didn't know exactly what those changes would be.
"How does all of this affect you? As of now, not at all. There will be a transition period between now and the first of January where everything continues as normal. You continue to perform your job and report to your supervisor. You are still a city employee with all your pay and benefits and an important job to get done - ensuring safe drinking water is available to everyone in Jackson."
Henifin went on to say he didn't know what the changes would look like, but they likely could include some contract work.
Since then, Henifin has not only contracted out plant maintenance and meter reading and repairs. He's also brought on private contractors to take over water main repair work and has inked a deal with Protel to move the city's water billing call center to Pearl.
Henifin said employees in the city's call center would be allowed to stay on to handle issues that could not be handled by Protel representatives.
He also said efforts were underway to open a new service center in Belhaven. However, that office would not accept payments.
As he has contracted out city services, Henifin maintained employees who did not want to take a contract position likely would be able to stay with the city, but in a different capacity.
However, at last week's protest employees said that wasn't the case.
"Jobs are frozen through the city. The city [doesn't] have but three or four jobs and we got all these folks," said water maintenance veteran Victor Pickett. "Where are we going to go?"
Another employee who spoke to 3 On Your Side on the condition of anonymity was concerned some city employees can't pass private companies' background checks.
"We do have a program in the city like a second chance program. If you have a criminal record or anything of that nature, that won't count against you," she said. "A lot of these people have rehabilitated their lives just by that second chance program alone."
Jackson's website currently lists 72 open positions, including 22 in public works. One of those openings requires an engineering degree, while another, that of infrastructure manager, has reportedly been filled.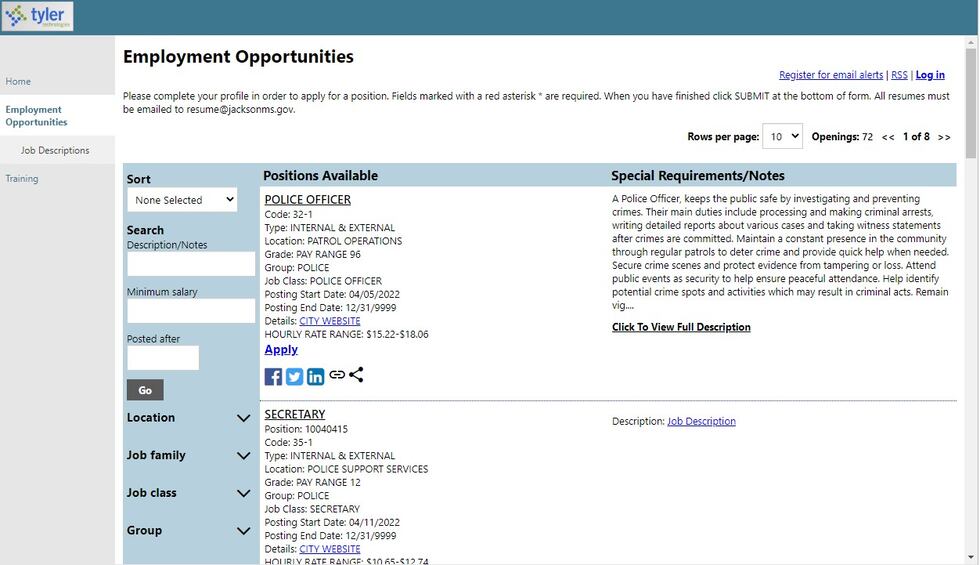 Henifin said that protest was sparked by an email telling employees they were going to get fired. However, he said that email did not exist.
Mayor Chokwe Antar Lumumba said at a press conference on Monday that he also had not been provided with the email, but his office would be "aggressive" in helping transfer water employees who want to stay with Jackson to other areas in the city.
"We can't create a water job because we don't have that," he said. "But there are other divisions [where] we need work. And, so, we'll try to do that."
Henifin, meanwhile, says employees who take jobs with contractors likely will have an opportunity to work with better equipment, get more training and likely earn more money.
"They're going to change jobs, that's a given," he said. "But we want everyone to be gainfully employed and happy [with] what they're doing... We don't want anyone to lose a job."
Want more WLBT news in your inbox? Click here to subscribe to our newsletter.
See a spelling or grammar error in our story? Please click here to report it and include the headline of the story in your email.
Copyright 2023 WLBT. All rights reserved.