'Disappointing day': Council rejects one-year agreement with Richard's; still no trash collection in Jackson
Published: Apr. 12, 2023 at 3:12 PM CDT
JACKSON, Miss. (WLBT) - Councilwoman Angelique Lee apologized beforehand for the contract not being approved.
"I have to look at Mr. Henley, Pastor Henley who lives in my ward, has a church in my ward, and I have to tell you 'I'm sorry,'" she said. "I have to look at... all these people that I know in front of us expecting us to lead and give them a decision today. I'm just gonna have to tell you, 'I'm sorry.'"
At a special called meeting on Wednesday, the Jackson City Council voted down a proposal to award a one-year emergency waste-hauling contract to Richard's Disposal.
The decision fell on a 3-3 vote, with Council members Lee, Brian Grizzell and Virgi Lindsay voting in favor. Opposed were Council members Ashby Foote, Vernon Hartley and Aaron Banks. Ward 3 Councilman Kenneth Stokes was absent.
Under the mayor-council form of government, the mayor cannot break a tie, meaning the proposal failed.
The decision leaves most residential customers in the capital city without solid waste pickup, 12 days after the city's previous contract with Richard's expired.
Director of Communications Melissa Faith Payne told WLBT the city will again place drop-off bins outside Metrocenter Mall on Thursday and Friday to allow residents to drop off their household waste.
"I think it's both fair and accurate to say that this is a disappointing day," Mayor Chokwe Antar Lumumba said. "I think it's both fair and accurate to say that the people of Jackson have been failed today."
Lumumba spoke to reporters outside council chambers. He says the future of trash pickup in the capital city now is in the hands of the courts.
The mayor and council are expected to appear in Hinds County Chancery Court on Monday, where a judge will rule on motions in a case that could give the council permission to negotiate with a solid waste vendor in place of the mayor.
The judge is expected to hear arguments on two motions in the matter, but it's unclear whether he will make a ruling in the case itself.
"There are no tricks up the sleeves... There is not special provision in the law that allows me to pick up your trash," he said. "You can't just tell a company we're gonna give you three months. First of all, telling them that suggests that you don't think that they are a legitimate business anyway, and that they're just happy to get whatever you want to toss their way."
"The only opportunity that we had to pick up the trash was given today."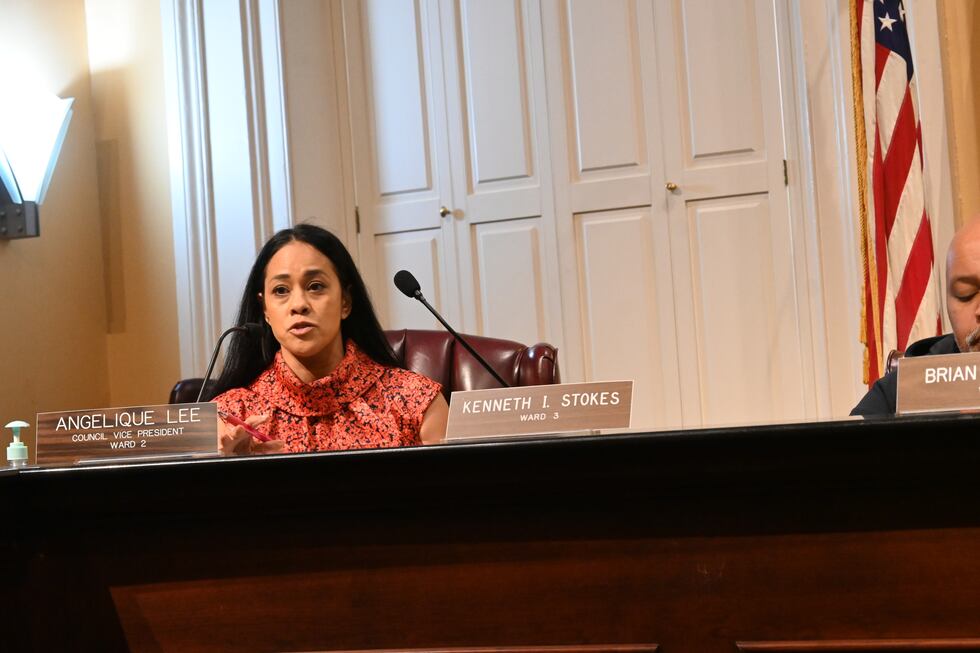 The decision came after a more than two-hour marathon meeting that also included an abbreviated executive session, where council members said they wanted to negotiate a solution.
Following the executive session, the council also voted down a motion to continue the mayor's state of emergency over garbage collections.
"This company came within the city of Jackson, started working without a valid contract, immediately set up in violation of FAA," Hartley said. "If we have a company that's going to come in and do these violations, then, I, under no circumstances, am willing to give them a one-year contract."
"They sued us twice."
The council was at an impasse on other items as well, voting 3-3 on a resolution urging the mayor to enter into a 90-day contract with a solid waste-hauler and a resolution urging the mayor to provide the Mississippi Department of Environmental Quality with an "adequate" solid waste action plan.
Banks, who represents Ward 6, likened the mayor's decision to bring the Richard's proposal to the council in late March as a game of chicken.
"I bet you if I do this, like this, you're going to be against a wall and you won't hold to your principle," he said. "I just got to say this, 'I will always, Aaron Banks will always, stick to principle over preference."
He said entering into a 90-day contract would give the city time to issue a new request for proposals and allow time for tempers to flare down.
"If Richard's applies and this new RFP process is done by a third-party evaluator, with just one option... and the best and lowest come, then I will support that," he said. "I think that is the way forward with how we are considering the time that we are spending on this."
RFPs are issued by cities seeking professional services, such as garbage collection. Once proposals are received, they are evaluated on a number of factors, and the proposal that receives the top score is typically voted on and awarded a contract.
Jackson issued an RFP for trash-hauling in October 2021. Under terms, companies could offer proposals on four options that included once and twice-a-week pickups, and options that would require customers to have special 96-gallon trash cans.
Lumumba took exception to Banks' statements, saying the council's independent attorney has "consistently" told him that council members didn't want a new RFP.
"It has been your attorney's communication on behalf of the council, consistently, 'We don't want a new RFP, we just want to move on to the next vendor,'" the mayor said. "And then I communicate with the vendor, only to find out what I had already been told... So, I want to be clear today, that you're actually asking for something new today than what you have been asking for over the last several months."
Lumumba was referring to Deshun Martin, the attorney hired by the council to represent them in several trash-related lawsuits against the mayor. Martin and other council members said several times that after they voted down Richard's, the mayor should enter into negotiations with the second-highest rated vendor from the October RFP, Waste Management.
However, in a March 10 letter to the mayor, Waste Management of Mississippi President Brandon Shaw said the company would be "happy to participate in any new RFP process as required by Mississippi law," but considered the October 2021 RFP closed once Lumumba entered into talks with Richard's.
The mayor and City Attorney Catoria Martin said Richard's likely would be unwilling to do another 90-day contract.
The council also rejected a request from Grizzell to expand the resolution from 90 days to one year.
The Ward 4 leader said businesses are also suffering as a result of the trash crisis, because they're have to have their dumpsters emptied more often. He said the problem has also raised solid waste disposal costs for Jackson Public Schools, because residents are using their dumpsters.
"At the end of the day, everybody's paying for this, except the seven people that are up here on this council," he said. "Twelve months will be a lot better than six, will be a lot better than 90 days. It will give us time to air out the issues. It will give our residents time to have consistent pickup of their garbage. And we won't have to be dealing with this immediately."
Want more WLBT news in your inbox? Click here to subscribe to our newsletter.
See a spelling or grammar error in our story? Please click here to report it and include the headline of the story in your email.
Copyright 2023 WLBT. All rights reserved.