The Mississippi man and his long lost daughter
Published: Mar. 13, 2023 at 4:59 PM CDT
JACKSON, Miss. (WLBT) - It was Saturday night and Tom Bradshaw was nervous.
The only things that could partially distract him were the green bottle of Canada Dry in his hand and the occasional update of the Duke men's basketball game against North Carolina.
For the die-hard Duke fan, even the game wasn't enough. Tom could barely keep himself still - and for good reason.
Tonight, Tom, at 61 years old, was becoming a father.
But he and his wife were not inside a hospital. They were at the Jackson-Medgar Wiley Evers International Airport. And in around 30 minutes, he was going to meet his 33-year-old daughter for the first time.
"I'm ready— I think," Tom said, followed by an anxious laugh.
Tom's wife, LaDonna, sat crossed-legged as she watched her husband begin to pace in front of her. "He's making me nervous."
To Tom, the airport had transformed into a waiting room. At one moment he wondered aloud if he was going to suffer a heart attack.
After nearly an hour of pacing and pulling at his white beard, Tom received a text. His daughter's plane had landed.
"Serenity now!" LaDonna joked, but Tom's mind was a thousand miles away. He sat his bottle of Canada Dry on a tray and approached the terminal where his daughter would appear in only a matter of minutes.
LaDonna got into position, finding the best angle to capture the moment on camera.
A steady stream of people began to exit the terminal and Tom did what he had done all day: wait.
His daughter would, of course, be the last to appear. Wearing a turquoise jacket, Tom recognized her instantly.
She made her way to him and the two hugged. The tears came quickly.
After the tears were wiped away, and after she was introduced to LaDonna, Nicole LeMay would tell her new dad, "Welcome to fatherhood!"
For Nicole, this night would be the crowning achievement of a years-long investigation to find her birth father; the catalyst of the investigation being when, at the age of 23, Nicole discovered she was adopted.
"Everybody in my family knew I was adopted except for me," Nicole said in a phone call the day before meeting Tom for the first time.
As she would learn, Nicole's birth mother, Helga, had placed her up for adoption in Virginia when she was days-old. Tom, who met Helga while in the Navy, was never told of the pregnancy.
The disorienting news of her adoption obviously took time to process, Nicole said, and splintered the relationship between she and her parents - most notable between she and her adoptive mother.
But after a few years, and with the support of her adoptive father behind her, Nicole began the arduous journey of finding her biological parents.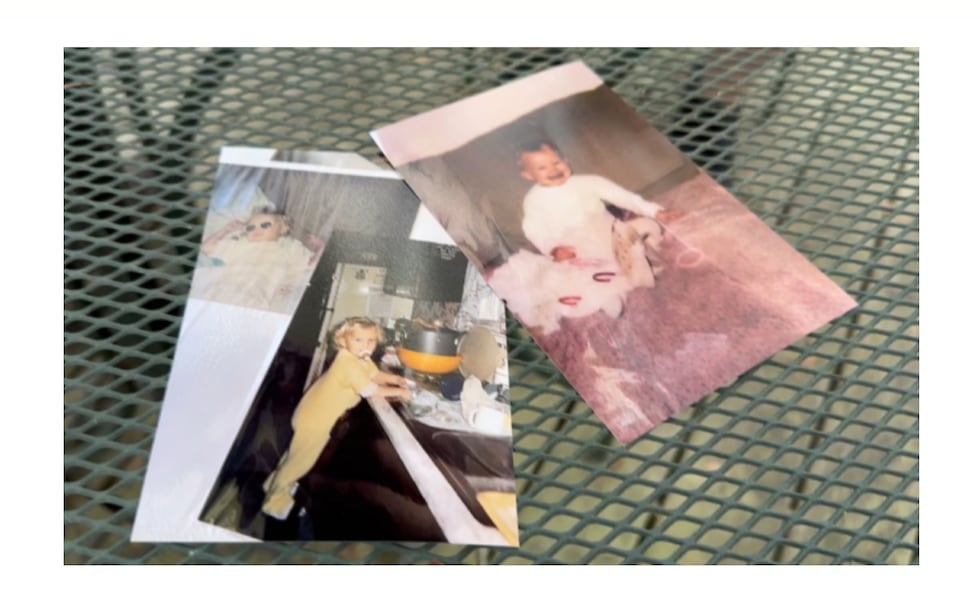 There were initial roadblocks. It had been a closed adoption, and nearly all of the information involving her birth mother had been scraped from any paperwork.
"I think it took about a whole year before I got word from a caseworker in Virginia that he did find some names on my paperwork for my biological mother," said Nicole.
In order for Nicole to make contact with Helga, however, the case worker would need to speak to her first and ask if she was comfortable providing Nicole with her information.
After a few months, Nicole heard back: her birth mother was willing to speak.
"So I did reach out to her first, and she told me that she knew this day would come and she would be ready to answer any questions that I have," Nicole said. "But to just know that it wasn't— it's not that she didn't want me; it was she couldn't provide the life that I deserved to have."
Helga would disclose little information, only telling Nicole the name of the man she believed to be the father. Now armed with a name, Nicole scoured social media. And she found him. Then, she sent a Facebook message.
When no response came, Nicole reached out to the man's son, asking him, "Do you remember Helga?" The son did and swiftly told his father, who finally responded to Nicole.
Nicole says the man was kind and that he ordered a DNA test for them to take. The results came in.
He wasn't the father.
In the email breaking the news to Nicole, the man told her "anyone would be proud to have you as a daughter and just know that these results don't change my support of your search."
But Nicole believed the quest to find her real father was officially over.
She had nothing to go on, she thought. Helga remembered few details from so many years back, and since she never told anyone she was pregnant, Nicole's real father would never know to search for her.
In Nicole's words, the hunt was akin to "chasing the wind."
Months went by without any new attempts or developments. But then Nicole had the sudden urge to try one last time. She submitted an Ancestry DNA report, describing the results she received as "a bunch of numbers."
She had no idea what to do with them.
And so, with little to lose, she joined a Facebook group and asked for help deciphering the results of the DNA report.
"And this wonderful person, her name is Sarah. She's— they call them DNA angels on there. This is where it gets hard." Here, Nicole's voice would begin to crack. "She offered to take my case absolutely free. She just does this to bring families back together."
Within only four day, Sarah had discovered Nicole's grandmother and then her grandmother's sons - one being Tom Bradshaw.
On November 21, Nicole sent a Facebook message to Tom saying the following: She was almost 33 years old. She had recently discovered she was adopted. She was born in Hampton, Virginia. Her mother's name was Helga.
After some searching, she had received names of her possible biological family. Do any of these names mean anything you? she asked.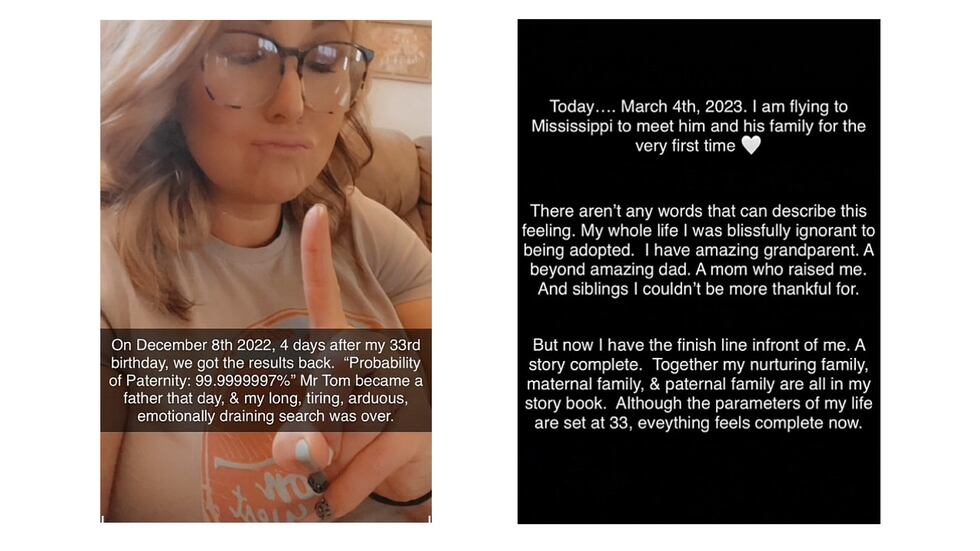 Tom responded the same day and was convinced that his brother was Nicole's father. But Nicole says she could see an immediate resemblance between her and Tom, most notably in their noses.
This time, Nicole was the one to offer a DNA test and Tom obliged. On December 8, the results were emailed to her. She had some friends come over for moral support.
"I knew at this point that this was going to be it." Nicole gets choked up again. "If it didn't turn out this way, I was done looking. Because I do have a dad, I do have a mom. I was just blissfully ignorant my whole life about this whole situation," she laughed.
After pulling up the results, Nicole would have to skim multiple pages before finally getting to the final answer. But, suddenly, there it was.
The probability of Tom being Nicole's biological father was 99.99%.
After leaving the airport, the new family would spend the night at a hotel before traveling to their home in Meridian, Mississippi. They had 33 years to make up for, and Nicole was only in town for a few days.
During this visit, Tom would talk about the blessing (if not the miracle) of Nicole's spontaneous arrival into their lives.
This especially after what Tom and LaDonna had gone through in the years prior. In 2011, LaDonna was diagnosed with breast cancer. Five years later, her son would lose his life to a heart attack.
And then on Halloween night of 2016, a Ford F-150 would rear-end a jeep pulling a trailer full of children trick-or-treating in the small town of Chunky, Mississippi, killing LaDonna's daughter-in-law, Kristina Shaver, and two of her granddaughters, 8-year-old Baylie and 2-year-old Brooke.
Baylee and Brooke's sister, McKensey, was also on the hayride but survived. She is now being raised by Tom and LaDonna.
Tom described that time as "a very dark period." But then, a sudden glimmer of light: Nicole.
"Right before Nicole [reached out on Facebook], [me and LaDonna] were just sitting around and LaDonna says, 'That's it. We're out. We're going forward,'" Tom recalls. "Not a week later we got the text: 'Bing, here I am. Your daughter.'"
In order to make up for lost time, Nicole came equipped with a photo album as a gift to fill Tom in on her childhood. Inside the album are photos of Nicole as a child and journal entries that follow the progress of Nicole's search for Tom.
On the last page of the photo album, a paragraph written to her dad. The final words saying, "Here's to ending one book and beginning a new one."
Want more WLBT news in your inbox? Click here to subscribe to our newsletter.
Copyright 2023 WLBT. All rights reserved.