$22.7M construction contract awarded for Reunion Parkway Phase 3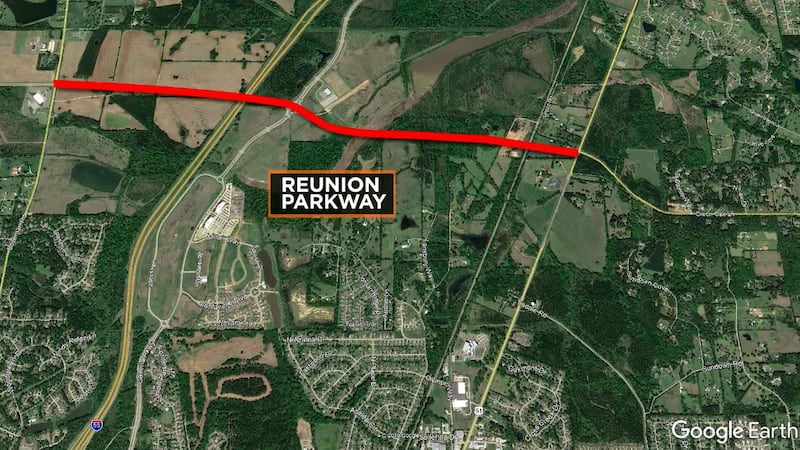 Published: Feb. 22, 2023 at 7:34 PM CST
MADISON CO., Miss. (WLBT) - A major road construction project that promises to open up hundreds of acres of land for new development could get under way in the next three months.
On Tuesday, the Madison County Board of Supervisors awarded a $22.7 million contract to Hemphill Construction for the Reunion Parkway Phase Three Project.
The work will include constructing a new, two-lane road from Parkway East to U.S. 51.
It's one of several major projects in the works to provide the county with additional east-west corridors and an additional access point from the interstate.
"The timing of this is very fortunate because it coincides with the governor's massive infrastructure plan," said District 2 Supervisor Trey Baxter.
Gov. Tate Reeves is asking the Mississippi Legislature for $1.3 billion for transportation infrastructure improvements, of which $65 million would go toward widening I-55 from Mississippi 463 to the Gluckstadt Road exit.
Baxter says that project, along with Reunion Phase Three, Reunion Phase Two and the widening of Bozeman Road, the county will have "a brand new infrastructure network."
County Engineer Tim Bryan told supervisors construction would likely begin in the next three months. Minutes from the Tuesday board meeting must be submitted to the Mississippi Department of Transportation for concurrence.
"They'll send it to their board for concurrence. At that point, we'll be able to sign the contract," Bryan said. "So, that's probably a month or so time period... Then, from there, Hemphill has however long they need to get their bonds and insurance and stuff back to us. And it will start after that."
Hemphill has 60 days to submit its bond information, county officials said at the meeting. Construction will take two years.
Two companies submitted bids. The second came in for around $27 million, Bryan told the board.
The county has been working on the Reunion and Bozeman projects for years. The second phase of Reunion includes building a new four-lane road from Bozeman to Parkway East. That stretch also will include installing a flyover bridge along the interstate, and eventually adding ramps there to allow access.
Ramps won't be installed until the interstate there is widened. Reeves' proposal would widen the interstate from four to six lanes.
The Bozeman project includes widening the roadway from two to four lanes and adding a median between Mississippi 463 and Reunion Parkway. That widening is expected to run $25.4 million. The county recently received another $4 million in federal funding for the work.
Want more WLBT news in your inbox? Click here to subscribe to our newsletter.
Copyright 2023 WLBT. All rights reserved.