First Alert Forecast:
Becoming Sunny & Mild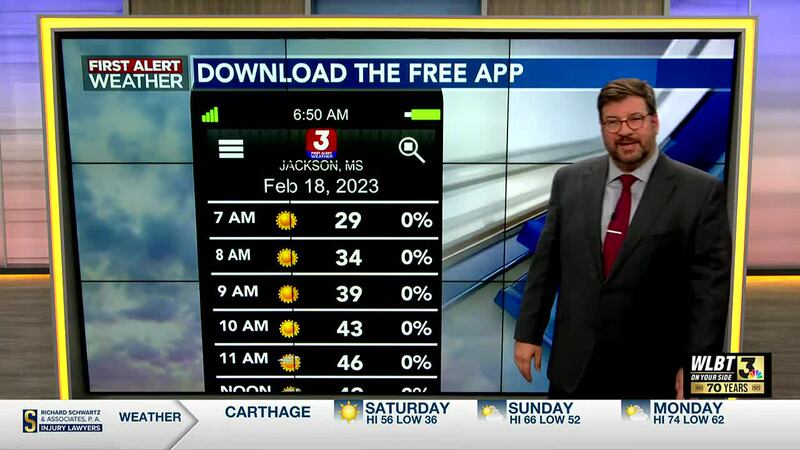 Published: Feb. 18, 2023 at 8:09 AM CST
JACKSON, Miss. (WLBT) - Cool and dry weather for us over the next couple of days. Starting out this morning with temperatures near freezing. With a good deal of sunshine expected, we'll warm to the upper 50s this afternoon. Increasing clouds this afternoon and tonight will keep us out of the freezer overnight. The Magnolia State will see mostly sunshine again on Sunday, warming to the upper 60s. You'll notice "warming" will be the trend heading into next week, with the upper 70s and low 80s expected by Tuesday. Norms for mid-February should be 63/40. We're going to feel more like April next week. Temperatures will be close to record highs for both the afternoon and overnight periods. Not surprising, our next rain chance will be mid-week, as that seems to be the pattern for us over the past several weeks. The warmer environment will help in thunderstorm development, mainly north of Interstate-20. While some will likely become strong, right now models are indicating the risk for severe weather is low. And a low risk is a welcome change to the forecast. As always, the First Alert Weather team will monitor the system and update you on the progress and risks associated with this mid-week system.
Want more WLBT news in your inbox? Click here to subscribe to our newsletter.
Copyright 2023 WLBT. All rights reserved.