Teen described as 'one of the most dangerous' suspects judge has seen; denied bond on capital murder charge
High bond set for multiple suspects arrested in connection with a string of crimes that 'terrorized' Jacksonians.
Published: Jan. 23, 2023 at 9:39 AM CST
JACKSON, Miss. (WLBT) - A Jackson teenager allegedly involved in a string of incidents that authorities say terrorized the capital city will spend the foreseeable future behind bars.
On Monday, Jackson Municipal Court Judge Jeff Reynolds denied bond for Montravious Baker, who is being charged with capital murder for the shooting death of William Wood.
Baker received high bonds on other felony charges, as well, including a $2 million bond in connection with a second homicide, the January 4 killing of Sha'Maya Anderson, and a $1 million bond each on six charges of armed robbery of a business and three charges of armed carjacking. Baker also must pony up another $50,000 for auto burglary.
"You are only 15 years old, but you are one of the most dangerous defendants I've had since I've started doing this, and I've been going on five years," Reynolds said.
Baker was one of several defendants that appeared before Reynolds on Monday for their initial appearance on Monday, after being arrested over the weekend.
| Montravious Baker's charges | Bond Amount |
| --- | --- |
| Capital murder - William Wood | None |
| Murder - Sha'Maya Anderson | $2 million |
| Armed business robbery - Dollar General, McDowell Road | $1 million |
| Armed business robbery - Dollar General, Raymond Road | $1 million |
| Armed business robbery - Shell Station, McDowell Road | $1 million |
| Armed business robbery - Popeye's, Terry Road | $1 million |
| Armed business robbery - Rally's, Highway 80 | $1 million |
| Armed business robbery - Dollar General, Robinson Road | $1 million |
| Armed carjacking | $1 million |
| Armed carjacking | $1 million |
| Armed carjacking | $1 million |
| Auto burglary | $50,000 |
The three were allegedly involved in a crime spree that included robberies at multiple Dollar General stores and two fast-food restaurants.
Tyrese Hodges, 20, of Jackson, was given a $1 million bond each on six charges of armed robbery of a business and two armed carjacking charges, as well as a $50,000 charge for being in possession of a stolen firearm.
Hodges also is being forced to pay $1,000 for a bond previously vacated on a 2022 domestic violence charge. An affidavit filed by Hodges' girlfriend claimed he punched the victim in the face. However, Hodges never appeared in court.
"I owe $1,000," he asked.
"I think that's the least of your troubles," one public defender quipped.
Khaliaya Williams, meanwhile, was given a $3 million bond for her alleged involvement in three armed robberies, where she was believed to be a getaway driver for Hodges and Baker, as well as a $50,000 bond for being in possession of a stolen gun.
"You look younger than you are. I'm really sad for you, that you made these decisions to get in the car and conspire to commit these crimes," Reynolds said. "You're part of a crime spree that terrorized the city. I have to treat you like the other two."
Williams, who initially entered the courtroom upbeat, giving a slight wave to someone in the gallery, began to sob. "I don't even have that," she said. "I can't get that. My mom [doesn't] have that."
A woman in the gallery walked out of the courtroom, also sobbing.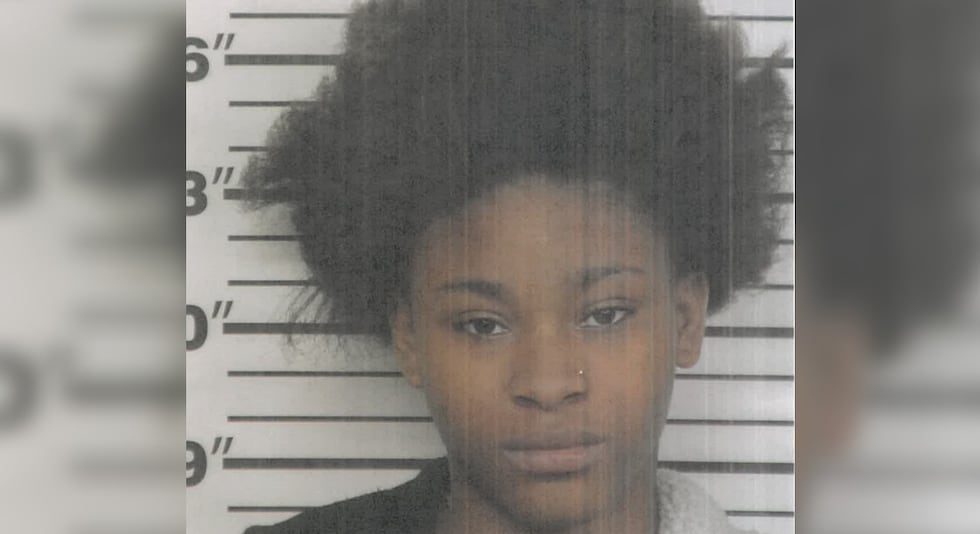 A public defender asked for leniency for all three suspects, citing their "inexperience" with the judicial system.
Reynolds, though, wasn't having it. "You are an extreme danger to the citizens of Jackson," he said. "You did, in fact, flee from the police... Either you or one of your co-conspirators put a gun to a child's head - a 7-year-old little boy... who will now be traumatized for the rest of his life."
"I apologize for that," Hodges said, referring to the judge's comments on the 7-year-old.
The crime spree started on January 14, when police responded to an armed robbery of the Shell gas station on McDowell Road. A Jackson Police Department detective told Reynolds that video surveillance showed two suspects enter the store, point guns at the worker, and jump over the counter to steal the cash drawer.
Hours earlier, a Dollar General on Raymond Road was robbed, allegedly by the same two suspects, but this time a third person was seen in the video footage.
The following day, on January 15, the suspects hit another Dollar General, this one on McDowell Road. Video footage showed two individuals walking inside the store. Prior to that, the footage shows the suspects with their masks up, helping police get a positive I.D. on Hodges and another defendant.
Police later spotted Hodges at his mother's house, where he and another suspect fled the scene on foot, only to carjack a man in the 300 block of Lindsay Road and then another person at a gas station in the 900 block of McCluer Road.
Detectives told the judge that the suspects approached the woman's vehicle while she was pumping gas, and one of them held a gun to the head of her 7-year-old grandson. The F150 was later used in the robbery of a Rally's restaurant on Highway 80, where a suspect went in through the drive-thru window to grab the cash drawer. The three suspects were later seen on video going into a Terry Road Popeye's, where they again robbed the store at gunpoint.
That robbery, though, was cut short when a cook fired on them, detectives told the judge.
Baker's story begins earlier, on January 4, when he allegedly shot and killed Sha'Maya Anderson, a teen at Whitten Middle School.
Police say Sha'Maya was murdered at the corner of Meadow Lane and McCluer Road. Officers from Precinct 1 responded to the scene, where they found Sha'Maya in the street. Detectives told Reynolds that Baker shot her and then shot her "several more times" after she "hit the ground."
He then fled the scene in a black Toyota Camry. That was the same Camry used in the robbery of the McDowell Road Dollar General, where video footage showed Baker walking along the store's sidewalk before going in, a detective told the judge. It was also the same vehicle used in a January 12 armed carjacking that Baker allegedly bragged about on social media.
Baker also allegedly bragged about killing a "white guy coming out of the woods" at Pinecrest Circle. That victim, William Wood, succumbed to multiple gunshot wounds.
The teen took down that social media page after friends allegedly informed him police were watching, and set up another account where he said, "the feds [are] watching," detectives said. When he was arrested, he was found with keys to one of the cars that had been carjacked.
A fourth person being held by another jurisdiction also could face charges related to the spree. WLBT will provide more information once it becomes available.
Want more WLBT news in your inbox? Click here to subscribe to our newsletter.
Copyright 2023 WLBT. All rights reserved.