Officials perform necropsy on fin whale found in Pass Christian
Published: Jan. 7, 2023 at 2:38 PM CST
PASS CHRISTIAN, Miss. (WLOX) - A dead whale was spotted just offshore in Pass Christian Saturday morning.
Researchers with the Institute for Marine Mammal Studies (IMMS) initially believed it was a Rice's whale, a highly endangered species and a rare find. However, further investigation found that it was actually a fin whale.
The species is the second-largest of its kind behind only the blue whale. Unlike the Rice's whale, which is typically found in the Gulf of Mexico, fin whales are migratory and often move towards the poles during feeding seasons, leading them to be found all over the world.
"Once we pulled the whale out of the water, we were able to see the anatomical features," IMMS Director Dr. Moby Solangi said. "That helped NOAA decide it was a fin whale. Of course, they will be doing genetical analysis."
This is the first time a fin whale stranding has been reported in Mississippi and just the fourth time since 2002 a fin whale stranding has been reported in the Gulf of Mexico, the most recent being in Texas during December of 2012.
IMMS, NOAA and other local, state and federal agencies worked to pull it to shore for testing. The discovery comes just three days after a dead dolphin washed up on the same beach.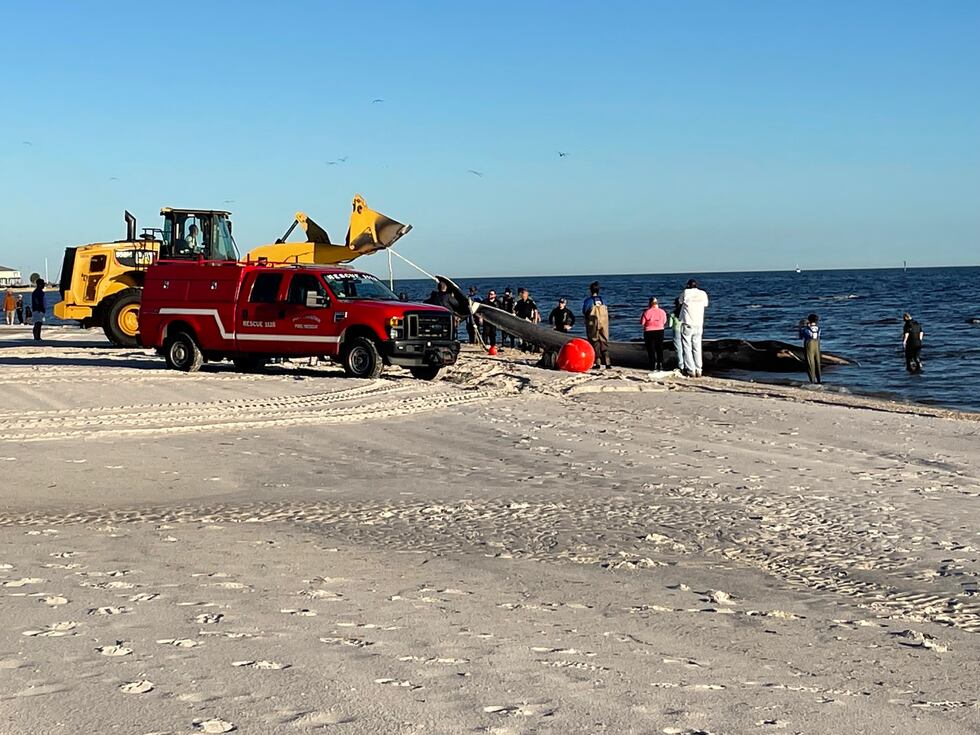 Scientists will perform a necropsy, which is an autopsy for animals, at 7 a.m. Sunday morning to find out its cause of death and to learn more about the unique sea creature.
"[The whale] appears to be an young adult, but several scientists are arriving to assist in the necropsy who could give us a better assessment," said Solangi.
Solangi said it was originally discovered by a beachgoer who notified authorities.
The whale is monitored by law enforcement, and officials ask the public not to go near the carcass as it is a health hazard.
"Of course, we'd just like to learn from this," Pass Christian mayor Jimmy Rafferty said. "You know, how could this happen? What could be done to prevent it and so forth? But I think it's really just a great learning experience."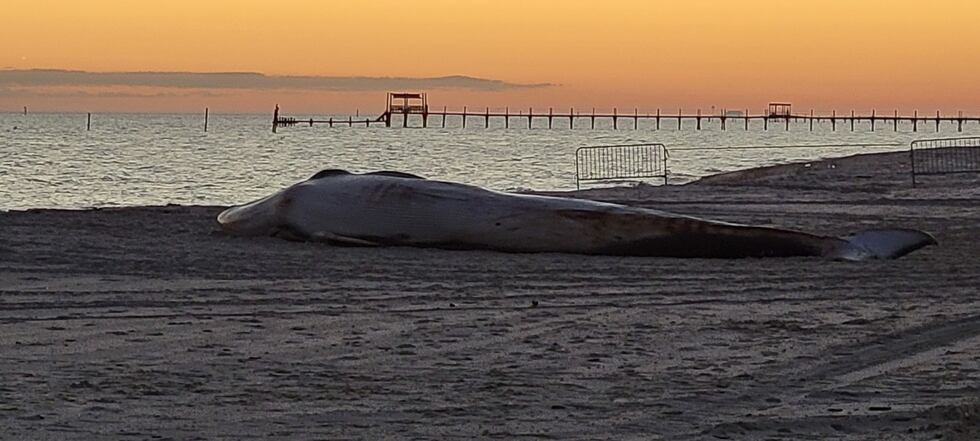 Fin whales are endangered and protected under the Marine Mammal Protection Act.
Want more WLOX news in your inbox? Click here to subscribe to our newsletter.
Copyright 2023 WLOX. All rights reserved.