Lumumba seeking $47 million from the state, feds to address emergency water repairs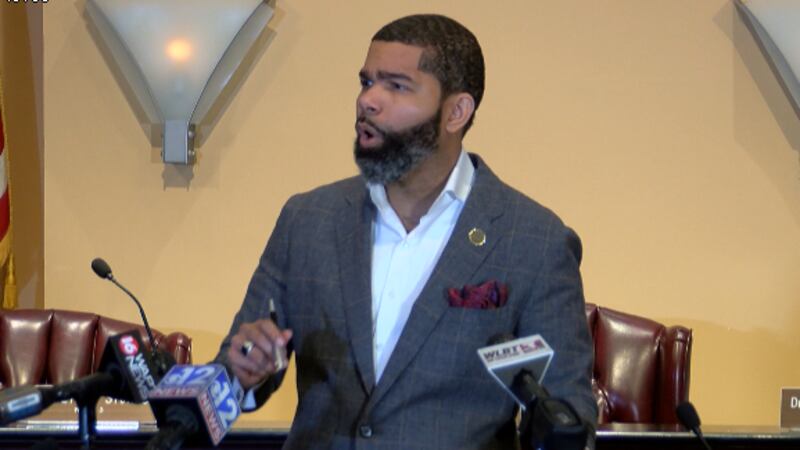 Updated: Mar. 4, 2021 at 2:47 PM CST
JACKSON, Miss. (WLBT) - Jackson Mayor Chokwe Antar Lumumba is seeking $47 million in state funding to make repairs to the city's water system, which was crippled by February's winter storms.
In a letter dated March 3, Lumumba said he was requesting $47 million from the state and federal government to "make the capital improvements necessary for the efficient operation of Jackson's water treatment plants and distribution network."
Lumumba goes on to say that "these improvements are critical to our efforts to ensure that our residents and businesses are not deprived of clean water again."
The request comes as the city continues to dig out from the February winter weather, which caused production to drop at the O.B. Curtis Water Treatment Plant.
At the height of the storm, production there was cut by approximately half, causing water service to be interrupted for about 43,000 customers.
The letter was sent to Gov. Tate Reeves and was copied to Lt. Gov. Delbert Hosemann, House Speaker Philip Gunn, the Hinds County legislative delegation, U.S. Congressman Bennie Thompson and Sens. Roger Wicker and Cindy Hyde-Smith.
Some members of the Jackson City Council, meanwhile, are questioning the request as well as a facilities plan that was included with the letter.
Ward One Councilman Ashby Foote, for instance, wonders why Lumumba has been telling media outlets that the city needs between $1 billion and $2 billion to address its water needs, but then sends a list to the state seeking $47 million.
"How do you go from telling MSNBC that you need a billion dollars, then you send a letter with a very specific list of expenses to the governor?" he asked. "How do you do this in the span of 72 hours?"
Foote also asked who created the list and why the council was just finding out about it. The plan is titled "Engineer's Opinion of Probable Cost." However, no engineering firm is listed.
Additionally, the facilities plan is dated December 16, 2020, essentially two months before the water crisis began.
"Why are we finding out about this now when people have been without water for two and a half weeks?" Foote asked.
He had reached out to Lumumba Chief of Staff Safiya Omari with his questions but had not heard back.
Council members have other concerns, including the costs for professional services.
Approximately $8.2 million, or roughly 17.4 percent, of $46.8 million in proposed expenses listed on the facilities plan goes to "professional services."
Broken down, $4.4 million of that amount goes to "construction phase inspection and contract administration" and $3.75 million goes toward "project engineering design."
"We need to buy pipes and pay people to lay pipes," Ward Four Councilman De'Keither Stamps said.
Meanwhile, the city is under a state of emergency, which loosens state rules regarding procurement.
A special council meeting has been set for Friday, March 5, to discuss the request.
Stamps, who also is in the Mississippi legislature, said the meeting is needed to ensure that the administration, the council, and state officials are on the same page.
"I'm not saying (the mayor's) request is wrong, but with a problem of this magnitude, we need everyone engaged and knowing what the play is," he said.
He pointed to the fact that the mayor sent his request to the governor without consulting council members.
"They jumped out there with this plan and we don't even know if it's the total scope of work needed," he said. "They threw that one-percent item in the meeting on Tuesday and we didn't even discuss it in the work session."
At the council meeting Tuesday, the mayor brought up an emergency item to ask the state for a one-percent sales tax increase. The funds from the increase would go toward water and sewer needs.
Members approved that measure unanimously, but some had questions about the request after the vote.
"This is the reason we called the meeting, so we can all get on one accord and move forward," Stamps said. "We can't run plays without huddling up."
Officials in Gov. Reeves's office weren't immediately available for comment.
A copy of the mayor's letter to the governor, as well as the water facilities plan is shown below.
Copyright 2021 WLBT. All rights reserved.