The Cain Way: MDOC Commissioner says gang numbers shrinking in Miss. prisons (Part 1)
Updated: Feb. 10, 2021 at 10:43 PM CST
JACKSON, Miss. (WLBT) - Before the floods, tornadoes, and even before the pandemic, Mississippi was facing a problem that was putting the Magnolia State in the national spotlight. Our prisons were out of control.
In May 2020, Governor Tate Reeves introduced us to his choice to fix problems. His name is Burl Cain, from neighboring Louisiana - appointed to Commissioner of the Mississippi Department of Corrections.
Cain's career in Louisiana was controversial with allegations of impropriety, nepotism and questionable business deals, but many credit him with turning around the notorious Angola prison.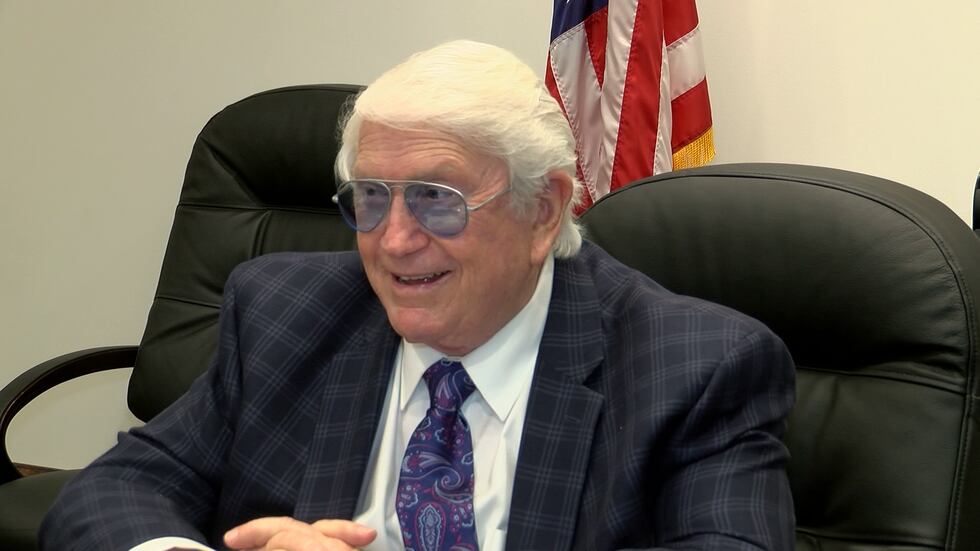 He agreed to sit down with WLBT's Howard Ballou for an interview and a look at Mississippi Prisons: The Cain Way, so far.
January 2020, Mississippi prisons make national news with stories about bloody and deadly gang violence, deplorable living conditions with crumbling infrastructure and unsafe food. It is bad enough to prompt Congressman Bennie Thompson to call for a civil rights investigation and for celebrity rappers Jay Z and Yo Gotti to file lawsuits on behalf of inmates. As the COVID-19 pandemic rages, Governor Tate Reeves, during one of his daily briefings in May, announced Burl Cain will fill the MDOC post vacated by Pelicia Hall.
When asked Commissioner if he has had that moment yet, where you ask yourself, "Oh my God, what have I gotten myself into?"
Cain jokingly replied, "Yesterday!" prompting chuckles from staffers.
The 78-year-old agreed to a sit-down interview to show how he has hit the ground running on his mission to fix Mississippi's broken prison system. He said he is confident he has the know-how to do it.
"When I came here it was exactly like what I found at Angola when I went there in '95, so what's really cool is, I know the drill," Cain said. "I was trained there, so now I know exactly what steps to take and what changed Angola and how we did it and so, so I'm doing that here. It just won't take me as long. It took me 4 years, 3 years, 2 years to really get the change started at Angola. It's already happened here."
Mission number one, said Cain, was to get staffing up to speed. He immediately fanned out across the state to do that.
"And so that gave us our strength and now the next thing is to hire the correctional officers. Well, we couldn't hire them, but we hired 87 probation and parole and that's because we were paying in the 30s on them, but we were paying in the 27s on the correctional officers and that dog didn't hunt, so, therefore, it proves we had to raise the pay for correctional officers and that went into effect; it just did, the 1st. We're going to have a new pay plan. We even created ourselves a new motto, it's 'New MDOC, New Pay, New Day, New Way'."
Another key piece of Cain's strategy is faith-based; building a new chapel inside prison walls. Groundbreaking was January 26 at Unit 30. Inmates will serve as leaders; something he says recent research shows to be effective.
"So, that's the change. It has to be a moral change or you won't get the violence out."
HB: "Speaking of violence, there's still a real issue with gangs. Actually, we've heard people say gangs are actually running the prisons. Where are we on addressing that issue?"
BC: "Well, there's two of them in a car that oughta be sleeping tonight in Colorado. There's another one going to be on a car in about four days that's going to be in Florence prison where El Chapo is in Colorado, so if they want to keep being gang leaders, they can do it from a distance, because they ain't gonna do it here, so chop the head off the snake. What they gonna do? Meanwhile, we're gonna have all these moral programs and so forth where you can do good with our re-entry program and so forth. Anyway, we don't even want to admit that we have that much gang problem. There's one more place that we're working on really hard that we've got to do some serious investigation, but we know it and we know where they are and the gang members are identified. We had 6,500 and a few and now we have about 2,400 and a few, because people are getting out of the gangs and we're enabling them to do that."
Cain proudly displayed letters from inmates applauding the changes, asking for help or airing grievances. He said he responds to each one with handwritten notes....600 so far. So, what about the deplorable conditions?
"They're not there. They're gone. Here's the good thing. The governor at some point is going to take you all on a tour of Parchman. I'm not gonna do it, he is," said Cain.
3 On Your Side has obtained a sneak peek of some of those changes and Thursday night, we will show them to you.
Copyright 2021 WLBT. All rights reserved.