Construction on Fondren movie theater, bowling alley under way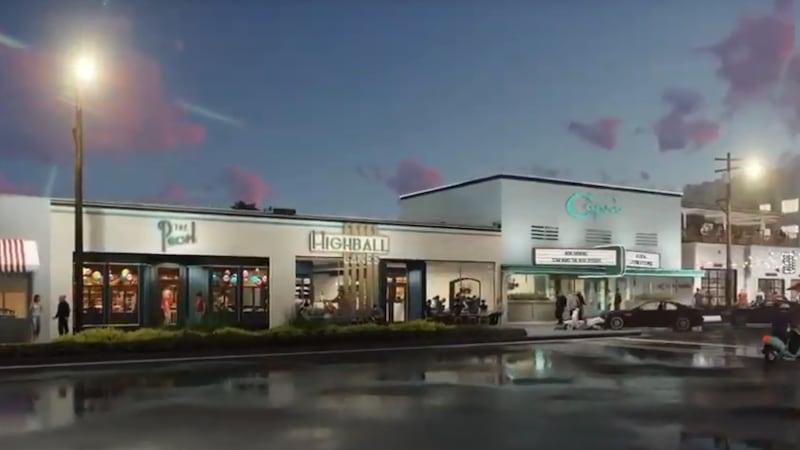 Updated: Dec. 14, 2020 at 5:11 PM CST
JACKSON, Miss. (WLBT) - Construction is under way on a new development that promises to bring a bowling alley and movie theater to Fondren.
Crews on Monday were putting up a construction fence behind the historic Capri Theater, as contractors prepare to transform a portion of the Fondren Strip into a major entertainment destination.
The first phase of the $13 million project will include a new Capri Theatre, Highball Lanes bowling alley and restaurant, and The Pearl, a tiki bar.
Demolition behind the Fondren Strip should get under way Tuesday, to make way for the future expansion.
"We're taking down a non-historic structure on the back of the Seabrook building and old photography studio. There were a couple of add-ons to the buildings and we're removing those so we can build back and expand that space," said developer and co-owner Jason Watkins.
Construction is expected to take 10 months, weather pending.
Businesses south of the photo studio and Seabrook were not impacted by the project.
"We have long wanted to create an entertainment destination for Fondren, making it even more of one than it already is," he said.
Watkins said in addition to bringing in new entertainment options, the project is one way to revitalize the historic Capri Theatre, a long-defunct one-screen movie house that has been closed for years.
Plans are to turn the Capri into a multi-function theater that will show first-run movies and classics, as well as host stage shows, seminars and the like.
"Primarily it will be used to show films, but it does have a stage that will allow for performances," Watkins said. "We will have periodic live performances, seminars and community events that will supplement what's going on in terms of film."
Next to the Capri will be Highball Lanes, a 10-lane bowling alley and restaurant, and next to it will be the Pearl.
The second phase will include the construction of Ed's Burgers, a 1950s-style restaurant dreamed up by chef Robert St. John. Construction on it is "not far behind," Watkins said. However, an exact start date had not been announced.
Plans were drawn up by Wier Boerner Allin Architects, also of Fondren. The project is being constructed by AnderCorp, a Gulfport-based firm with an office in Fondren.
The buildings feature an art deco style, similar to other construction of their era, Watkins said.
The Strip, which runs along North State Street in the Fondren Business District, was constructed in the 1930s and was one of the first suburban shopping centers in the state.
Copyright 2020 WLBT. All rights reserved.