Meet the Dolphins: Mississippi Aquarium now the home of 4 bottlenose dolphins
Updated: Dec. 10, 2020 at 8:54 AM CST
GULFPORT, Miss. (WLOX) - The main attractions have arrived at the Mississippi Aquarium. Four young dolphins are in their new habitat, being trained and getting ready for the next chapter in their lives.
Archer, Fin, Nigel and Axel arrived this week and are the aquarium's newest residents. But the Atlantic bottlenose dolphins are no strangers to each other. They were born and raised together Sea World in Orlando.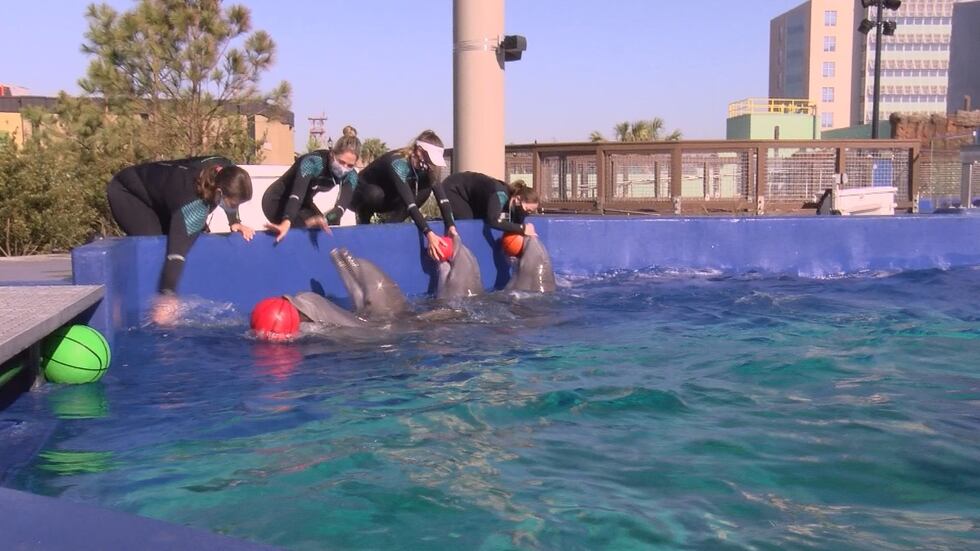 The Atlantic Bottlenose Dolphins are well acquainted.
"These four dolphins were all raised together in the same social groupings. They've formed bonds with each other throughout their entire lives," said Andy Horn, Mississippi Aquarium's Curator of Marine Mammals.
Dolphins are very social, intelligent and playful mammals. Scientists are learning things everyday about these amazing animals. Mississippi Aquarium is dedicated to better understanding dolphins. Many questions remain regarding dolphin behavior.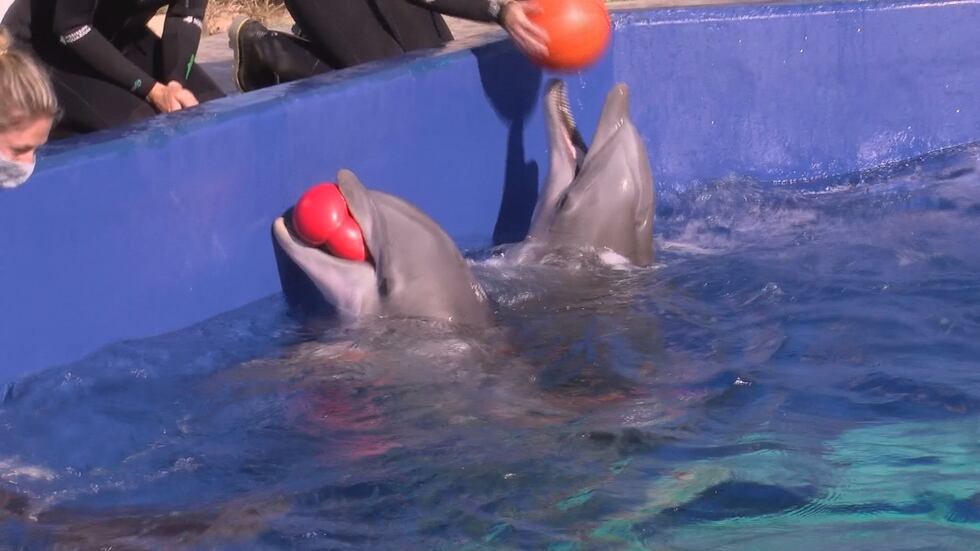 Being here helps marine biologists and the general public realize how important it is to protect and preserve the denizens of the sea that are such a big part of the Gulf of Mexico and this part of the world.
"There are things that are mysterious about dolphins," said Horn. "We've learned a lot about them in the 80-plus years we've raised them in the United States. It's nice to bring guests here so we can learn about how to protect them in their natural environment."
Over the next few weeks, the four dolphins will continue to interact with their trainers before being moved into the aquarium's main area by the end of the year.
Visitors to Mississippi Aquarium can learn more about the dolphins and their natural habitat, as well as their social personalities.
"They'll get to see all the things that keep them physically stimulated, like playing with balls and the fast swimming and acrobatic jumping dolphins are known for," said Horn. "We'll also make sure guests leave with an appreciation of what they can do in their own communities to benefit this species."
The Mississippi Aquarium is open throughout the holiday season with special Christmas events planned for guests who visit. To see a full schedule or purchase tickets, visit the aquarium's website.
Copyright 2020 WLOX. All rights reserved.