Saints defense stifles the Falcons to the tune of 8 sacks and 2 INT's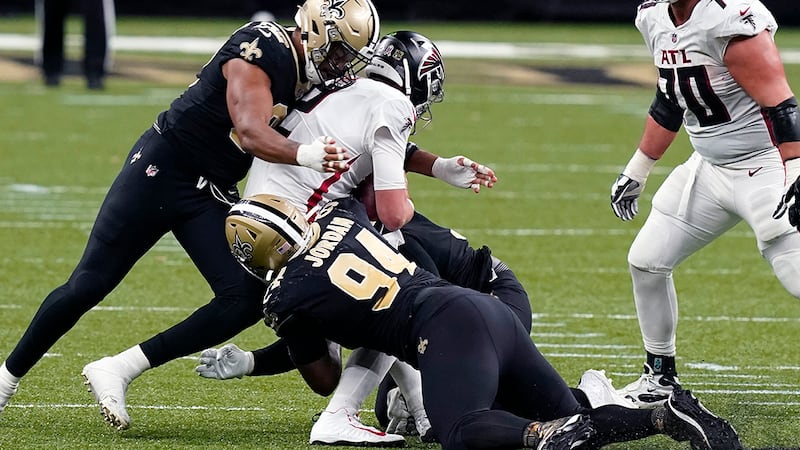 Updated: Nov. 22, 2020 at 8:21 PM CST
NEW ORLEANS (WVUE) - The Saints secondary was without the services of Marshon Lattimore on Sunday, but others no doubt stepped up. The defense hauled in two picks, to go along with eight sacks against the Falcons.
"Man I just finished telling them that's a really good offense we're seeing. When you look at position by position. I thought that was a key. Without one of our starting corners, that was impressive," said Saints head coach Sean Payton.
"I always tell Marshon, he's the key to our defense. When he plays at a high level, we all play at a high level. I ssued that same challenge to Marcus today. He played at a high level, the whole defense played at a high level. He got that pick. Our back end played phenomenal today. The defensive line played phenomenal. That allows the linebackers to run around and hit. We still left three interceptions on the field, that's crazy. Our coaches issued us a challenge to get pressure on the quarterback. We got to hit them, it changes what they do. So we did that. That's what we got to continue to do. We got to continue to execute the gameplan. Continue to stay locked in on the process," said linebacker DeMario Davis.
Three of those sacks came at the hands of All-Pro Cam Jordan.
"When we talk about what we got to do as a defense. We put a gameplan together. The idea is to get Matt Ryan off his spot to make him feel uncomfortable. As a defense, that makes us overcome a lot," said defensive end Cam Jordan.
Jordan is known for trash talk when it comes to Atlanta, but strangely not on this day.
"When you have Matt Ryan, Julio Jones, Calvin Ridley, (Russell) Gage, Todd Gurley, a star-studded cast just on offense. Deion Jones and Tyeler Davison on defense. Look we're going in we got to fight, all four quarters. We'll see them again in two weeks. That's all I'm giving you," said Jordan.
The Saints were one off their franchise record for sacks. Last year they had nine against the Falcons on Thanksgiving.
Copyright 2020 WVUE. All rights reserved.
See a spelling or grammar error in our story? Click Here to report it. Please include title of story.