'Our goal was to stop the suffering:' Nonprofit said city turned down its offer to fix Jackson animal shelter
Updated: Nov. 20, 2020 at 12:31 PM CST
JACKSON, Miss. (WLBT) - More than a week after WLBT was denied access to Jackson's animal shelter, workers with a New York nonprofit said the city has known about problems there for years.
Steven Lenz, an investigator with Guardians of Rescue, said his group was called to the city in early 2019 to investigate a pit bull fighting operation.
That operation, in turn, led them to Jackson Animal Control, where they uncovered poor conditions and poor operating procedures at the Outer Circle animal shelter.
After those investigations wrapped up, the group offered to help the city address the conditions there, but was turned down.
"Our goal was to stop the suffering," Lenz said. "We called all the city council members and left messages for them, but they shut us down. They wouldn't even take free money."
Guardians' inquiry uncovered numerous cases of animal suffering.
One dog, for instance, a German shepherd, had been brought in with a gunshot wound, but was never taken for medical treatment, investigators allege.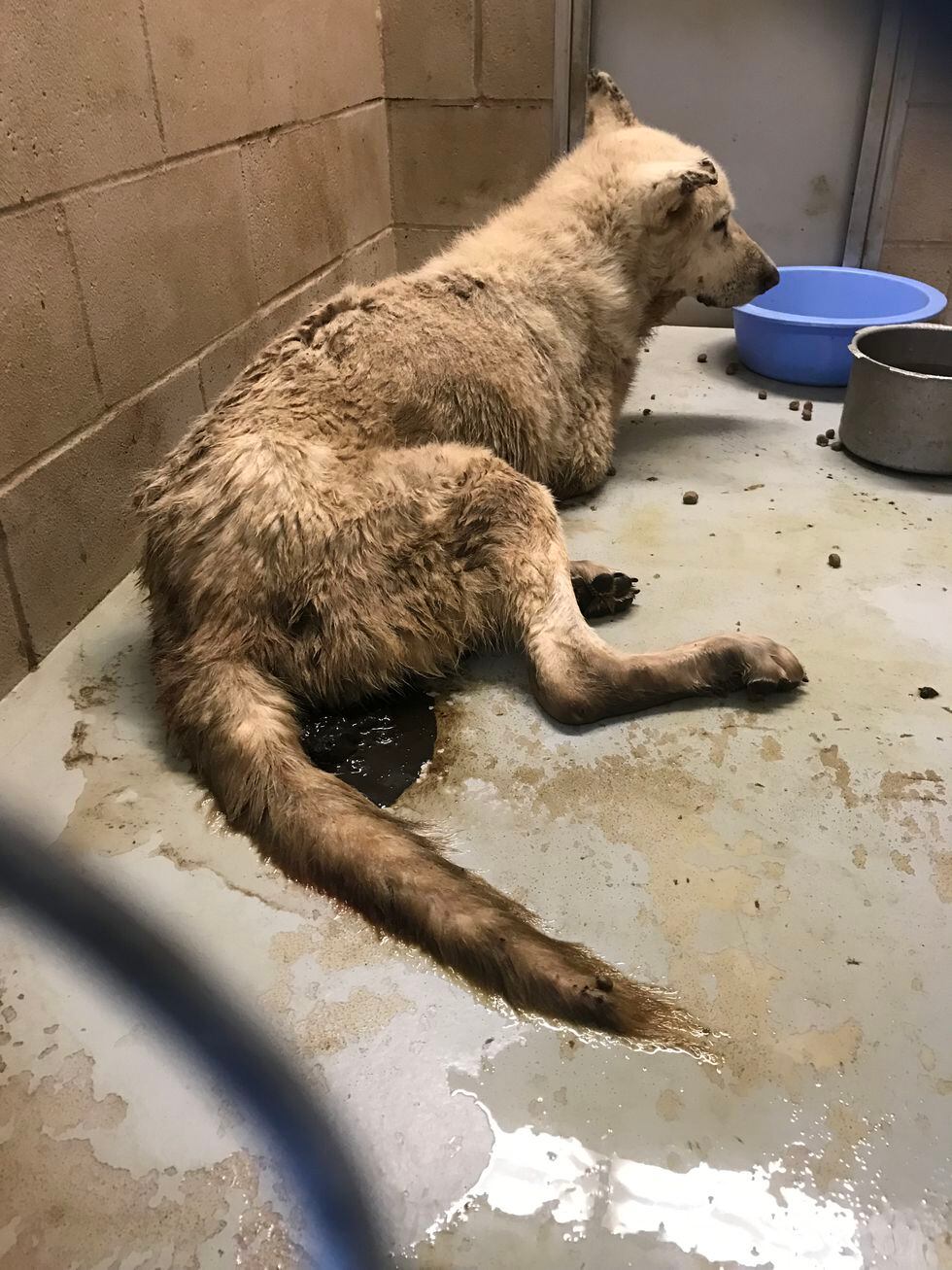 Meanwhile, a small dog with golden-brown fur was found to be suffering from a prolapsed rectum. Like the German shepherd, he, too, was not getting treated.
Said Lenz, "Other dogs were severely emaciated."
One photo obtained by WLBT shows what appears to be a German shepherd puppy sitting its own filth, on a dirty, wet kennel floor.
Guardians worked with the city to have those dogs transferred into their care, and both received medical treatment. One dog was eventually adopted out.
Investigators also questioned how the kennels were cleaned. They noted that bleach and other harsh chemicals were used as disinfectants, even though they can be harmful to pets.
In other cases, he said it wasn't clear that the kennels were allowed to dry before the dogs were put back in. In others, it appeared that dogs were not taken out of the cages before they were cleaned.
Guardians field investigator John Marshall, a Jackson resident, also mentioned the lack of a ventilation system and the lack of air conditioning, saying it was hotter inside the building than it was outside at the time.
The investigation was conducted in spring 2019.
Ward Seven Councilwoman Virgi Lindsay said the air conditioner was also out when she toured the facility this spring.
"It was very hot, the air was stifling, it was unclean … it smelled unclean," she said, recalling her visit.
It appeared the air was still not working when WLBT visited November 11. We were only able to enter the lobby, but it was clear the air was not on and the room smelled of urine.
Building conditions aside, Lenz said investigators were unclear on whether the shelter had any standard operating procedures.
There were no protocols for determining which animals would be adopted out and which ones would be euthanized, he said.
In June 2019, the city council approved entering into an agreement with the Mississippi Animal Rescue League to provide euthanisia services as needed.
At the time, WLBT reported that Ward Four Councilman De'Keither Stamps had called into question the previous practice of armed animal control officers shooting dogs in the streets.
Also, Lenz said there were concerns that some dogs were being released "into the wrong hands" for dog-fighting purposes, and that none of animals were spayed or neutered before leaving.
"Anything that is done is done this way because we've done it like that before," he said. "I've never seen an animal shelter run this way."
Marshall said Guardians tried to work with the Jackson Police Department, who initially seemed interested in their help. However, they eventually lost interest.
Animal control falls under the jurisdiction of JPD. Five officers currently work at the West Jackson facility.
Marshall said he then approached the city council, hoping they would step in.
He addressed the council at its May 14, 2019 meeting, during the public comment period. At the time, he provided members with a list of recommended repairs for the facility and said Guardians would make the repairs free of charge.
"The initial goal was to fix the shelter, and then train shelter management and facilitate exit strategies for animals," he said.
Said Lenz, "Our goal would be to make sure it was being done correctly and give the city support when needed."
Last week, Mayor Chokwe Antar Lumumba says he would like to privatize animal control, in part, to address concerns over shelter conditions.
"Our plans are to segregate the money we pay to JPD and award a contract to a private group that has the expertise to care for the animals and maintain the facility," he said.
Lindsay, who has been decrying the shelter's conditions for months, said she is optimistic about the city's plans. "The police chief spoke to me yesterday and I'm confident we're about to take steps to improve the animal shelter."
Lumumba and JPD Chief James Davis weren't immediately available for comment.
WLBT has asked for a tour of the shelter, but so far the police have refused to set a tour up.
Copyright 2020 WLBT. All rights reserved.