REPORT: Brees has multiple rib fractures; collapsed lung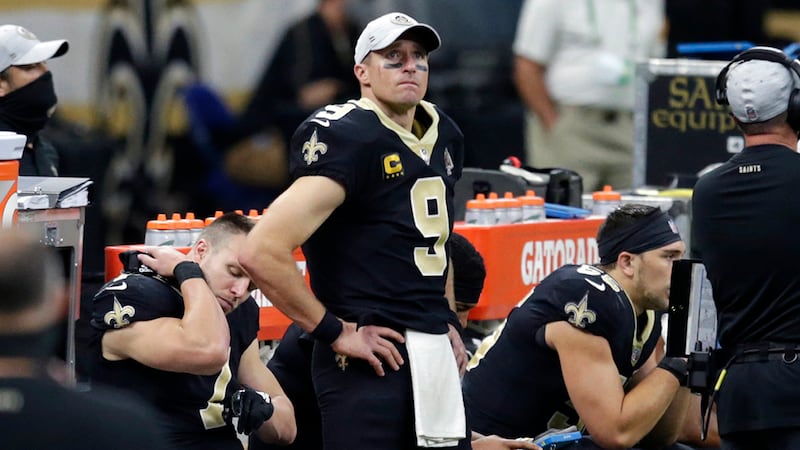 Updated: Nov. 16, 2020 at 5:44 PM CST
NEW ORLEANS (WAFB) - MRI and x-ray results on New Orleans Saints quarterback Drew Brees show he suffered multiple rib fractures on both sides of his chest during the last two games.
According to ESPN's Ed Werder, Brees also has a collapsed lung on the right side. The injuries reportedly occurred over two weeks.
Werder also reports Brees suffered two fractured ribs Sunday against the 49ers and three others on the right side the previous week against the Tampa Bay Buccaneers that were not seen on x-ray until Monday.
It's uncertain how much time Brees may miss due to the injuries. Jameis Winston replaced Brees in the second half of the Saints' win over the 49ers Sunday.
"It had nothing to do with pain," said Brees. "It was definitely just what my body was going to be able to do or not be able to do."
"I try to give everybody my all," said Winston. "I try to be right there with Drew along the way, watching film with him, and preparing with him, so I felt like I went out there and I was prepared to lead this team, and I'm happy that my teammates had my back and they went out there and executed well and things went our way."
The most optimistic timetable for Brees' return is two to three weeks, according to ESPN's Dan Graziano. It will depend on how long it takes Brees to heal. There's hope Brees could be back in time for the playoffs.
RELATED STORIES:
The next four games for the Saints (7-2) are against three-win teams. They host the Falcons (3-6) Sunday, Nov. 22. Then, they travel to Denver (3-6) Sunday, Nov. 29. Next, they face the Falcons again, but this time in Atlanta on Sunday, Dec. 6. They follow up that trip with one to Philadelphia to take on the Eagles (3-5-1) Sunday, Dec. 13.
After that stretch, the Saints host Patrick Mahomes and the defending Super Bowl champions, the Kansas City Chiefs, on Sunday, Dec. 20.
Click here to report a typo.
Copyright 2020 WAFB. All rights reserved.