Sun-n-Sand named one of most endangered historic places in America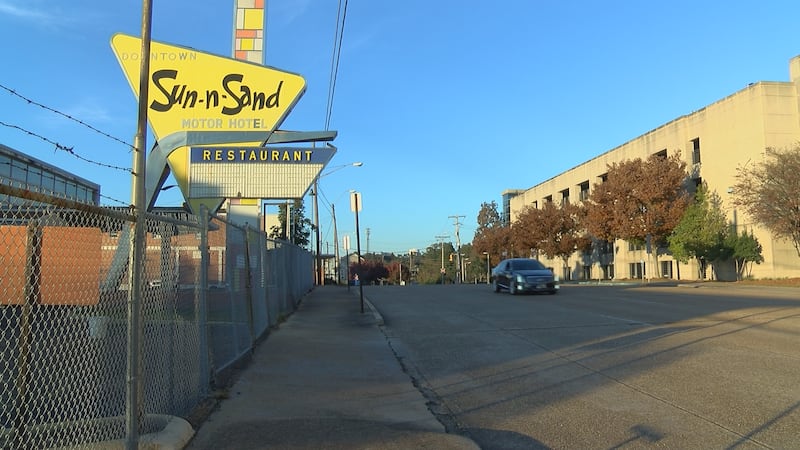 Updated: Sep. 24, 2020 at 12:08 PM CDT
JACKSON, Miss. (WLBT) - The Sun-n-Sand Motor Hotel is one of America's 11 Most Endangered Historic Places for 2020, according to the National Trust for Historic Preservation.
Sun-n-Sand has been locked up since 2001. In January 2020, it was declared a Mississippi landmark. The iconic yellow sign has remained put ever since.
The group estimates $2,095,000 is needed to demolish the Sun-n-Sand in order to build a parking lot--a plan that was brought to light in 2019.
The state of Mississippi purchased the building in July 2019 with the intent to turn it into a parking lot for state workers.
There have been numerous efforts to save the historic motel, which once served as a hot spot for Mississippi legislators and is where John Grisham wrote A Time To Kill. Thus far, no one has been willing to invest money into restoring the historic building.
"The Sun-n-Sand Motor Hotel has a history that is as vibrant and distinctive as its architecture, and the National Trust believes it can have an even brighter future," stated Katherine Malone-France, Chief Preservation Officer for National Trust for Historic Preservation. "Reusing and revitalizing the Sun-n-Sand would help the State of Mississippi celebrate its rich history—including the story of ongoing racial reconciliation represented by 'Wednesdays in Mississippi'—while putting the building back into use in a way that could create jobs and stimulate economic growth."
[Video below from a 2017 3 On Your Side investigation]:
Copyright 2020 WLBT. All rights reserved.