Protesters in Biloxi speak out against death of George Floyd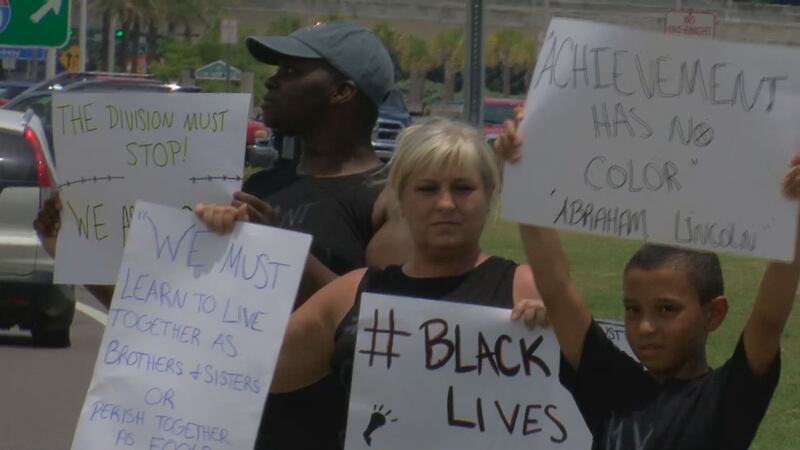 Updated: May. 31, 2020 at 2:22 PM CDT
BILOXI, Miss. (WLOX) - A small band of protesters gathered Saturday at the foot of the Biloxi Lighthouse to protest the death of George Floyd while being arrested by Minneapolis police.
Violent protests have erupted across the country after a video showed Minneapolis police officer Derek Chauvin with his knee of Floyd's neck for nine minutes as Floyd told him "I can't breathe" while three other officers stood by and watched.
Floyd died later at the hospital.
A second video shows three officers kneeling on Floyd at one point. Floyd was suspected of passing counterfeit money at a convenience store. He was unarmed.
The protests have spread across the country in the last three days.
"We're just here to protest peacefully," said Cierra DeShields of Biloxi. She was joined by about a dozen others in the median of U.S. 90. They were carrying signs that read "Black Lives Matter" and "This division must stop."
The protest was scheduled to go from 1 to 5 p.m. It had grown to about 20 people by 3 p.m. Another protester was seen in on Pass Road Gulfport Saturday afternoon.
DeShields said the police oppression seen in the video showing Floyd's arrest has "been going on for years and years. This country is basically tearing itself apart and we need to come together as one. We need peace."
"Seeing the injustice happen over and over again, I've been watching it since I was a kid with Trayvon Martin and Ahmaud Arbery, I've seen so many stories," said Nishiana Heard of Long Beach. "At some point it just gets hard, and it's time to finally speak up and so something."
Ebby Johnson of Gulfport was one of several white people among the mixed races of protesters.
"I think it's especially our job as white people and white privilege that we have to speak up and speak out too, and if you're silent, you choose the side of the oppressor," Johnson said. "We don't have a choice. If you have all that power underneath you, you're obligated to speak out."
Her sign quoted a Tupac Shakur song that addressed the issue.
Gwendolyn Bradley, with her son by her side, saw the protest as an opportunity to express her concerns.
"I've lived with racism my whole life coming from a small town, and it just has to stop," she said.
Jaquanda Jackson of Gulfport said, "It's my responsibility to fight for people like myself. I don't want to walk out of my house and worry about my nephews or my brothers any more or even myself because this is something that has been going on for the last forever and it just needs to stop."
After receiving reports of a possible protest at Walmart on Highway 49 in Gulfport, police made their presence known. Chief Leonard Papania said he understands why people are upset with the death of George Floyd and wants to keep communication lines open.
"There's some people hurting, when you have videos like that, it's a brutal video," he said. "It really hits home for a lot of people, law enforcement too. To see somebody do something like that wearing a badge is just not where we need to be."
A single Biloxi police unit watched the protest from across the street as motorists honked their horns in support of the demonstrators.
Copyright 2020 WLOX. All rights reserved.