Two employees shot to death outside Baptist Hospital
According to Jackson police, the shooting was domestic related and happened just after 6:30 a.m. outside the hospital.
Updated: Feb. 19, 2020 at 1:55 PM CST
JACKSON, Miss. (WLBT) - Two people were shot and killed at Baptist Hospital in the employee parking lot Wednesday morning.
Police say a male security guard and a female clerk were killed in the west end parking lot just after 6:30 a.m.
Hinds County Coroner Sharon Grisham-Stewart has identified the woman as 32-year-old Christina Deloris Davis. The security guard is identified as 64-year-old Brownie Luckett Jr.
The shooter has been identified by Jackson police as 33-year-old Jamal Holmes. He was found dead in Pearl of a self-inflicted gunshot wound shortly after the shooting.
A special area at the hospital is being set up in the employees' memory.
Baptist's director of pastoral care has set up private rooms for employees to talk with a pastor or a counselor from their employee assistance program about the incident. Chaplains from Memphis also came to town to provide additional support for employees.
All of this info comes from Baptist's Communications Director Ayoka Pond said the hospital has already held a prayer meeting and hundreds of employees attended.
Jackson police received a shots fired call to the hospital and when they arrived, a male and female were lying in the parking lot with multiple gunshot wounds. The two victims had already died from their injuries.
Chief James Davis said the incident was domestic related.
Holmes, who is believed to be the boyfriend of the female victim, confronted and assaulted her in the lot just as she arrived for work.
Luckett had also just arrived, witnessed the assault and ran to intervene.
The suspect then produced a weapon, shooting Luckett and later shooting Davis.
"It appeared the security guard was trying to intervene once he saw these individuals into it," said Jackson Police Chief James Davis. "The security guard tried to intervene and at that time he was shot."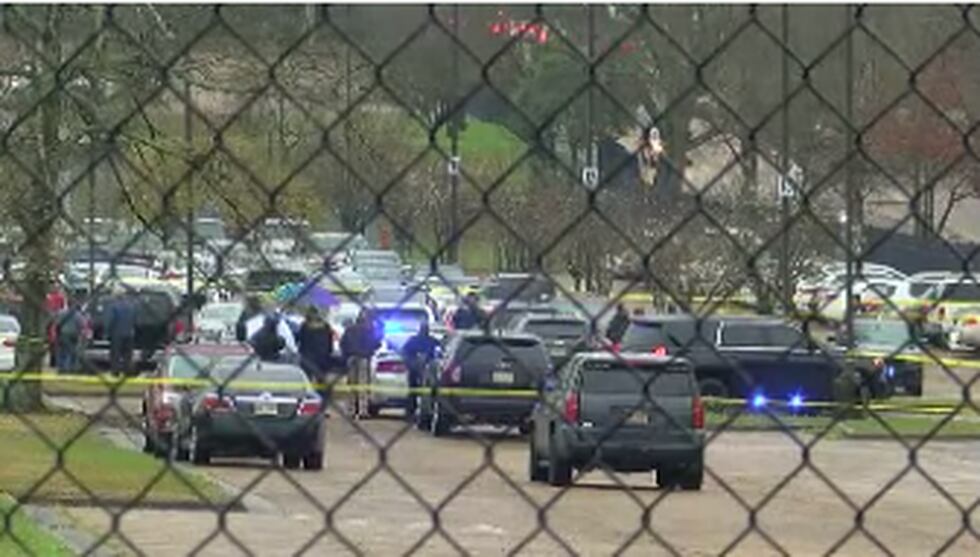 A second security officer tried to stop Holmes just before he entered and fled in Davis'car, leaving behind the vehicle he arrived in.
Jackson police say the car the suspect was driving was found at a cemetery in Pearl.
Pearl and Jackson police are at Oak Grove Church in Pearl, where witnesses say a man walked into the cemetery and shot himself.
Chief Davis says they believe this is the suspect in the shooting at Baptist.
Larry Holmes says the suspect is his nephew. He called 9-1-1 after seeing someone go into the cemetery and hearing a gunshot.
"I just was looking out the window, and he was pacing back and forth, pacing back and forth," said Holmes. "Then he sat down about five minutes, gun just went off and fell back."
Holmes said his nephew took his life on his brother's grave.
Baptist Hospital released the following statement:
Earlier this morning, two of our employees were shot and killed in our parking lot. One was involved in a domestic violence situation, the other was acting as a Good Samaritan. The police are at the scene, and our campus is safe and accessible to all who need care.
We are deeply saddened by this horrific tragedy. Our team members are our family, and losing two of them under these circumstances is devastating. We ask that you pray for the families and friends of these two team members who dedicated their professional lives to healing and protecting others.
We will continue to bring you the latest on this developing story.
Copyright 2020 WLBT. All rights reserved.