Medical marijuana opponent speaks out to Coast Republicans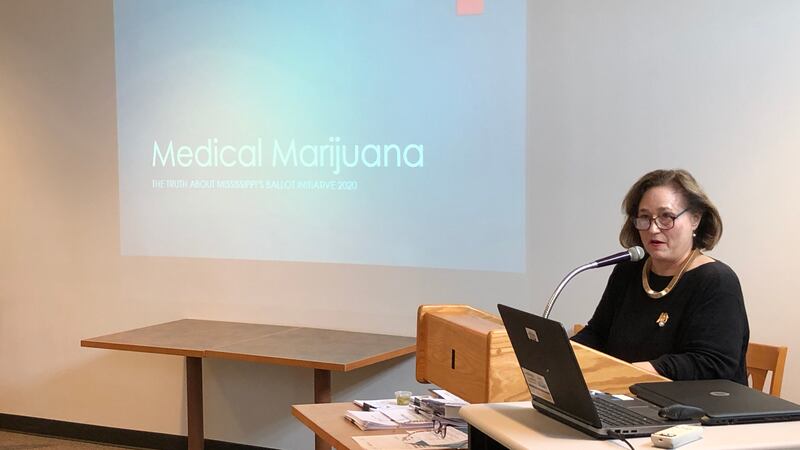 Updated: Jan. 27, 2020 at 3:04 PM CST
GULFPORT, Miss. (WLOX) - Mississippi could join 33 other states by legalizing medical marijuana in November. An initiative on the ballot will give voters a chance to decide the matter.
Monday, Harrison County Republican Women heard from a speaker opposed to legalization for medicinal use. Kathy Henry is a former Parole Board member and she's traveling the state talking to groups about the constitutional initiative on Mississippi's November ballot that will decide if medical marijuana will be legal in our state.
Henry is encouraging people to vote "no" on the referendum.
Even though she appreciates that it could offer help to people who are suffering, Henry points out that the Food and Drug Administration does not regulate marijuana.
"We don't want them to suffer. If there's something that could help them, all of us agree on that. But, marijuana is not FDA approved," Henry said.
A "yes" vote supports establishing a medical marijuana program in Mississippi for people with a variety of medical conditions. The Mississippi Department of health would run the program. Qualified patients would have to be certified by a licensed Mississippi physician.
Some doctors believe marijuana is a beneficial treatment and should be allowed.
"I see so many people who are suffering and could benefit from the use of the medication," said Dr. Phillip Levin.
Thirty-three states have approved medical marijuana. Henry points out that marijuana is illegal in our state and she asserts that the Mississippi Department of Health is not equipped to manage the program.
"We're going to put our health department in charge of growth and distribution and sales of marijuana? That is contrary to their purpose," said Henry.
The Mississippi State Board of Health has passed a resolution opposing the initiative.
Copyright 2020 WLOX. All rights reserved.